Xiaomi is creating a lot of buzz across product categories at the moment. Excellent pricing has kept demand for its products high, and limited supplies have increased their appeal. After introducing several smartphones and the Mi Pad tablet, the company has brought its fitness wearable, the Mi Band, to India at a sweet price of just Rs. 999.
This makes it one of the cheapest activity trackers you can buy in India, but low price alone doesn't make a product worth buying. If your smartphone can also track physical activity, do you really need the Xiaomi Mi Band? We used it for a week to find out.
Design and features
The Mi Band is comprised of two components - the band itself and a Bluetooth capsule that tracks your activity. The product has no screen, but its three LED indicators let you know how close you are to achieving your daily step goal at any given point. The capsule can track your sleep patterns, let you unlock your phone without a password when it is nearby, and vibrate to alert you about incoming calls and alarms. It has a smooth metal surface with the three LEDs on top, though the side in contact with your arm is made of plastic.
You first have to slip the capsule into the band. This was a bit of a task for us but we managed after a few tries. The band is made of a hard rubbery material which didn't irritate our skin in any way but didn't feel premium either, which is understandable given its price. The Mi Band looks good and many of our colleagues and friends commented on it during our time with it. As a fashion accessory, the Mi Band earns itself a nice tick.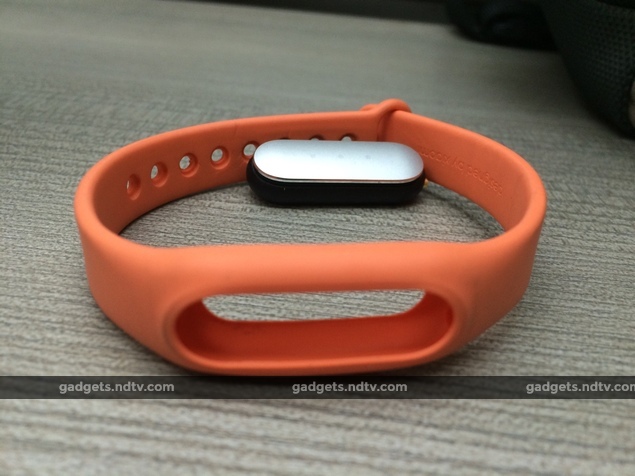 We used an orange band and found that it picked up dirt within a few days of use. We could see clear dark lines along the edges of the band at the time of writing. It also started showing signs of wear near its holes. We could see stress marks within a week of use. Although we didn't feel that the band would break anytime soon, we would have been a lot more comfortable if the brand new Mi Band had been able to look new for at least the first month or two.
Tracking and accuracy
The lack of a screen means that the Xiaomi Mi Band relies heavily on the companion Mi Fit app for iOS and Android. The app isn't very well designed and it took us a few attempts to create a Mi account and sign up for the required service. The app initially didn't allow us to log in till we made a few attempts, but that was fixed with an update midway through the review period.
Once we logged in, the app worked smoothly. It showed us the number of steps we took, neatly categorised into walking and running, as well as how many calories we burned through activity. The Mi Band can also track your sleep and you can see records of your sleeping habits in the app as well. We used an iPhone 5s, which has a motion co-processor of its own, to check whether the Mi Band's activity tracking was accurate. The two trackers reported similar results, with a variation of 100-300 steps per day, which is acceptable.
However, the iPhone was far better at tracking sleep than the Mi Band. If we got out of bed for any reason and then laid down again while reading or doing anything else, it was all counted as sleep by the Mi Band. It was accurate at calculating deep sleep though, and revealed to us that we had only had around an hour of deep sleep on days we were actually feeling groggy.
Other features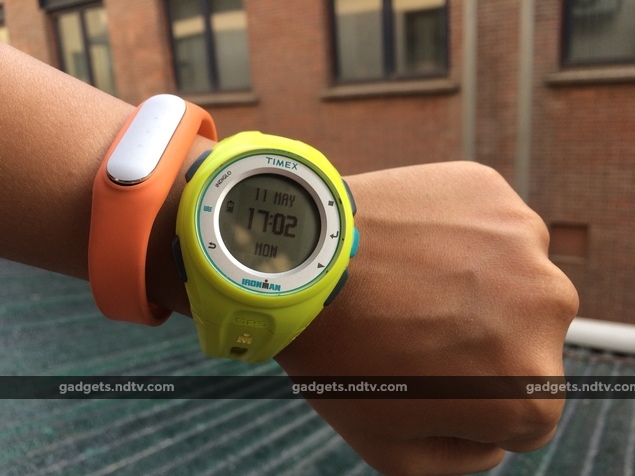 The LEDs on the band are supposed to light up when you flip your wrist, like you would to check the time on a wristwatch. One of the LEDs is supposed to light up when you've completed a third of your daily goal, and all three light up when you've hit the target.
This rarely worked for us, and also made us miss an actual screen. It would have been nice to have been able to see how many steps we'd taken or to check the time quickly. Being used to wearing a watch, it felt odd to have this band on our wrist and still have to to pull out our phone for those simple things. Not having a screen does give the band a long battery life though; Xiaomi claims that it can last 30 days on a single charge, and in our week of use we didn't have to charge it even once.
The band's alarm function never worked for us - we tried it with the iPhone 5s and an Android device. If you use a Xiaomi smartphone, the band lets you unlock it without a password when the two are close enough, and in our tests this feature worked as advertised.
The Mi Band also suffers from some of the limitations common to all wrist-worn devices. You can take a shower with it on, but the Mi Band will log even that as activity because your arm is moving. Nervous habits such as tapping your desk or moving your arm to pick up a packet of chips will also trigger the step counter, which gives the reported results a margin of inaccuracy. Your smartphone, being in your trouser pocket, does a much more accurate job of tracking certain types of activity than the Mi Band can, but you can't make them both work in tandem.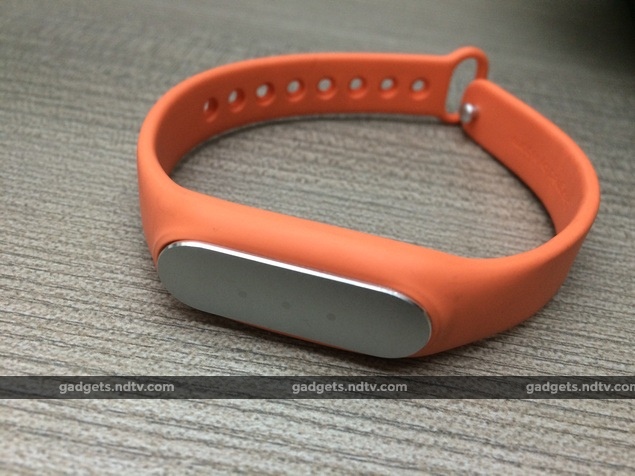 The flip side is that it is extremely useful in places and at times when you cannot carry your smartphone around. We loved using the Mi Band during gym sessions, and because it's water resistant, you can wear it while swimming as well. For these reasons, the Mi Band is definitely very useful for sports enthusiasts.
Verdict
If you are looking for a basic activity and sleep tracker, then the Xiaomi Mi Band does the job very well. We wouldn't recommend it for those who can get by with a smartphone's built-in sensors, as any of the numerous available fitness tracking apps provide the same functionality. However, if you don't carry your phone with you all the time, then the Mi Band is a useful, affordable gadget that you'd probably want to buy. Xiaomi's pricing is excellent as usual - at Rs. 999, it's an inexpensive purchase even if you just want to see what the wearables fuss is all about.
Pros
Cons
Lacks a display

Smartphone apps can perform the same functions

Alarm feature doesn't work

App sign-up process needs improvement
Ratings (out of 5)

Design: 3.5

Tracking: 3.5

Other features: 2.5

Value for money: 4.5

Overall: 3.5