We've reviewed plenty of smartwatches here at Gadgets 360, from the first Android Wear models to the Apple Watch, and pretty much everything else in between. While almost no one needs a smartwatch yet, just looking at your wrist and not needing to take out the phone every time there's a buzz is pretty convenient, especially if your work demands you need to be connected all the time.
With notifications being perhaps the number one reason most people get a smartwatch (or continue using it any case), it's no surprise that some manufacturers are adopting a different approach to enter this market. We've seen the likes of Martian Notifier, which is more of an extension of the notifications panel that sits on your wrist than a watch with any real 'smarts'. But the Martian Notifier looks and feels cheap, and it's perhaps not something you want to be seen wearing in public.
Watch manufacturers believe they have a solution by approaching the problem in another way, one that plays to their strength - design a really good looking watch, with notifications and some other features thrown in. One such candidate is with us today, the Titan Juxt, which the famous watchmaker has designed in collaboration with HP.
The Titan Juxt looks like a regular watch and nothing at all like the smartwatches out there, which is good, since that is exactly what Titan set out to do. Slip this on and go out, and you are more likely to hear "wait, you still wear a watch?", instead of "what smartwatch is that?", something we've heard way too often when reviewing other devices. But for the little display towards the bottom of the dial, the Titan Juxt is like any other watch, and even that display is something that could pass off as something that's part of many 'regular' watches.
(Also see: Seiko Astron GPS Solar Watch Review: Great Style Meets High Tech)
In line with its stated goal, the 'smartness' of the Titan Juxt is pretty limited - it can connect to your phone over Bluetooth and display notifications; it comes with a step tracker; and it can keep track of time across various cities. There's no attempt to do everything else smartwatches do and in fact you'd do well to not think of the Titan Juxt as a smartwatch at all - think of it as a regular watch with some extra functionality.
The Titan Juxt comes in three different variants - stainless steel (priced at Rs. 15,995), rose gold stainless steel (Rs. 17,995), and titanium (Rs. 19,995). We got the rose gold variant for review, though the titanium is the best looking variant in our opinion. There's no difference in the three variants as far as the 'smart' features are concerned, and you really only paying for the difference in the looks and materials used. The Titan Juxt is rated to be water resistant up to 50 meters (5ATM).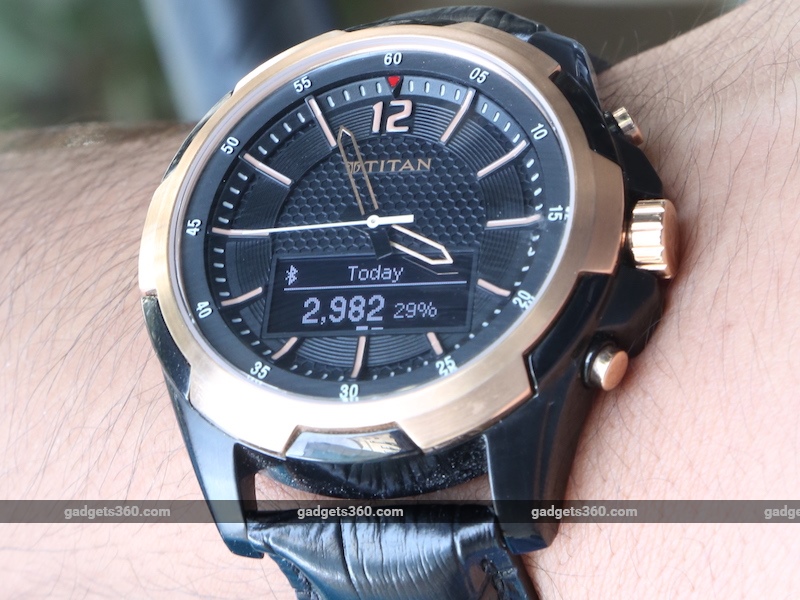 The Titan Juxt is a pretty large watch that's clearly targeted at men as far as the physical design is concerned. The overall size of the dial seems to have been dictated by the desire to have a display that's large enough to be useful, but still inconspicuous within the confines of the overall dial. As a result, the dial is just a little bit too big for most users, and we would've preferred something a little smaller. Having said that, we were still able to wear the watch for long durations without any discomfort and never really felt the need to take it off during the course of the day, which is to say it's extremely comfortable to wear.
Like we mentioned before, the little display towards the bottom of the dial is your window to the wonderful world of notifications from your smartphone. When you first get the watch, you will see a message here prompting you to pair your watch with a smartphone. You could ignore this and use the Titan Juxt as a 'regular' watch, but that would defeat the purpose of getting it in the first place, wouldn't it?
(Also see: Timex Yacht Racer Review: Stylish Watch for Marine Sports Enthusiasts)
The watch talks to your phone over Bluetooth and the pairing process is relatively simple, requiring you to download the Titan Juxt app for Android or iOS. You need to have a phone running Android 4.4 or above, or if you are an iPhone user, make sure you are rocking iOS 8 at the very least. The app, designed by HP, is pretty simple and there are only a handful of things you can do - monitor your activity, edit cities you want to see in your 'World Clock' (more on that later), and change the apps whose notifications you want to see on the watch - by default all apps are selected, which means if the app can send you a notification on the phone, it will show up on the watch as well. The Titan Juxt apps creates groups for similar apps like Email, Social, so you can toggle notifications from all of them in one go, if required.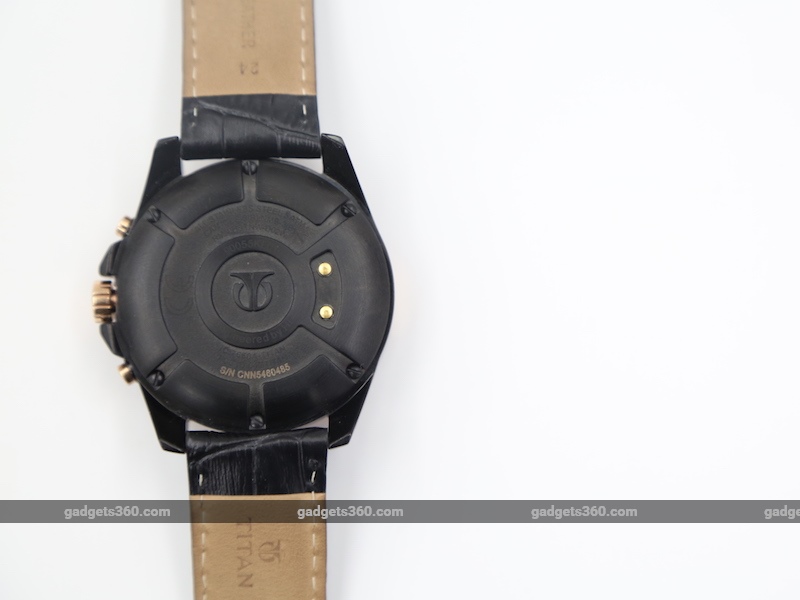 The tiny OLED panel comes with 4 lines of display, which is sufficiently bright, but doesn't give the developers a lot of room to play with when displaying notifications. For example, whenever we got a notification for a new email, three out of the four lines of display, were used to display the name of the app (Outlook), type of notification (Mail), and name of sender. This meant that nearly every single time we found ourselves pressing the bottom watch button to see anything really meaningful related to that notification. There's no touch screen and the notifications aren't actionable, which means if you wish to do anything further, you need to take out your phone. The software supports only text-based notifications, and Slack messages received on our iPhone in Hindi showed up blank, with only the app and sender's name (both in English) visible.
During the day, the watch consistently maintained its connection with the smartphone, though in the morning when we toggled Bluetooth back on our phone after switching it off at night, the Watch didn't always automatically reconnect, or sometimes it connected, but we had to launch the app and tap on Notifications for it to start receiving notifications again. This is not a deal breaker, but a minor inconvenience nonetheless.
You can dismiss a notification by pressing the top watch button; you can dismiss all notifications by pressing and holding the top watch button for 2-3 seconds, though this fact isn't really discoverable, and we didn't know about it until we read the manual. Of course this is a problem that is common to most 'regular' watches, wherein you need to read the manual to figure out all the weird button combinations. Back to the Titan Juxt - long pressing the bottom watch button will display the battery remaining on screen, which is otherwise visible inside the app. Airplane mode can be toggled by pressing both on and off buttons at the same time.
If there are no pending notifications, pressing the top watch button takes you to World Clock, which starts off by displaying the local time (synced from your phone), and then you can cycle through the rest of the cities you added in the app by pressing the bottom watch button. Press the top button one more time and you can see how many steps you've walked today. This information was within 10-15 percent of error margin of the activity our iPhone recorded, which is acceptable in our book. Historical activity data is available via the app, but you are only shown graphs, so while that gives you a rough picture, we couldn't find a way to see the exact number of steps we covered on a particular day. The app also lets you manually set or schedule 'Do Not Disturb' mode during certain hours when you don't want to receive notifications on the watch. In case you are wondering, the time tracked by the dial can be set independently of the digital time on the display.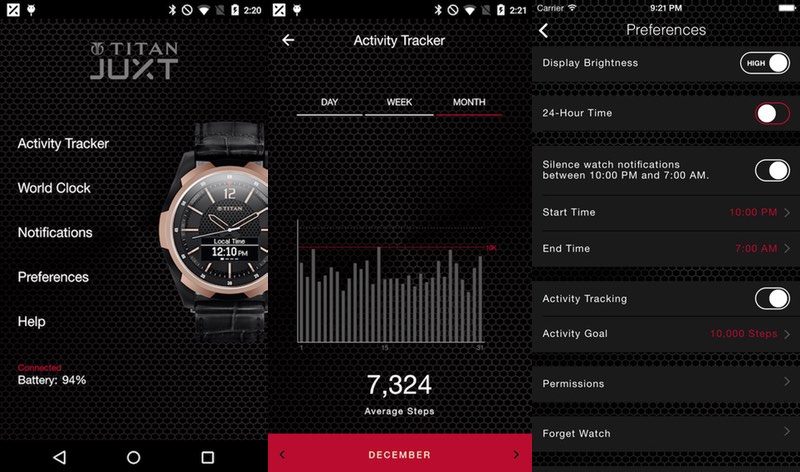 Similar to some smartwatches, the display on Titan Juxt stays off if the watch is turned away from you, which means the notification will not be displayed until you 'flick' the watch, though you will feel a little vibration at all times. A Titan representative told us this is done due to privacy reasons, so others around you don't get to see the notification, though we are sure keeping the display turned off helps conserve battery as well. This feature worked as advertised for us. The intensity of the vibration is meant to indicate the importance of that notification (see image on the top/ left), and some of this can be customised via the app. The idea here is that once you spend enough time with the watch, you will be able to differentiate between the various types of alerts based on their vibration alone, so you can choose to, say, ignore messaging alerts if talking to someone, but glance at the watch when you 'feel' an incoming call.
As far as battery life is concerned, Titan claims you can get by five days on a single charge, though we got around three days of use before it needed to be charged. In case it isn't clear, the Titan Juxt comes with two batteries - a 'regular' watch battery that keeps the analog dial going, and which should last you months, if not years, like most other watches. The display is powered by another battery, that you'll need to recharge regularly. Like smartwatches, the Titan Juxt comes with a cradle of sorts that needs to be connected to the watch for it to be charged, which features a Micro-USB port at the other end. Thankfully, this appendage is small enough to carry around in the coin pocket of your jeans, so you can have it with you at all times, but that also means is small enough to lose if you are not careful.
Interestingly, neither battery is user replaceable, and Titan warns that even changing the battery of your analog watch (which is not accessible without removing the back cover, unlike some other watches you would have come across), will void the warranty of your watch.
So is the Titan Juxt worth its price tag? Like we mentioned before, it would be unfair to compare the watch to smartwatches made by phone manufacturers. The Titan Juxt is a great looking watch, albeit with a dial that's a little too big for our taste, but might be just fine for others. Yes, it lacks the bells and whistles that smartwatches come with, but then that isn't the point of this offering in the first place.
Having said that, there are things that HP and Titan can still do to refine the 'smart' experience of the watch. The companion app is rudimentary at best and HP has been sluggish in terms of pushing updates - we hope it receives some love soon, and brings some new features to both the app and the watch. The limited real estate can also be utilised better by changing the way notifications are displayed, packing in more information on the first screen. We hope support for notifications in more languages is added as well.
Overall, we are still quite happy with the Titan Juxt and if you are in the market for a regular watch, but wish to be able to see notifications on it as well, it is something you should definitely consider. Of course if you are looking for the complete smartwatch experience, you will have to look elsewhere.