Timex Yacht Racer is a stylish sports watch that derives its name from a mode designed for marine sports. Timex is one of the most popular watch brands and while Yacht Racer is not a smartwatch, it has some interesting and useful features.
While many people simply use their smartphones to tell the time, a good wristwatch can still be more convenient. An analogue watch can also be a fashion accessory, much more so than a smartwatch. Then there is the obvious benefit of not having to charge the watch every day. Not everyone needs a smartwatch either, and there will always be demand for premium watches.
The Timex Yacht Racer is an analogue sports watch that you can wear even if you're not a yacht racer.

Design
We reviewed the yellow and black variant of the Timex Yacht Racer, which is one of the most stylish sports watches we've seen recently. People spotted it and asked us about it wherever we went. This particular variant is colourful and tends to attract attention, which might not be ideal if you prefer a subtle, professional look. This is more of an outdoors watch, but other colour choices would work for office-goers as well.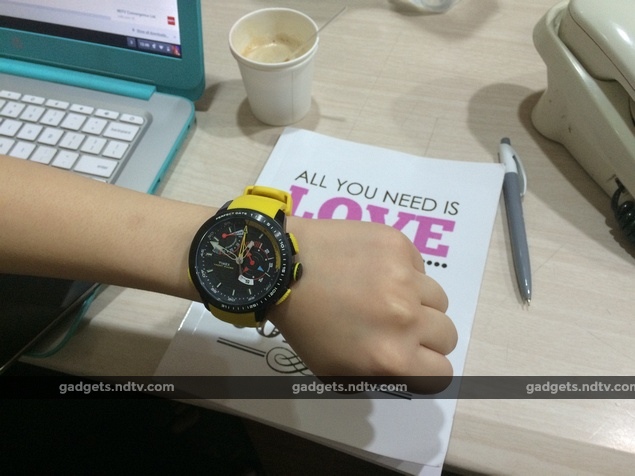 The yellow silicone band is comfortable but its ridges could begin to irritate your skin if you perspire. The watch has a metal base which makes it a tad heavy. It took us a few days to get used to its weight on our wrist, but once we did, we almost forgot that we were wearing the it. Having said that, most people are used to wearing watches of this size. Apart from the crown, this watch has three buttons which let you change modes and control the timer and chronograph.
Most of the Yacht Racer's good looks can be attributed to the dial, which looks great. The hour, minute and second hands aside, the watch has a fourth hand for the timer and chronograph. It also shows you the date if you press the crown. Timex has used colours very well on the dial to ensure that the extra hand and dials stand out. The outer edge of the bezel has the numbers 1 to 31 printed on it so that you can use the watch to check the date.The Timex Yacht Racer is water resistant up to a depth of 100 metres.
Using the watch
When we first saw the Timex Yacht Racer, we wanted to wear it because of how good it looks. In our excitement we didn't check the manual, and soon realised that we would need to learn how to understand and use the watch's features. The Timex Yacht Racer has several functions that require the same three buttons to be pressed in specific sequences, so you will have to read the user guide or watch the video on Timex's website to make full use of its features. Again, this isn't atypical when talking about watches.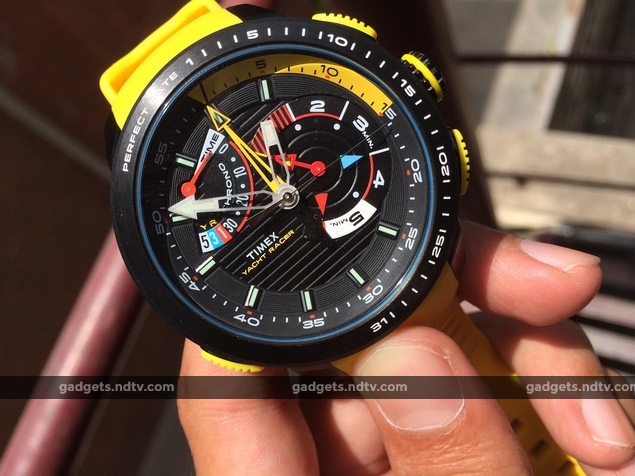 Let's talk about the yacht racing features of the watch. Before that some background for the uninitiated. Most races have some kind of a countdown. Car races usually have a signal system - you're only supposed to start once the light turns green. Similarly, sailing races usually have a five-minute warning signal when a flag is dropped. A whistle is blown at the one-minute mark and the race begins when a horn is sounded. As a yacht racer, you want an easy way to be able to track of all this.
We aren't yacht racers, so we couldn't test the features in an actual race, but we did the best we could. We used the timer in other situations such as when we were working out. The chronograph might not be useful to people unless they plan to use the watch for sports.
The button on the left side of the watch can be used to switch between modes. The Yacht Racer mode comprises three countdown timers - 1, 3 and 5 minutes. Once you activate this, the yellow hand moves anti-clockwise until time runs out, after which it automatically starts the chronograph. The chronograph shows you a total time interval of one hour in two cycles of 30 minutes each. These buttons are easy to access and can be easily pressed with gloves on. If you are trying to activate these features while sailing, we don't think the interface or button layout would present any problems.
The Yacht Racer has another useful feature called Perfect Date. This lets you check the current date by pressing the crown. The fourth hand of the watch then points to the current date. This is programmed at the factory and can account for leap years, shorter and longer months until 2060. The review unit we received was tuned to a different time zone and you can change the date easily using the crown.
One thing to consider is that when the battery is depleted, you'll have to take the watch to the service centre for a battery replacement. The service centre will recalibrate the Perfect Date feature so that it continues to work properly. It's always nicer if you can avoid an extra trip to the service centre but it's unlikely that the watch will run out of battery frequently, which makes the trip a rare inconvenience.
Since the Timex Yacht Racer is an analogue watch, it doesn't have common features you'd expect from the most affordable smartwatch. We're talking features such as notifications, activity tracking, among others. A smartwatch would also let you download apps for yacht racing, chronograph, etc, which gives them an advantage over a traditional watch. We aren't suggesting that these are problems with the Yacht Racer watch. But if you aren't sure whether you should buy a smartwatch or a regular watch, you might want to keep these things in mind.
Verdict
The Timex Yacht Racer is a great watch even for those who aren't into that specific sport. Its relatively low price and blend of style and utility make it an appealing purchase. The fact that it's water resistant up to a depth of 100 metres adds to its appeal. It might take you a little while to figure out how to use its various features, but they're easy enough to remember once you do. The watch feels premium enough to command a price of Rs. 14,995, though you can probably pick it up online for half the price.