There's no clear dominant force in the market for wearable gadgets yet, but one thing is very clear: no one's going to wear more than one device on their wrist. Some early startups like Pebble have tried to perfect a formula for devices that augment smartphones, while others such as Fitbit went after a more health-oriented market. Samsung, in its typical fashion, is trying several different approaches at once.

After a somewhat muddled (and expensive) initial offering, the company now has quite a spread of devices tailor-made for different segments and budgets. The Gear 2 is, like its predecessor, a rather chunky all-in-one watch that tries to be something to everyone. For those who think that's overkill, there's the slightly stripped-down Gear 2 Neo. And for those who are more concerned about fitness and style, there's the Gear Fit.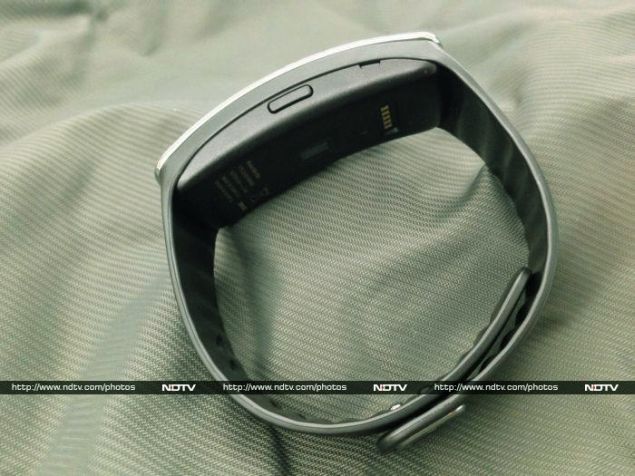 The Gear Fit is more of a bracelet than a watch. It's meant to complement the recently launched Galaxy S5, which has its own health monitoring ambitions, but works with a variety of other phones and tablets in the Galaxy line as well. The list covers most of Samsung's recent premium phones, but there was really no need to have included tablets - you really aren't ever going to go for a run or hike with a 12-inch Galaxy Note Pro in hand.
Even if you own a Gear Fit, you're probably only going to wear it while working out, not all day like a watch. It's definitely a niche accessory, so you'll have to really understand it before you can consider whether it fits into your life at all.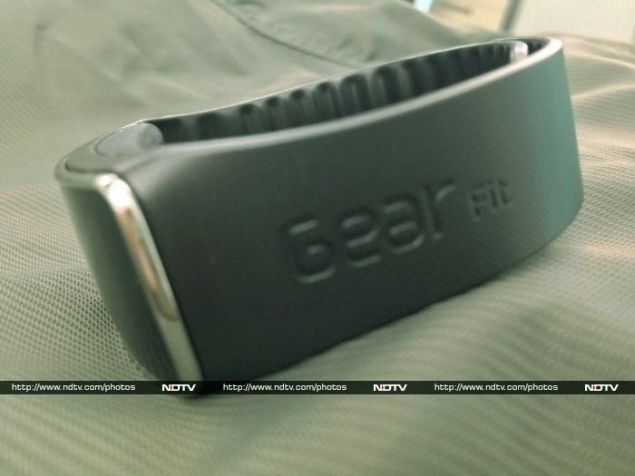 Look and Feel
The first thing that strikes you about the Gear Fit is its curved LED screen. This is one of the most sensible applications of the new tech we've seen, and it really does look futuristic. The band is fairly wide, but the Gear Fit doesn't bulge beyond it at all.
In fact the Gear Fit seems like the antithesis to early smartwatch products such as the Pebble. It's slick, rather than multifunctional; stylish rather than utilitarian.
At first glance, the unit looks like one single piece of moulded plastic, but you can separate the unit itself from its strap with just a simple push. The strap uses two rivets rather than a traditional clasp. We were somewhat sceptical of its ability to stay fastened, but we didn't have any trouble during testing. If black isn't your style, additional straps in bright colours will be available as aftermarket accessories.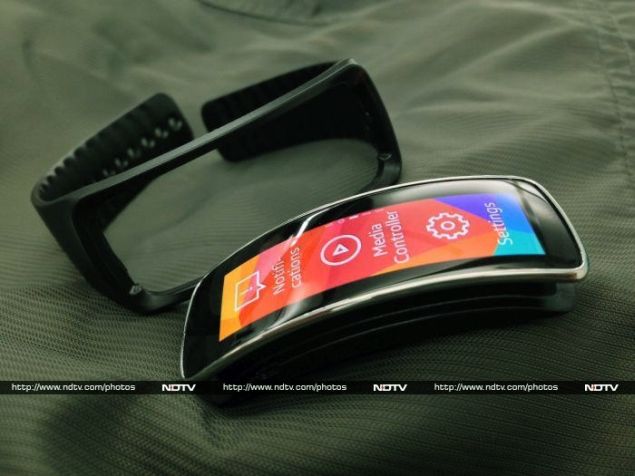 The Gear Fit comes across as a very premium product. The finish is excellent, and even the plastic strap doesn't feel cheap. The only questionable design element is the rather large embossed product name on one side of the strap. We would have preferred a more subtle approach.
With the screen off, all you see is curved glass and black plastic. One of the most glaringly obvious reasons the Gear Fit isn't a very good watch replacement is that it actually doesn't tell the time unless the screen is on. Flicking your wrist is supposed to make the screen spring to life, but this rarely worked for us. We would have liked to see a low-power glanceable readout, like many smartphones today offer.
As interesting as the front is, it's worth taking a look at the back too. Here you'll find a row of contact points for the clip-on charging adapter, as well as the heart rate sensor. The one on the new Galaxy S5 felt like a gimmick to us, since it took a while to get a reading, often failing and varying wildly between samples in the bargain. We'll have to see whether using this sensor right on our wrist makes any difference.
The Gear Fit is light and unobtrusive when worn on the wrist. It has only a single button (and if you prefer wearing it on your right hand, you can flip the display around so the button isn't on the "wrong" side).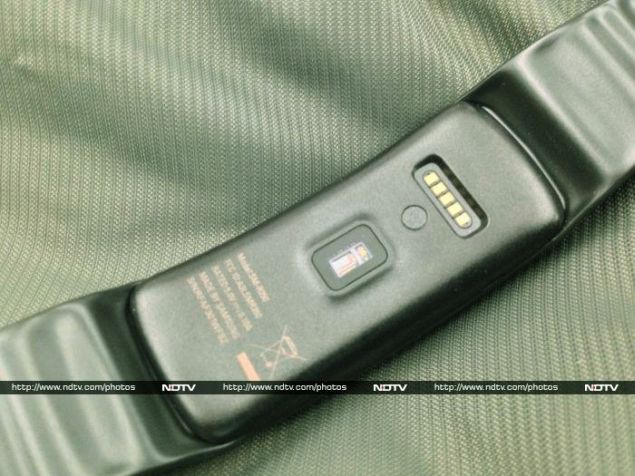 Software and usage
The Gear Fit is useless until you pair it with a companion Gear Fit Manager app on a compatible Samsung Galaxy phone. If you've already used S Health, you won't have to input your age, height, weight and other details again. When you first get it set up, it will check for updates and make sure it's running the latest version of its custom OS.
The initial release worked only with a landscape screen orientation, which might look great, but is unbelievably awkward and uncomfortable to actually use. Luckily, Samsung has already released new software that fixes this. Even so, the screen is so short and wide that text is often broken and some things, such as phone numbers, look ridiculous as they scroll around.
Everything works with swipe gestures and on-screen buttons, and pressing the sole button always brings you back to the home screen. The conventions are fairly easy to get used to, although swiping along the curved glass was an odd new sensation for us at first.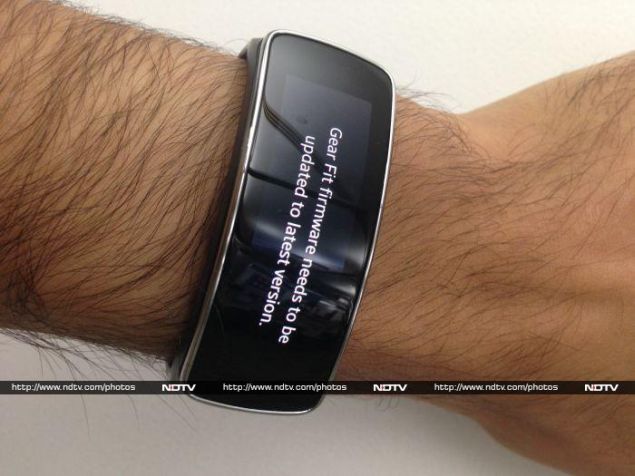 You can choose from a number of home screen "faces", which by now is de rigueur for smartwatches, and you can also customise the wallpaper. The default screen shows the time and weather, but various other options are available. You can scroll to either side (or up and down in the more sensible portrait orientation) to cycle through icons, three at a time.
The most important ones are of course health related: Pedometer, Exercise and Heart Rate. Pedometer uses a built-in accelerometer and gyroscope to measure the number of steps you take per day, and syncs back to the S-Health app on your compatible Galaxy device. It takes a little while to confirm that you've actually started walking, but then races ahead. Unfortunately we found it all too easy to trick the pedometer by shaking our hands around.
Heart Rate should be the standout feature, considering Samsung's recent fascination with heart rate measurement. We were hoping for a continuous reading, or at least one that could update itself periodically, since the hardware is right where it needs to be (unlike a sensor on the back of a smartphone). Once again, we were unimpressed, because we had to manually trigger the sensor each time we wanted a reading. We also found that the sensor had just as much trouble as the one on the S5, and usually either took too long or simply failed to get a reading.
Exercise takes you to a menu of options such as walking, running, cycling and hiking. This is where we start to see a bit of utility, since you actually can see your heart rate in somewhat-real time while activities are in progress. The device has an accelerometer and gyro, but it ties into your paired phone's GPS and other sensors as well. This is where we see the Gear Fit, phone hardware and S Health all work together, and it's pretty impressive.
There's also a Sleep mode, which tracks motion to help you monitor restlessness and sleep duration.
Data is synced to S Health's logs without any manual intervention. Still, you'll need to keep your paired phone with you as you exercise, which isn't always ideal. If you already use a variety of gadgets and apps to help you work out and coach you through outdoor activities, you'll get a lot of use out of S Health and the Gear Fit. If this kind of data isn't of real use, you'll find the combination of hardware and software unnecessarily fiddly, and probably won't get into the habit of using them.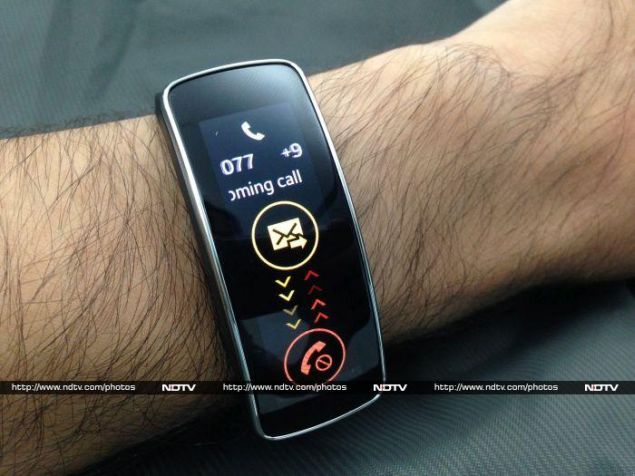 The Gear Fit also has a simple stopwatch and countdown timer for convenience, plus features that are more common on smartwatches, such as media playback control, notifications, a and a phone locator. The names or numbers of callers are displayed when your phone rings, and you can swipe to either accept or reject calls. The software isn't smart enough to display numbers and names in landscape even if you've set the interface to portrait, so they'll scroll across the narrow screen rather comically.
If you reject a call, you can trigger a canned SMS response to the caller, which is quite handy. SMS messages and notifications also pop up. The Gear Fit doesn't have quite as many bells and whistles as the Gear and Gear 2, so you can't dictate messages or really interact with notifications like you can on Samsung's more mainstream smartwatch.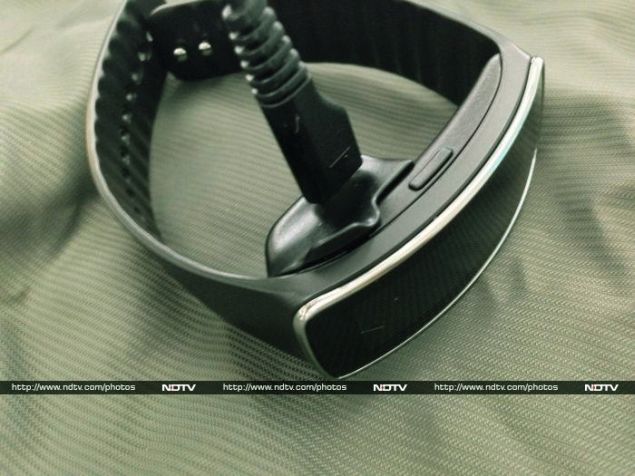 Also unlike the Tizen-based Gear 2, you can't load third-party apps onto the Gear Fit - at least not yet. Samsung offers a number of health-related Android apps such as Runkeeper and MapMyRide with its Galaxy Gifts program for buyers of recent Galaxy devices, but it's also unclear whether they can (or will in the future be able to) tie in to the Fit's sensors and capabilities.
Verdict
The Gear Fit is primarily a toy for fitness enthusiasts - that too style-conscious ones - rather than a smartphone companion. It's hard to imagine anyone else actually bothering to make use of its activity tracking features - casual runners and cyclists can just as easily use a smartphone app - and honestly, no one obsesses about their heart rate enough to justify wanting to monitor it continuously.
There's also the expense to consider. If you buy a Gear Fit on top of a Galaxy S5, you'll be spending over Rs. 60,000. If you already own a compatible Galaxy phone, you might be more tempted. Just remember that the Fit doesn't work with any other manufacturers' phones.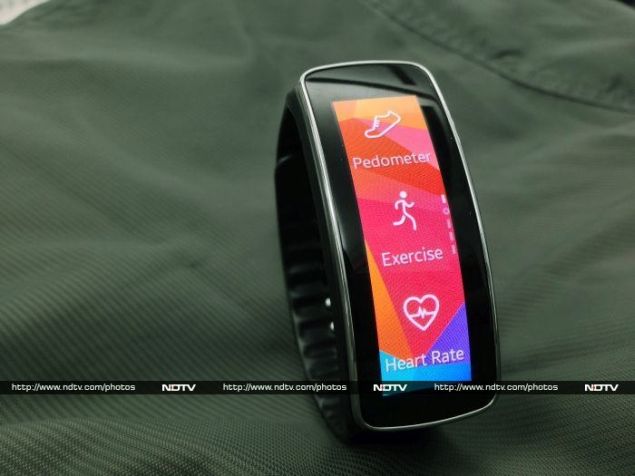 Most people will be more interested in a general-purpose smartwatch such as the Gear 2, or maybe a Pebble if they have simpler tastes. For something that occupies the prime real estate on your wrist and doesn't even show the time, it really does come across as an ultra-niche product.
The Gear Fit is a fantastic product, and we can only imagine how it might evolve with more software updates and improved third-party support. It's worthwhile if you think it will help you get more out of your workouts, or if you just like it for its looks. On the other hand, if you're looking for a smartwatch you can wear all day, every day, you might want to keep looking.
Price: Rs. 15,900.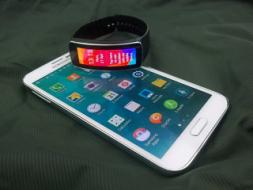 Samsung Gear Fit in pictures