Smartwatches might evolve into miniature wrist-mounted smartphones, capable of functioning without needing to be paired to any other device. That seems hard to imagine considering the awkward usage and limited screen space, but some companies such as Intex seem undaunted by such constraints.
The Intex iRist is among the first branded Android "watch phones" to be launched in India. The device features a Micro-SIM slot and can even house a microSD card. You can make calls, send text messages, and even download apps directly onto the iRist, which runs Android 4.4 KitKat. It's recommended that you use a Bluetooth headset to make calls, unless you want to look like you're using a wacky gadget from a vintage spy film.
Design
As a watch the Intex iRist looks striking. Its bright orange band and bulky black frame contrast enough to grab eyeballs. Many people who saw us wearing it thought it was good-looking, but we wish it had been more comfortable to wear. We felt that the iRist is just too heavy to wear every day. Although we didn't feel any skin irritation, we had to keep fiddling with the watch in order to find a place on the wrist where it would feel comfortable. Unfortunately we didn't succeed.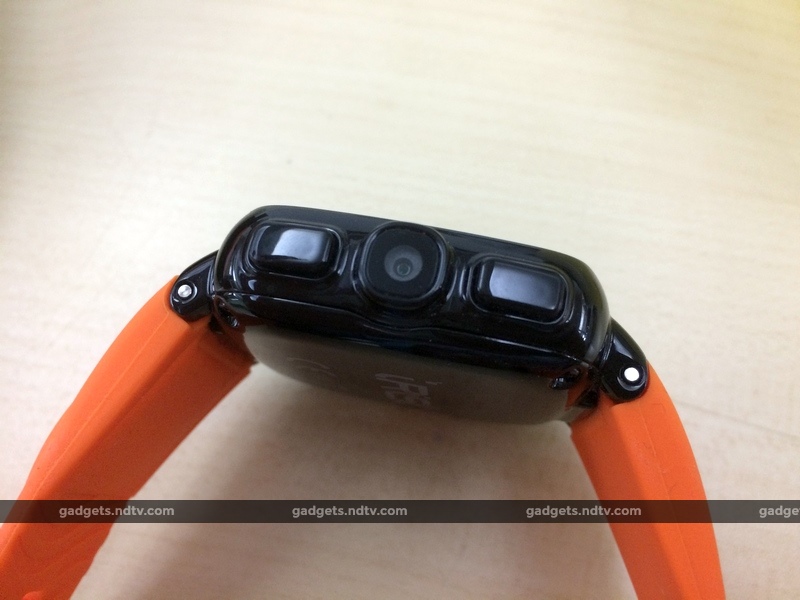 The iRist has two buttons and a 5-megapixel camera on one side, and the Micro-SIM tray on the other. The camera's positioning makes it a little awkward to take photos while actually wearing iRist. You'll basically be pointing your wrist at objects or people while trying to make sure that your hand itself isn't blocking the lens. Another interesting point is that the watch is designed to be worn only on the left hand. If you are used to wearing watches on your right hand, the camera will be facing your body. That might be useful for selfies, but too awkward for anything else.
Having used the iRist to take photos and videos, we are sure that nobody will be happy with the process. Since the camera is perpendicular to the screen, you're always staring at the image at an odd angle and won't be able to compose shots easily - that is if you manage it at all.
The camera is sandwiched between the Sleep/ Wake and Back buttons. The base of the watch has the charging connector. You need to snap the watch into to a cradle to charge it. The cradle didn't fit securely and we had to place the watch face down on a table for the cradle to stay in place or it would not be able to charge.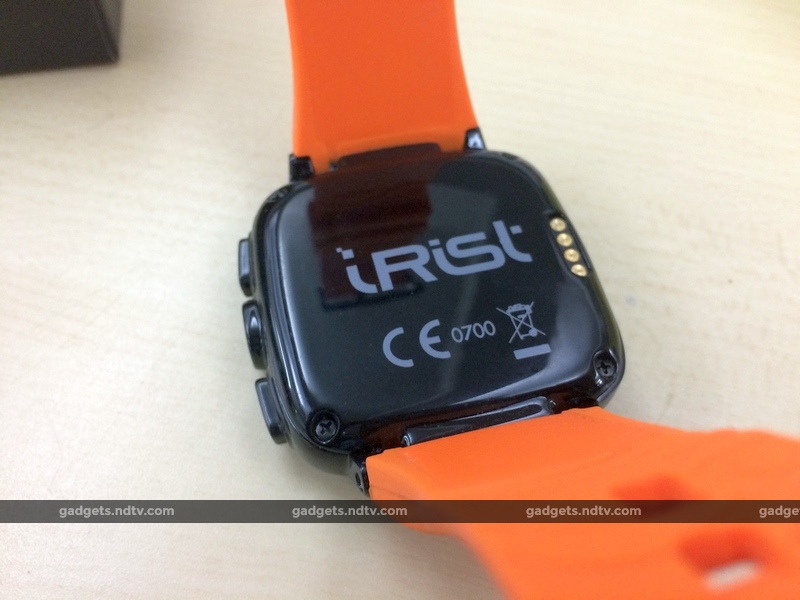 The microSD slot can be accessed by opening the back of the watch using the screwdriver that comes bundled with the box.
Performance
The Intex iRist has dimensions of 44mm by 44mm and it is rather bulky at 14mm thickness. The watch weighs 83g. Its OLED display has a resolution of 240x240 pixels. It runs an unspecified dual-core 1.2GHz processor on the Mediatek MT6572 chipset. It has 1.3GB storage, 512MB RAM and a 600mAh battery.
The Intex iRist has a 2.4-inch touchscreen and is meant to be water- and dust-resistant. One advantage of its bulk is that it feels sturdy. We were never worried about accidentally damaging the watch. The touchscreen is responsive but as expected we had a lot of trouble with typing. A screen this small is just not designed for a keyboard. We weren't able to enable voice dictation even after toggling the option in the Settings app. Google's voice input works in apps that support it, such as Google Play, but we couldn't use it with the default keyboard app. Also, switching to a third-party keyboard such as SwiftKey is a bad idea as it then takes up more than a third of the screen and you won't be able to see what you're typing.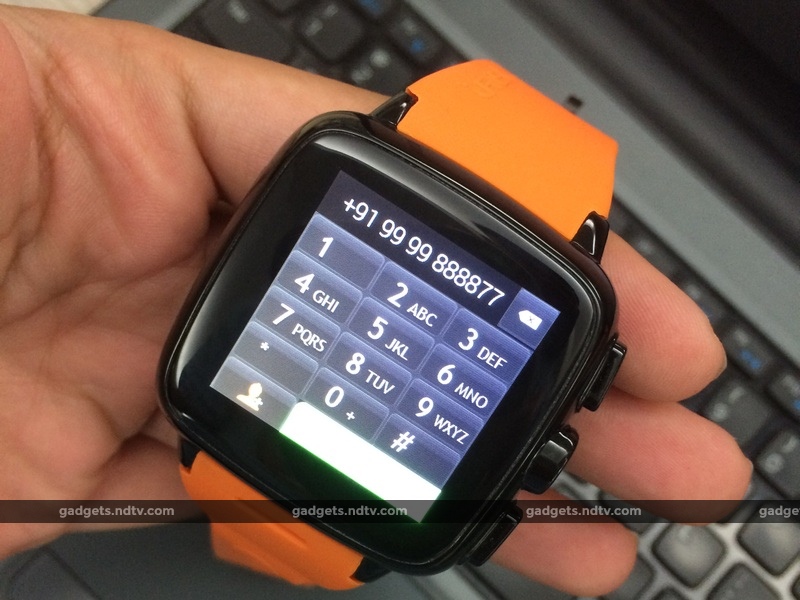 The watch comes with a Bluetooth headset that you can use to listen to music or receive calls. If the headset isn't connected you can still make calls at the cost of privacy since the loudspeaker will kick in. Sending messages was a cumbersome process involving innumerable typos. While Intex has a custom launcher with a 2x2 grid of apps that makes the Android interface more suitable to the watch, any apps you install off Google Play won't work very well. This is one of the pitfalls of running Android on a watch as compared to Android Wear.
We used Google Play to install apps such as Yahoo Weather, Wynk and SwiftKey, and games including Jetpack Joyride. None of them were optimised for this screen size and it comes as no surprise that most were nearly unusable on this device. Yahoo Weather and Wynk did what they were expected to - show us the weather forecast and play music - but we would often get stuck on certain screens because some in-app buttons required to continue were outside the device's screen area and scrolling didn't work. Errors such as these were common when using third-party apps on the iRist. The watch also heated up a lot when we tried to play games, and the experience was far from ideal as we could barely see the characters or on-screen text.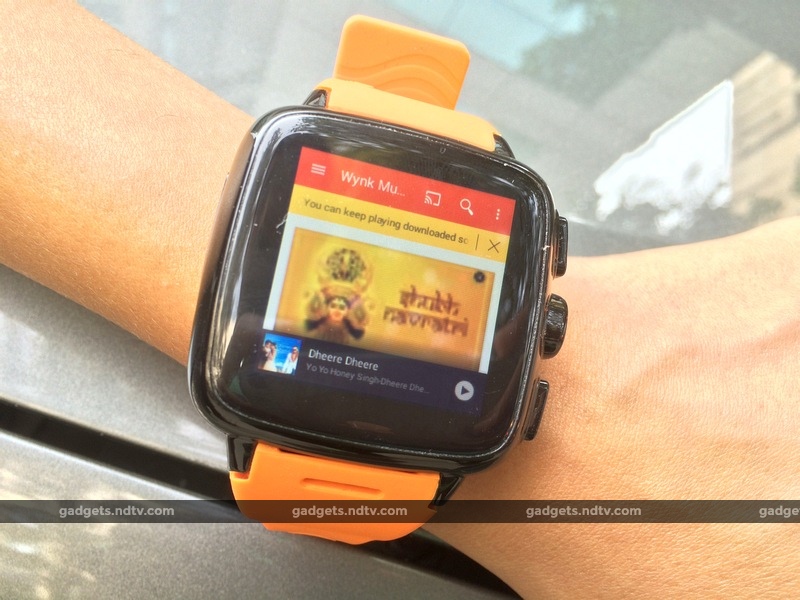 Verdict
The Intex iRist is a device that could use better software. While picking Android over Android Wear in a bid to build an independent device is understandable, it's obvious that Android just doesn't work well on a screen of this size. Very few apps are optimised for the iRist's form factor, leading to a sub-par user experience. It's better to not have apps on a platform than offer users such a poor experience. The Intex iRist was launched at Rs. 12,990 and is available for Rs. 9,999. It wouldn't have been unreasonable for a competent standalone Android device. However, the iRist is a device that just isn't ready yet and isn't good enough to merit a purchase for any serious use.