The surge of fitness wearables arriving in India continues with American firm Fitbit being the latest to arrive. Fitbit has brought its entire range of fitness wearables to India. Two of these, the Fitbit Surge and Fitbit Charge HR, are meant for fitness enthusiasts who need to keep track of their heart rate as well as distances covered and calories burned with each workout.
Both wearables pair with smartphones via Bluetooth and display notifications. The Surge is the most premium model in Fitbit's lineup, and it can be categorised as a fitness watch. It features notifications for phone calls and text messages and lets you control music playback as well. The Fitbit Charge HR on the other hand supports notifications only for phone calls. If you just need a basic activity tracker then neither of these products is for you - Fitbit has other products that might be a better fit. However, if you are serious about exercise, you might want to see if one of these wearables will suit your needs.
Fitbit Surge
The Surge is Fitbit's most expensive wearable and is targeted at fitness enthusiasts and professional sportspeople. It tracks basic parameters such as steps taken, distance covered, calories burned, and the quality and duration of sleep. Its advanced features include heart rate monitoring and the ability to track different kinds of exercise such as running (outdoors using GPS as well as on a treadmill), yoga, strength training, hiking, weight lifting, and more.
The Fitbit Surge has a monochrome LCD that is always on. It shows the time by default and so it can substitute for a regular watch. This is a device that you can wear all day, not just while working out. This significantly increases its utility in our opinion. The Surge's band is made of "elastomer material" that is comfortable. The watch is quite good looking and you can get it in black if you're planning to wear it to work.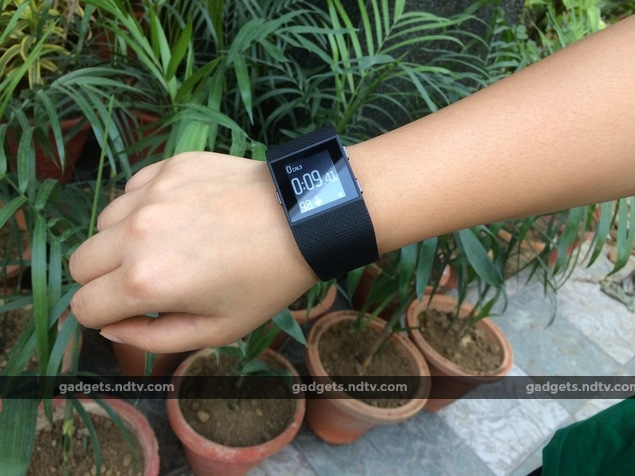 The Surge has three buttons: the one on the left acts as a home button and pressing it twice brings up the music playback controls. The two buttons on the right are for activating and ending various workout modes, reading texts, and controlling music playback. The buttons feel sturdy and are responsive. The bottom of the Surge is where you'll find the heart rate sensor and charging port. The watch is slightly bulky and weighs 77g. We wore it for over a week and it didn't cause discomfort.
The Surge has a touchscreen, so you need to swipe it to access various features. The touchscreen is fairly responsive but we did have a few quibbles about the interface. For instance when you're in workout mode, you see the duration of the workout, number of calories burned, and your heart rate. You can swipe sideways to switch between heart rate and the clock. There are no visual cues (such as a tiny arrow pointing towards the side) to tell you that there's more to be seen, and we only discovered it through trial and error.
Similar visual cues are missing from the menus too. There are four menus - Run, Exercise, Alarms, and Settings. In the Run and Exercise menus, swiping sideways brings up modes for various kinds of exercises. The bigger complaint we have with the Surge is how you need to manually activate exercise modes. We're not expecting the Fitbit Surge to automatically detect exercise and start logging it, but it would have worked a lot better if starting any kind of workout didn't require multiple taps and swipes.
For example you enter the Exercise menu and select the appropriate workout mode. You then need to hit another button to start logging your workout. During our week at the gym, we entered the workout mode and forgot to activate it a couple of times until we were well into our exercise regimen. We feel that the watch should start logging sensor information the moment we select a workout mode.
That said, the Fitbit Surge works as advertised and logs your activity accurately. Having it monitor your heart rate constantly is a big plus during workouts. We would have loved to have it tell us when we hit the target heart rate. The watch has a vibrator so it could have alerted us subtly when we crossed the target heart rate, which is important for knowing whether or not to push ourselves further. The heart rate display on the watch is accompanied by an animated heart icon that quickly shows you whether you're in the resting, active, cardio, or peak heart rate zone.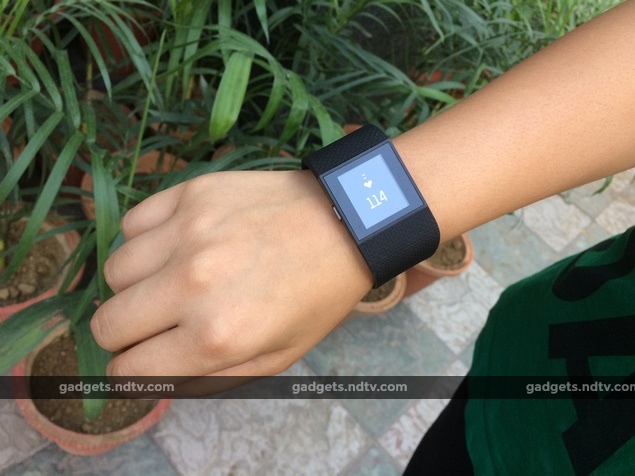 The watch has a GPS receiver and it works very well for tracking runs. The Surge locked on to GPS signals quickly even in crowded areas of South Delhi. Depending on your workouts, you can use other modes such as treadmill running, spinning, etc. We had no issues with these modes. The only problem we faced with the Surge was with its heart rate sensor. The watch would stop reading our heart rate midway through intense workouts, when we'd be sweating profusely. We needed to take the watch off and wipe our wrist, and the sensor would start working again. The limitation is understandable, albeit annoying, as we'd rather not have such distractions during workouts.
All activity can be reviewed using the Fitbit app on smartphones and computers. The watch pairs with most smartphones via Bluetooth (Android, iOS and Windows Phone are supported), and comes with a USB dongle that lets you sync with Windows and OS X. Some things, such as choosing one of the four available watch faces and setting alarms can only be done via the app. It would have been a lot simpler to be able to do these things on the watch itself, but this isn't a dealbreaker.
Fitbit's iPhone app is beautiful and works very well. We've used this app in the past without a Fitbit device (it can also track activity via a phone's built-in sensors) and were impressed. Using it with a Fitbit band brings out its full potential though. You can log your diet manually to see if you've burned enough calories with your workout. You have to enter the name of the food, the portion size, and how many calories it has. Fitbit's app doesn't yet have an exhaustive database of Indian food, which is a disappointment, but the company told NDTV Gadgets they plan to change this soon.

The Fitbit Surge uses regular Bluetooth (as opposed to low-power Bluetooth) for music controls, which drains the battery bit faster than ususal. Call and text notifications were handy on the watch, although if we left a text unread on the phone, the watch would keep vibrating once every 10 minutes or so. Apart from that we had no issues with these features.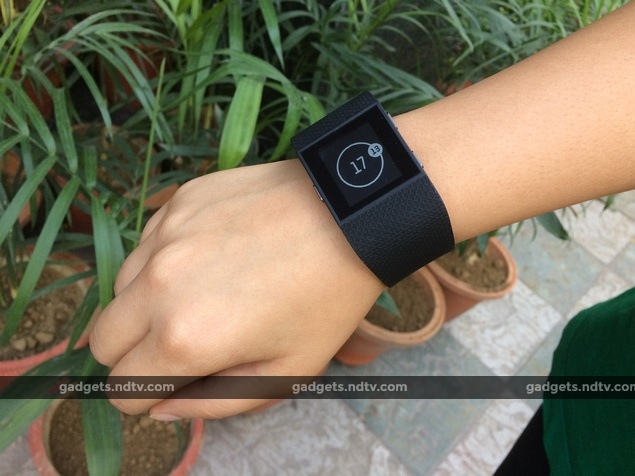 Fitbit claims that the Surge can last up to seven days on a single charge but it never lasted longer than four days at a stretch during our testing, which is good enough. Predictably, the battery life takes a bigger hit if you use GPS regularly.
Fitbit Charge HR
The Fitbit Charge HR is a simpler fitness band with a heart rate monitor. It has a tiny OLED screen and just one button on the side. The heart rate sensor and charging port are on the inside of the band, which is comfortable to wear. The watch pairs with your phone via Bluetooth to provide notifications for incoming calls. Unfortunately it doesn't support text notifications or music controls. Its tiny horizontal display would have made those features hard to use, so Fitbit's decision to skip those features is understandable.
The Charge HR's screen stays off by default, so you have to press the button whenever you want to check the time. Press it again to see the number of steps you've taken and yet again to cycle through distance covered, heart rate, calories burned, floors climbed and the alarm time with each press. This can get really annoying - you have to press the button five times even if you just quickly want to check your heart rate. You have to press and hold the button to start or stop logging exercise sessions.
You can set alarms and daily goals through the app, which makes the Charge HR band a passive tracker. Fitbit claims it is water resistant, but you can't use it while swimming or when showering, which means you can't wear it all the time. The only difference between Charge and Charge HR is that the latter has a heart rate monitor, but we feel if you really need the heart rate monitor, it's probably a better idea to get yourself the Fitbit Surge. The Charge HR is better than the Surge in only one aspect - battery life. In our tests, it lasted around eight days on a single charge.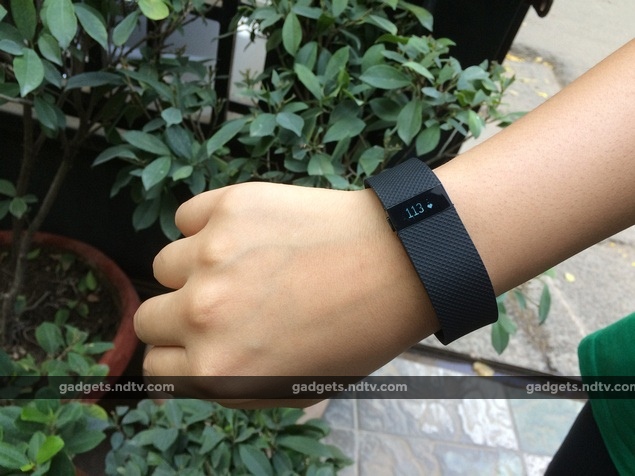 Verdict
Both Fitbit wearables are in the premium segment. The Fitbit Surge is priced at Rs. 19,990 and the Charge HR costs Rs. 12,990, which is pretty competitive compared to their US price. The Fitbit Surge's various exercise modes, text notifications, music controls, GPS and always-on watch-like display make it far more useful than the Charge HR. If you're a serious fitness enthusiast, we'd recommend buying the Surge even at this steep price. The Charge HR is less useful and offers less value even at its price. Fitbit also has more affordable offerings that we will review in the coming weeks.

Affiliate links may be automatically generated - see our ethics statement for details.