Mumbai-based Converge VR is one of the newest entrants into the space, and has been working on a series of headsets for mobile-based virtual reality. This means making Cardboard-compatible devices, and the Converge VR headset is one of the nicer takes on the technology we've seen, offering comfort and ease of use, along with a few extra bonuses that you don't normally see on Cardboard headsets.
There's a growing wave of interest in virtual reality, as today mobile phone companies are also starting to turn to it as the "next big thing". Samsung has been one of the pioneers with it's Gear VR headset, but with the development of Google Cardboard, phone makers have jumped onto the trend of bundling along the low-cost VR headsets with their devices.
OnePlus had a VR headset, and we recently reviewed the AntVR headset from Lenovo. Karbonn also launched the Quattro L52 and Titanium Mach Six with VR headsts, and like Lenovo, Karbonn is also focussing on the potential of giving you the "big screen" experience on your phone, thanks to the headset.
There are also plenty of third party options available: basic headsets made out of actual cardboard that include DIY kits priced at close to Rs. 100; assembled kids that cost under Rs. 500; more elaborate sets that cost up to Rs. 10,000 - though it's very hard to recommend these expensive devices because of how limited Cardboard is for now.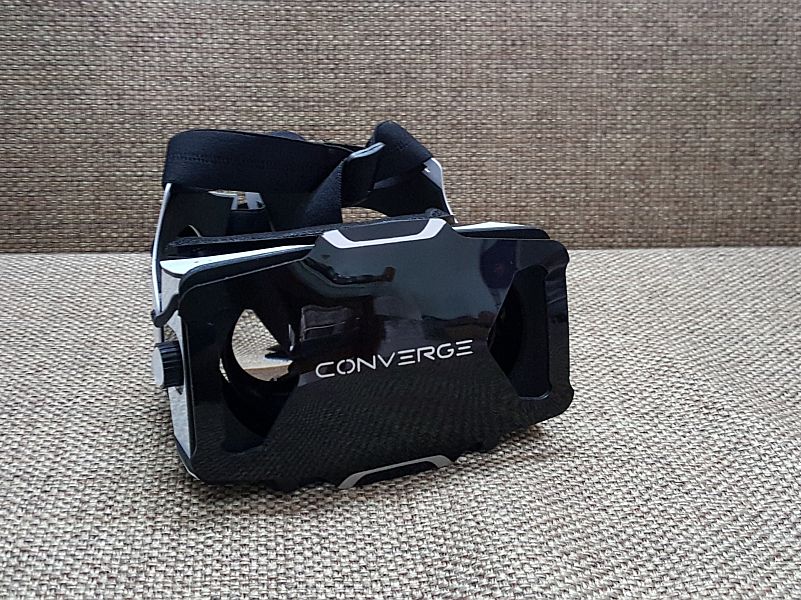 Converge VR's headset is still a little on the expensive side as it'll set you back by around Rs. 2,000. But it comes with a couple of extra features that you typically don't see on cheap headsets that make it very comfortable to use, and this could make it a good option for people. What's more, its creators are calling it a Dev Kit, and they say that people who buy the headset will get a 50 percent discount on the final "consumer" version of the headset, which is expected in August 2016 and will be priced at around Rs. 2,500 - Rs. 3,000.

Design
The Converge VR headset looks like a pretty standard Google Cardboard headset - albeit one made out of plastic instead of cardboard - but with a couple of extra straps on the back. The plastic that's used feels cheap to touch, but that doesn't really matter because you're not going to be handling it much.
On the back, where you'd be putting your face, there's a layer of foam for your head and nose that makes this fairly comfortable to wear. The straps run behind your head and above it too, so the headset also felt very secure to wear. In terms of comfort, we found little to complain about the headset, though the elastic straps are a little hard to adjust, and this means that putting the headset on is a bit of a struggle. Given how secure it feels after you put it on though, it seems like a fair compromise to make.
The slot on the front where the phone goes in is held in place with a rubber buckle that is easy enough to open, and feels quite secure. Near the top right corner of the headset, there's a small lever that activates the touch input on your phone.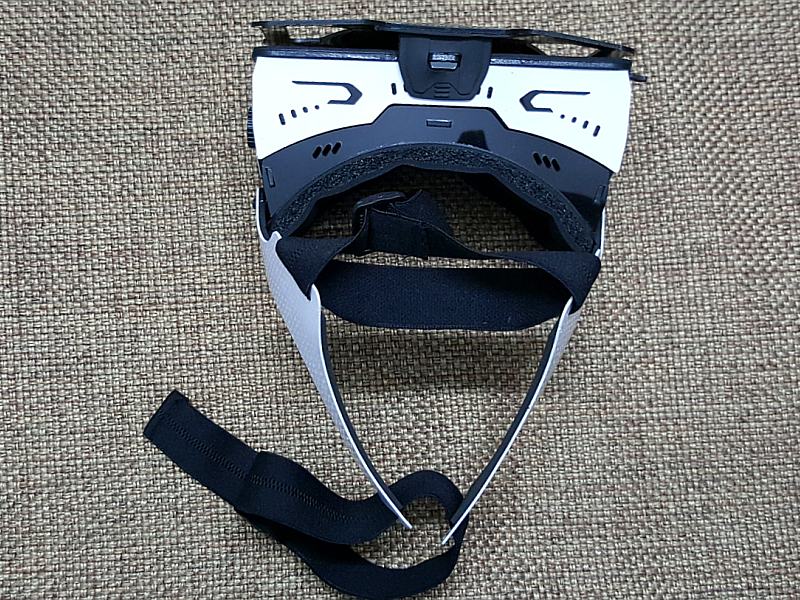 What's unusual about the headset is that there are four knobs - one on either side of your head, and one under either eye - on the body, something you don't normally see on a Cardboard headset.
The knobs on the sides adjust the focus by letting you move either lens back or forward. It won't make a huge difference - if you have high power, or cylindrical vision, then the controls won't really help you too much. But if you've got low to medium power then the focus knob can allow you clear up images even without your glasses.
The ones under your eyes on the other hand allow you to slide the lens to the left of right, again to a small degree. This can allow you to correct the spacing between the lenses for your IPD (interpupillary distance) requirements, letting you get a clearer image and better overlap between the image on your right and left eyes.
Performance
Fitting the phone into the Converge VR headset was easy and although the headset is a little difficult to put on, once you're actually wearing it, the experience is comfortable.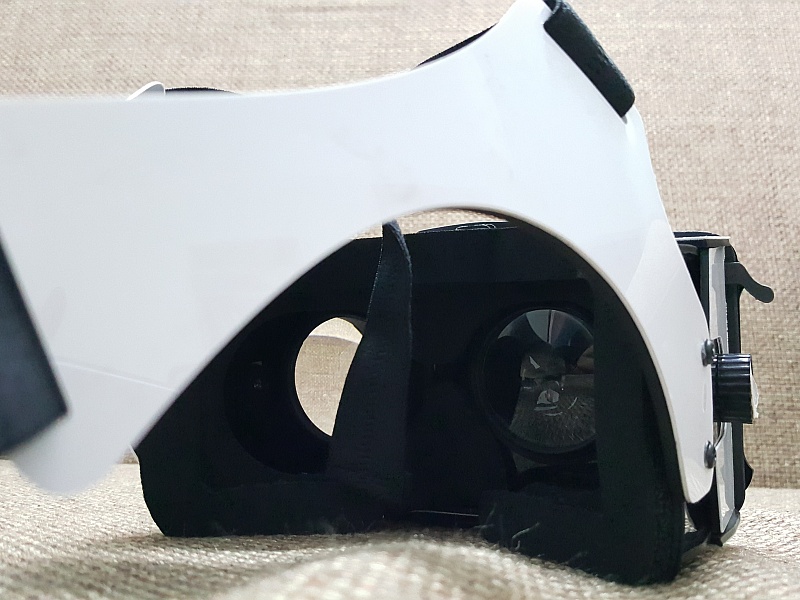 We were able to go properly hands free, which was definitely a plus, and whether you're trying to watch a 360-movie on your phone, or playing a game, the experience worked well. The developer notes that the kit includes large 42mm optics which offer a 120-degree field of view, however the phone you're using offers a pretty practical restriction on the field of view.
Being able to adjust the IPD and focus also led to one of the nicest glasses-free experiences we've had a chance to try so far. With most other headsets, we've preferred to squeeze our glasses in even if it can be a little uncomfortable to do so. The Converge VR was one of the few exceptions to this in our experience.
The construction is pretty solid and thanks to the padding, allows you to get right in there, letting in no extra light, so you can have a pretty optimal Cardboard experience. The only catch is that it isn't easy to quickly remove the phone and interact with it, unlike other, simpler headsets, and Cardboard doesn't have a good system to navigate between different apps right now, so there will be a bit of fumbling with straps and the headset from time to time.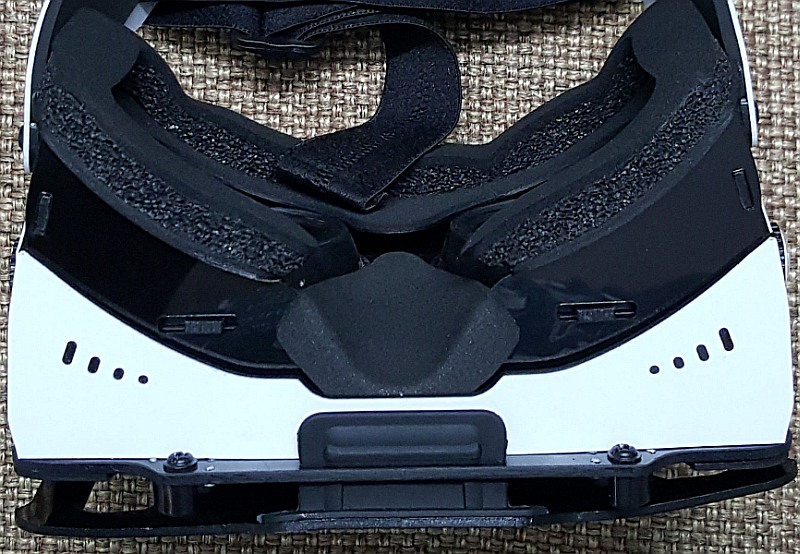 Verdict
We've got a growing collection of Cardboard headsets at this point, and amongst them, the Converge VR set is the most expensive one that we've tried.
If you're price-conscious, it's hard to justify this device, no matter how refined it is, because you can get a basic Cardboard set for just around Rs. 100.
That being said, the Converge VR is a well made headset that is comfortable to use. It's got a few extra bells and whistles that you don't normally see in Cardboard headsets - you can adjust the focus and IPD both, and quite easily - and if you already have a basic headset and are looking for something a little better before the next generation of technology comes around then you should give the Converge VR a try.
You can buy the Converge VR online at Rs. 2,199.