Timex on Wednesday has announced its first smartwatch, dubbed the Ironman One GPS+, priced at $399.95 (approximately Rs. 24,000). The smartwatch is already up for
pre-order
but Timex will only deliver it by this fall.
Watch manufacturer Timex teamed-up with AT&T and Qualcomm for the "connected" smartwatch that is targeted at runners and other fitness buffs, reports USA Today. Unlike most other smartwatches in the market, the Ironman One GPS+ is a standalone smartwatch with 3G connectivity, and doesn't need to connect with smartphones for data or other purposes.
Along with the 1.5-inch touchscreen, the Ironman One GPS+ also features four physical buttons. It features a Qualcomm chipset (Brew platform), and Mirasol screen technology, while Timex is offering customers one year of free Internet data in partnership with AT&T.
With its GPS support, the Ironman One GPS+ can track speed and distance, while the Ironman One GPS+ with Heart Rate variant, which is available for pre-order at $439.95 (approximately Rs. 26,400), can also monitor heart rate in addition.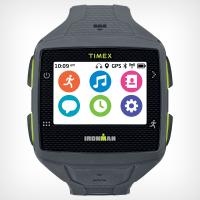 For both the variants of the Ironman One GPS+, users don't require a smartphone to upload their workout data from the smartwatch, instead it connects to a number of online services synced to it. With its Find Me mode, users can alert their friends in case of emergencies, and they can be tracked via the smartwatch's GPS. Timex is also touting the SOS mode for safety.
Apart from a built-in 3G radio, the Ironman One GPS+ smartwatch bears 4GB of inbuilt storage to save music that can be played via a Bluetooth headset. The built-in messaging app on the Timex smartwatch can be used to communicate with contacts through a special email address. While the battery size is not detailed, the company indicates a standby time of eight hours with GPS turned-on, and three days on regular use.
The Ironman One GPS+ comes with very few built-in apps and the company at present is opening up the ecosystem for developers to make new apps for the smartwatch - a big reason for Timex to have gone the Android Wear way instead. The smartwatch will be available in two colours - Black and Green.