Sony has launched its two latest wearables in India - the SmartBand Talk and SmartWatch 3. Both the Sony SmartBand Talk and SmartWatch 3 are now officially listed on the company's India site with pricing; though there is no information about availability.
The Sony SmartWatch 3 (SWR50) has been officially listed at Rs. 19,990 and will be available in Black. The Sony SmartBand Talk (SWR30), on the other hand, will come at Rs. 12,990 and is also listed in just Black.
Notably, both the Sony SmartBand Talk and SmartWatch 3 work with Lifelog, the accompanying app for the wearables.
Initially announced at IFA last year, the highlight of the SmartBand Talk is its curved and always-on 1.4-inch e-paper display offering a 320x320 pixel resolution, said to be low power consuming despite being highly visible and clear.
The screen on the SmartBand Talk offers users Lifelog activity, notifications and the time at a glance. The new wearable also features built-in microphone and speaker combined with a short call function. This feature allows users to forward calls from a paired smartphone to the SmartBand Talk, which its built-in microphone and speaker lets users talk into it and hear the caller, along with HD Voice support.
The Sony India website notes that the Sony SmartBand Talk can offer up to 3 days of battery back-up while can offer up to 1 hour of talk time.
Much like Sony's other devices, the SmartBand Talk is also a waterproof device and comes with IP68 certification.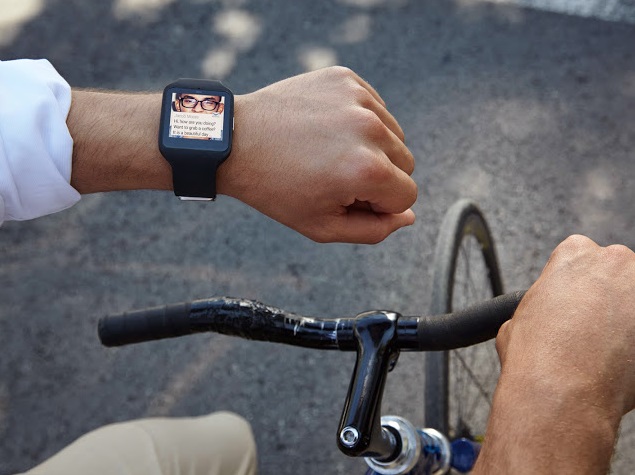 The SmartWatch 3, on the other hand, is the company's upgraded smartwatch that has been specifically designed for the new Android Wear update.
It comes with a built-in accelerometer, compass, gyroscope and GPS sensor. The SmartWatch 3 sports a 1.6-inch (320x320 pixels) display, set within a stainless steel core and is waterproof with IP68 certification. The device also includes 4GB of built-in storage and can connect with a Bluetooth headset.
The Sony SmartWatch 3 is powered by a quad-core 1.2GHz ARM (unspecified chipset) processor coupled with 512MB of RAM. It packs sensors such as an ambient light sensor, accelerometer, compass, and a gyroscope, and also features GPS connectivity.