Samsung has launched the Gear S2 and Gear S2 Classic smartwatches. The firm is juicing up its smartwatch lineup with circular faces and more battery life than the Apple Watch, but it's unknown how many apps will be available for it.
The limited selection of apps is one of the main challenges facing Samsung's smartwatches. They have been around for longer than the Apple Watch but haven't generated as much interest or sales.
Samsung's newest, the Gear S2, is based on Tizen OS, and faces competition not just from Apple but also from a variety of manufacturers using Google's Android Wear software. According to IDC, Apple was the number two maker of wearable devices in the April-June quarter, with a 20 percent worldwide market share, behind the Fitbit and its fitness trackers at 24 percent. Samsung was fifth with 3.3 percent.
So far, outside app developers have focused their efforts instead on the Apple Watch and Android Wear watches. Samsung's watches use their own operating system, Tizen OS, which means extra work adapting apps for them.
Samsung promised a variety of apps designed for the new watch's circular face, but it didn't provide details. The company said demos of the new apps will come Thursday at the IFA tech show in Berlin.
The Korean electronics company didn't announce a price or release date Monday for the Gear S2.
The Gear S2 is the first Samsung smartwatch with a circular design, and the company says the watch's frame will rotate to help users access apps and notifications. It's not a new shape for smartwatches - Motorola and LG make circular frames, too, but the rotating bezel is a novelty.
The Gear S2 will come in two styles - the modern Gear S2, and the Gear S2 Classic. The Samsung Gear S2 will be available in a Dark Grey case with a Dark Grey band and Silver case with a White band. The Samsung Gear S2 classic will be available in a Black case with a Leather band.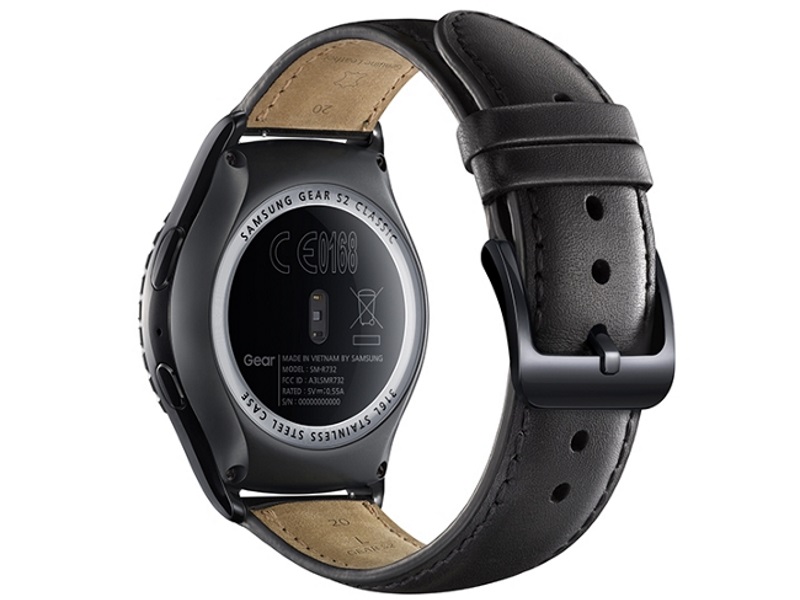 Bearing a 1.2-inch circular Super Amoled display with a 360x360 pixel resolution, the Gear S2 is powered by a 1GHz dual-core processor coupled with 512MB of RAM.
It bears 4GB of inbuilt storage, and is IP68-certified dust and water resistant. The smartwatch supports Wi-Fi 802.11 b/g/n, and Bluetooth 4.1 connectivity, apart from NFC, enabling mobile payments. The Gear S2 features an accelerometer, gyroscope, heart rate sensor, ambient light sensor, and barometer. It is powered by a 250mAh battery that supports wireless charging.
The Gear S2 has dimensions of 42.3x49.8x11.4mm, and weighs 47 grams, while the Gear S2 Classic has dimensions of 39.9x43.6x11.4mm, and weighs 42 grams.
Apple Watch requires an iPhone, and the S2 will likely require an Android device from Samsung. Some models will have 3G cellular capabilities that let them do more without the phone nearby, featuring an 'e-SIM' with voice capability.
Samsung promises two to three days of battery life for the Gear S2, compared with Apple Watch's 18 hours.
JK Shin, CEO and Head of Samsung's IT & Mobile Business, commented on the launch, "For the past several years, Samsung has pioneered and advanced the wearables category, bringing brave new concepts to the smart wearables market. The Samsung Gear S2 reflects Samsung's most progressive innovation. It is the perfect complement for any occasion, easily taking you from day to night, from work to workout-and ensuring that you get more out of every moment in your day, by making it smarter and ultimately more personal and fun."
Written with inputs from AP