Samsung, in partnership with Diesel Black Gold, has announced a series of customised accessories for the new Gear S smartwatch.
Diesel Black Gold, which is a premium line of the Diesel brand, has revealed that the new Samsung Gear S custom accessories will be launched at the runway of the Diesel's Spring/Summer 2015 show.
As of now, no pricing has been revealed and there is also no word on whether the Diesel Black Gold customised Gear S smartwatch bands will even be released globally.
Samsung in a press statement said, "By using the innovative technology of the Samsung Gear S as a foundation, the creative team at Diesel Black Gold created a collection of unique pieces, in different shapes, colours and details, all characterized by the iconic attitude of the advanced contemporary label."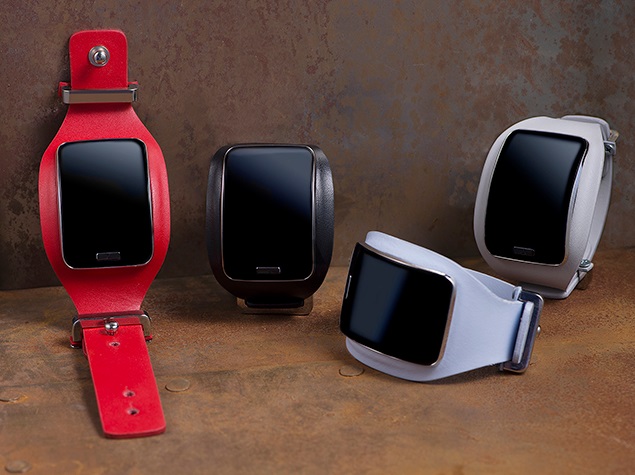 The South Korean giant also confirmed that a 360-degree video of the Diesel Black Gold runway show will be made for the recently announced Samsung Gear VR.
Commenting on the announcement, Younghee Lee, Executive Vice President of Global Marketing, IT and Mobile Division at Samsung, said, "We are committed to developing collaborations with brands that inspire fashion and empower people to express their personal style. Our partnership with Diesel Black Gold is very crucial as it further showcases the union of fashion and technology, and the way in which wearable devices continue to become more intertwined in daily life."
Samsung had unveiled its new Gear S smartwatch with 3G connectivity and voice calling ahead of IFA. The smartwatch will be rolled out in global markets in phases, starting October.
Running on the company's own Tizen OS, the Gear S comes with a separate slot for a SIM card (size unspecified) on the back panel along with the heart rate sensor and four pogo pins.
Other features of the Gear S include a 2-inch curved Super AMOLED display with a 360x480 pixel resolution; a dual-core 1GHz processor; 512MB of RAM; 4GB of inbuilt storage; 300mAh Li-ion battery, rated to deliver 2 days of charge with typical usage; IP67-certified dust and water resistant, and S Health app.