Google at its
I/O 2014 Keynote
address on Wednesday detailed its Android Wear platform further, speaking about notifications, UI, and integration with Android smartphones, including authentication. The biggest news about the wearable platform however, was the announcement that Samsung is making an Android Wear smartwatch, called the Gear Live.
First
leaked on Tuesday
, the Samsung Gear Live ($199) smartwatch is now official, and will be available for pre-order from the Google Play store (in some regions) later on Wednesday, along with the previously announced
LG G Watch
($229) that also runs on
Android Wear
. Both the smartwatches will ship from July 7. Notably, the other Android Wear smartwatch we know about, the Moto 360, will only be available later in the American Summer.
I/O attendees were given a choice between a LG G Watch and Samsung Gear Live as souvenirs, and also to help developers make apps for the Android Wear platform. Pichai added the circular form factor was important for developers to get used to, so all I/O attendees have also been promised
Moto 360
smartwatches as soon as they become available.
LG said the G Watch will be available for pre-order from Google Play starting June 25 in 12 countries including United States, Canada, UK, France, Germany, Italy, Spain, South Korea and Japan. It also announced the G Watch will be available soon after at retailers in 27 markets such as Australia, Brazil, Mexico, New Zealand, Singapore and Russia.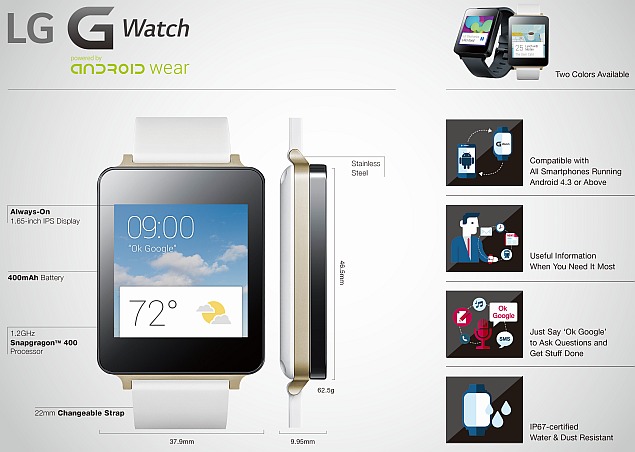 Detailing the specifications, LG said the G Watch features a 1.2GHz Qualcomm Snapdragon 400 processor, coupled with an always-on 1.65-inch IPS (280x280 pixels) display. An IP67 rating was also announced, making the G Watch dust and water resistant for up to 30 minutes in one metre of water. It will be available in Black Titan and White Gold, and can be personalized with any standard 22mm strap available in the market.
Other specifications of the LG G Watch include 4GB of built-in storage, 512MB of RAM, a 400mAh battery, Bluetooth 4.0 connectivity, and a 9-axis sensor. It has dimensions of 37.9 x 46.5 x 9.95mm, and weighs in at 63 grams. No pricing details are available as yet.
Speaking on the launch, Dr. Jong-seok Park, president and CEO of the LG Electronics Mobile Communications Company, said, "As one of the first to market with Android Wear, LG wanted to develop a product that functions as an essential companion device but most importantly, was simple to use. We wanted a device that would be simple to learn and so intuitive that users wouldn't even have to think about how to use its features. That's what the LG G Watch is all about."
The Samsung Gear Live was seen for the first time at I/O 2014 on Wednesday, and seems to be very similar looking to the Gear 2 (
Review
) smartwatch launched earlier this year.
Samsung has detailed specifications, saying the Gear Live has a 1.63-inch Super AMOLED (320x320 pixels) display, runs on a 1.2GHz processor coupled with 512MB off RAM, and features 4GB of inbuilt storage, apart from Bluetooth 4.0 connectivity. It is powered by a 300mAh battery, measures 37.9x56.4x8.9mm, and weighs 59 grams.
The South Korean giant also detailed some of the features of the Gear Live smartwatch, such as the heart rate monitor, IP67 rating for dust and water-resistance, and the other sensors onboard (accelerometer, gyroscope, compass).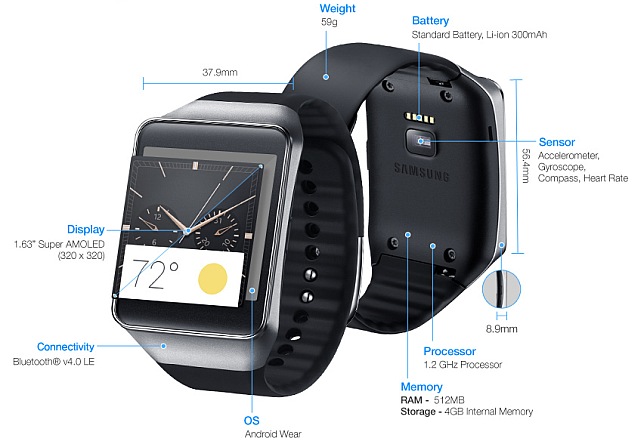 Speaking on the launch, JK Shin, CEO and President of IT & Mobile Division, Samsung Electronics, said, "Samsung has been a pioneer in the quickly-evolving wearable market, and the launch of Gear Live furthers our efforts to deliver a simple and intuitive wearable experience to consumers. Through our long-term close collaboration with Google, we have successfully incorporated the capabilities of Android Wear into the Gear Live, in a way that only Samsung can do. I am confident that Samsung and Google together, we will grow the smart wearable market to positively impact consumers' life."
Samsung's re-joining of the Android smartwatch platform with Android Wear is definitely thought-provoking, after the Korean giant earlier this year decided to use its co-developed Tizen OS for its
new generation of smartwatches
(Gear 2 and Gear 2 Neo), and even issued a
replacement update
for the original Galaxy Gear, which ran a Samsung-modified version of Android at launch.
So, just why is Samsung making an Android smartwatch? With Google announcing that there will now be a single Android SDK for all form factors, it immediately implies a rich Android app ecosystem that OEMs will be able to leverage. Google also announced the Google Fit Platform, which will in all probability beat out Samsung's recently unveiled
SAMI platform
in terms of partner adoption.
While these above points are all quite credible, the question of Samsung's decision is one that cannot be answered just yet, but capitalising on the trend of smartwatches across platforms is something no major smartphone manufacturer can ignore at this point, and even Apple has been long-rumoured to be making the
iWatch
for its own iOS platform.