With over $12 million (roughly 75 crores) in funding and pre-orders for more than 65,000 smartwatches, you'd assume that the Pebble Time was all that the company, Pebble had to offer. However this changed with the announcement of the Pebble Time Steel, which bears a striking resemblance to the Apple Watch.
As the name suggests, it's made of stainless steel. Due to this it's thicker and heavier than the Pebble Time that's mostly made of plastic. There are three colours to choose from. These include Black, Gold, and Stainless Steel. It will ship with a metal bracelet and a leather strap. Much like the Pebble Time, it will be available through the company's highly successful Kickstarter campaign.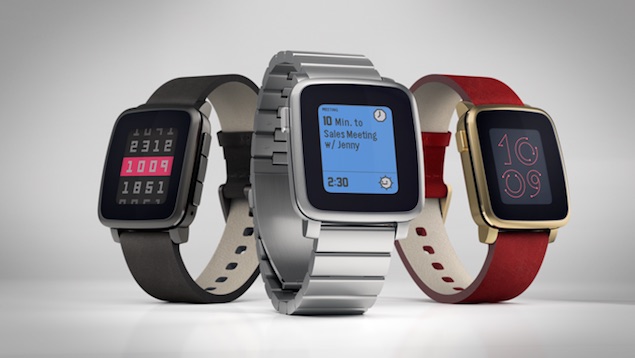 With a regular retail price of $299 (around Rs. 18,500), Kickstarter backers can get it for $250 (around Rs. 15,500). And if you have already backed the Pebble Time but want to upgrade to the Steel, you can do so without losing your spot in queue. What this means is if you backed Pebble Time on February 24, you'll be one of the first to receive the Steel when it ships in July.
In addition to this, the company announced smartstraps. These are straps that contain sensors and electronics can be used with apps on the Pebble Time. The possibilities are intriguing to say the least with the company stating that you could use them to enhance battery-life, make payments via NFC, or even use them as pollution sensors.
Apple Watch's impending launch in April has certainly spurred major manufacturers to come up with their own wearable offerings, and Huawei and HTC are some of the latest entrants into the smartwatch and fitness tracking club.
For the latest tech news and reviews, follow Gadgets 360 on Twitter, Facebook, and Google News. For the latest videos on gadgets and tech, subscribe to our YouTube channel.
Related Stories