Smartwatch
maker Pebble has announced permanent price cuts for its smartwatch duo - the original Pebble and the new Pebble Steel. The company alongside also revealed a firmware update for the smartwatches that brings support for activity and sleep tracking.
According to the company, the original Pebble will be now available at $99 (Rs. 6,100 approximately), down from the earlier price tag of $150 (Rs. 9,230 approximately). The Pebble Steel, which was launched earlier this year, is now priced at $199 (Rs. 15,400 approximately), compared to $249 (Rs. 15,430 approximately) previously.
Pebble in a blog post titled "Celebrating Pebble's Growth with New Things to Love," also announced that the company is expanding the retail presence of the smartwatches to more partners and markets. The company confirmed that the Pebble will be now available at Sam's Club, Fry's Electronics, and Sprint stores (coming soon) across the US, which will join Best Buy, Target, AT&T stores, and Amazon. Pebble starting October will be also reaching UK markets and will be available at Dixons retail, O2, and Amazon.co.uk. Some of the new markets that the company will be entering starting Wednesday are Benelux and Scandinavia.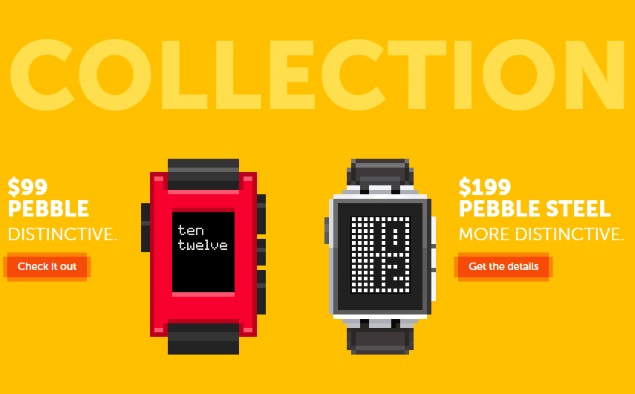 Pebble also announced new health and fitness apps from Misfit, Jawbone, and Swim.com. The new Misfit app for Pebble has been enabled for continuous activity and sleep monitoring. While Jawbone has launched new activity tracking watch face for Pebble dubbed UP that will show daily and weekly activity progress of the user while will automatically sync with its new UP app for iOS. The company confirmed that the app will be soon launched for Android platform. Swim.com, on the other hand, measures distance, pace, times, strokes, and efficiency while swimming and automatically syncs data with the connected device and even syncs this data with cloud. Notably, Pebble is water resistant (up to 5ATM, or 50 metres) which is suitable for swimming.
The official blog post said, "Today, we're announcing a new area of growth for our ecosystem - health and fitness - and releasing software update that enables non-stop activity tracking and sleep monitoring (thanks to Pebble's class-leading multi-day battery life). This update lets Pebble users display their favorite watchface while tracking their activity in the background."
The company released the complete changelog of the Pebble's new firmware (version 2.6).
NEW: Activity. Activity tracking apps (e.g. Jawbone, Misfit, Swim.com) for Pebble now work seamlessly in the background. View installed Activity apps and toggle preferences in the Pebble Settings menu. An Activity icon is visible within Pebble menus when a compatible app is installed and running.
NEW: Quick Launch. Set shortcuts from a watchface to your favorite Pebble apps with a long press of the Up or Down buttons. Enable Quick Launch and set app shortcuts in the Pebble Settings menu.
Battery icon is now persistent within Pebble menus.
Select button once again dismisses notifications when paired with an Android device or iOS device on iOS 7 or lower. iOS 8 users get notificaion dismissal for both Pebble and the paired device when pressing Select.
Bug fixes and improvements.