Pebble smartwatch users who also own an Android device have something to cheer as the smartwatch maker has announced the Android Wear compatibility feature is now out of beta. This means that users can reply and act on notifications from their wrist.
Initially rolled out as a beta in December, the feature adds full compatibility with Android Wear, which means Pebble users will enjoy the same functionality as their Wear-counterparts without the app developers needing to do anything.
"These new interactions from Pebble are amazing because Android developers do no extra work to make the magic happen," the company had said while announcing the feature in December. "The Pebble Android app uses actions baked into Wear-integrated apps already. If you can do it with Android Wear, you can do it with Pebble."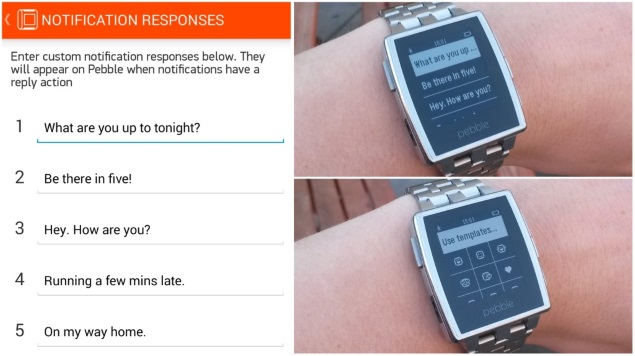 On top of this, the update brings to Pebble some additional features that Android Wear users don't enjoy like user-defined responses.
The new features are available via the new Pebble Android app (v2.3.0) to any user running the latest firmware - v2.9, released last week - on their Pebble smartwatch. The company has also released an updated iOS app with new features and fixes (detailed below).
Pebble CEO Eric Migicovsky earlier this month claimed that the company shipped its one millionth smartwatch on December 31 last year, and also shared some of the company's plans for 2015. According to Migicovsky, the company plans to introduce more new products this year and would also debut a new software platform that is said to be unlike anything seen on the smartwatch till date.
Pebble Android App 2.3.0 Release Notes

Android Wear Notifications. Reply and act on Android Wear notifications (requires Firmware v2.9+).

Pebbler-defined replies. Set your own replies to notifications (up to five, so get creative, buddy!).

Reply from Pebble using most Android-compatible SMS messaging apps.

Automatic app and watchface updates when Pebble is idle.

Support for Android 4.0+ devices.

Fixed Issues with Whatsapp notifications.

UTF-8 support in PebbleKit JS.

Bug fixes and stability improvements.

Pebble iOS App 2.6.4 Release Notes

Adds the latest JavaScript Pebble apps available for iOS users in the Pebble appstore.

Bug fixes and stability improvements.

Pebble Firmware 2.9 Release Notes

NEW: Android Actionable Notifications. Adds support for actionable notifications and Android Wear compatibility for Pebbles paired with Android smartphones running v4.0 (Ice Cream Sandwich) or higher and the Pebble Android app v2.3.0 or higher.

Bug fixes and stability improvements.
For the latest tech news and reviews, follow Gadgets 360 on Twitter, Facebook, and Google News. For the latest videos on gadgets and tech, subscribe to our YouTube channel.
Related Stories