Motorola is said to be gearing up to introduce the Moto Maker customisation option for the Moto 360 smartwatch starting next month. The company will let users customise their Moto 360 smartwatch with their choice of bands, watch faces, and other features. Until now, Motorola's much-anticipated Moto Maker customisation was
limited
to flagship smartphones - Moto X and
Moto X (Gen 2)
.
Wired's David Pierce met the Moto 360 team at Motorola and reports some details about Moto Maker option for the smartwatch. The report also includes a screenshot of Moto 360's Moto Maker website that is yet to go live.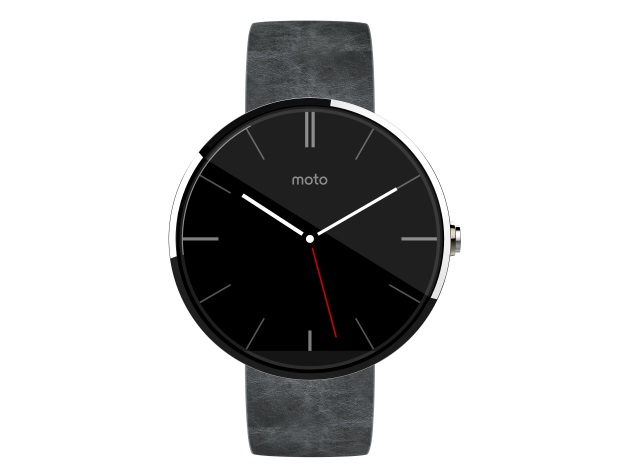 He adds that consumers will be able to choose from three watch casings - Silver, Black, and Champagne Gold, which will be available in two sizes in a choice of leather or metal. Further, consumers will be able to choose from 11 watch faces. Pierce says that selected watch face will appear on the Moto 360 (Review) the first time the smartwatch is switched on. Motorola will also offer the single-link band it had first teased in a promo video back in June.
While talking about the Moto Maker option for the Moto 360 smartwatch, the team at Motorola revealed that the customisation option was "always the plan for the Moto 360."
Motorola's Director of Design for Wearables, Dickon Isaacs, added, "There's a couple of things here we've been dying to finally get out, for people to buy and wear."
Motorola however has other plans as well with the expanded Moto Maker, the report notes, "It might allow Motorola to offer upgrades to its products more quickly, with more customizations. It might allow it to build an Apple Store-like experience online, where you can play with your device before you buy it. It might allow it to flip the upgrade cycle, so that you upgrade each part only as you need to. Most of all, it might show the rest of the tech industry that this is how you sell technology when technology is made to be beautiful."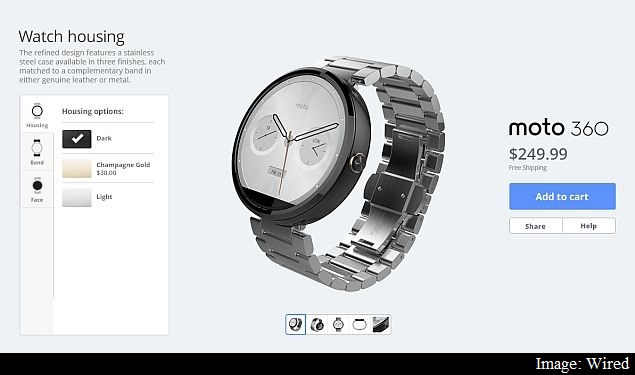 "Our research across all categories show that details matter, construction matters, materials matter. When people first see an object, it's a visceral reaction, right?" added Isaacs.
Isaacs and John Renaldi, Director Moto Maker, stressed that this is just the "beginning for Moto 360 and Moto Maker."
Motorola's Moto 360 smartwatch comes at starting price of $249, and was launched in India at Rs. 17,999 in October.