Amidst a number of laptop, tablet and smartphone launches, the ongoing CES 2015 event is also witnessing tech companies focusing their energies towards the automobile industry, which is undergoing a transformation. In a reversal of that trend, an LG smartwatch made exclusively for Audi was teased by the German car manufacturer.
LG has made a new smartwatch for Audi that also features a new design profile unlike any of the company's previously launched smartwatches. The official name of the teased LG smartwatch and its specifications are not yet known. However, Android Central reports that LG has confirmed the unnamed watch ran a customised build of Android Wear for Audi.
First reported by The Verge, the smartwatch flaunts a three-button design, something not seen on any of the Android Wear devices till date. The report adds that Ulrich Hackenberg, an Audi board member, was seen wearing the watch and demonstrating a self-driving car on the stage via the yet-to-be-detailed LG smartwatch.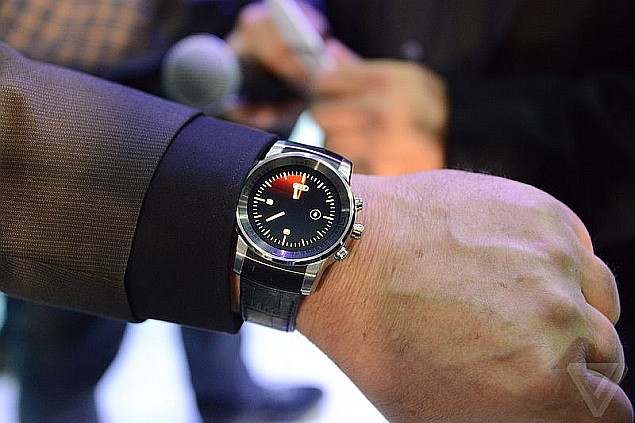 The LG smartwatch teased by Audi though sporting a new design features a round dial similar to LG's own G Watch R, and the Moto 360, which were launched last year.
In addition, a number of Android Wear in-car systems were demonstrated at the company's CES 2015 press event. Audi also announced its collaboration with Samsung and Nvidia for its in-car system displays and other internals at the expo.
On Monday, Hyundai updated its car-monitoring service, Blue Link, with support for Android Wear. The updated Hyundai Blue Link service will let users remotely lock and monitor their cars via simple voice commands like "lock my car", "start my car", "find my car" and more. Alternatively, users can also perform various other functionalities with the help of a quick button. In addition, the Blue Link smartwatch app will be compatible with first and next generation Blue Link-equipped Hyundai models.
For the latest tech news and reviews, follow Gadgets 360 on Twitter, Facebook, and Google News. For the latest videos on gadgets and tech, subscribe to our YouTube channel.
Further reading:
Android
,
Android Wear
,
Android Wear Smartwatch
,
Audi
,
Automobiles
,
CES
,
CES 2015
,
LG
,
LG Audi
,
LG Smartwatch
,
Smartwatch
,
Wearables
Related Stories