LG has announced the launch of its Lifeband Touch wearable (first introduced at CES 2014), along with its Heart Rate Earphones, which together will help users monitor their fitness and health.
The South Korean giant further revealed that the Lifeband Touch fitness tracking smartband would be available in the US from May 18. It added that the fitness band will be rolled out in key markets in Asia and Europe in 'the days and weeks ahead'. For now, prices of both the LG Lifeband Touch and Heart Rate Earphones have not been revealed.
The Lifeband Touch features a 0.9-inch OLED (32x128 pixel) touchscreen, Bluetooth 4.0 connectivity, a 90mAh battery with a five day battery life, and varying weights (from 49.9 grams to 53.1 grams) and lengths (166mm to 196mm) based on M, L or XL sizes.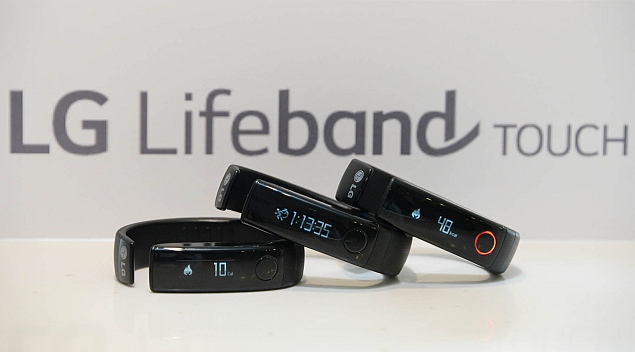 According to LG, the Lifeband Touch provides easy, real-time access to a full range of fitness data. It features a 'unique motion-sensing algorithm' that automatically turns on the display when wearers rotate their wrists. The Lifeband Touch features two sensors - a triple-axis accelerometer and an altimeter - that work together to provide the most accurate data in real time. The Lifeband Touch also enables users to check incoming calls and messages and control their music playlists on their smartphones.
The LG Lifeband Touch is compatible with both Android and iOS operating systems and is designed to work with the LG Fitness app as well as popular fitness apps such as MyFitnessPal, Runkeeper and MapMyFitness. The long-lasting -90mAh battery is.
On the other hand, LG says its Heart Rate Earphones are designed to provide accurate heart rate data by measuring blood flow signals in the ear using PerformTek sensor technology. The company says the earphones manage all this while "delivering excellent sound."
LG explains that the Heart Rate Earphones can help get accurate health and fitness metrics when compared to other with wearable devices, due to the physiology of the human ear. The Heart Rate Earphones can be used alone or with LG Lifeband Touch. A separate clip-on medallion contains Bluetooth connectivity which sends data to the Lifeband Touch or a compatible smartphone.
When using the LG Fitness App, users can also receive audible status updates with the Heart Rate Earphones, informing them of their heart rate and VO2 max (maximal oxygen consumption) levels in real time. Specifications include a 200mAh battery, Bluetooth 3.0 connectivity, hands free and voice guidance functionality, a weight of 26.7 grams for the earphones (18 grams for the medallion), and dimensions of 46x22x17mm.