LG Chem, the chemical engineering subsidiary of LG, has introduced a new hexagonal-shaped battery for smartwatches. The South Korean company announced that it has started shipping the hexagon-shaped batteries to smartwatch manufacturers.
The company says the new hexagonal-shaped batteries will offer up to 25 percent improved storage capacity compared to the rectangular batteries.
Woo Byeong-Min, LG Chem spokesperson told Korea Times, "LG Chem has started selling hexagonal batteries to global tech firms. The batteries, manufactured in Nanjing, China, where LG operates massive battery factories, will be used in upcoming smart watches."
The company claims that the new hexagonal batteries for smartwatches will add fours hours of battery life. It also said that the company will be launching future smartwatches with rounded design. The report quotes LG Chem to reveal further plans of launching new battery shapes for other devices, including an L-shaped model and a rectangular model with a hole in the middle.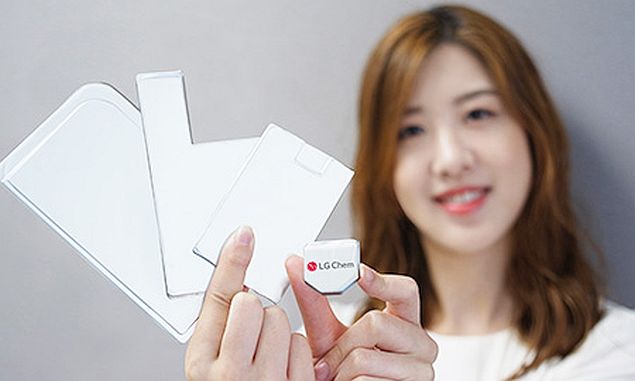 Further, the report citing sources added that LG Chem tied up with a top-tier technology company; though declined to name it. The sources add that Apple and LG were not partners in the battery's development.
We have to still wait to see whether the implementation of the hexagonal batteries on rounded design smartwatches improve the battery life on the device. One of the biggest complaints that smartwatch users have about their devices is the limited battery life, and the new hexagonal batteries from LG Chem might help in improving on it.
LG India in May this year launched its premium smartwatch the LG Watch Urbane. The smartwatch carried a MRP of Rs. 35,000; though the MOP was Rs. 30,000.
Announced back in February, the LG Watch Urbane features a 1.3-inch circular Plastic OLED (P-OLED) display with a resolution of 320x320 pixels and a pixel density of 245ppi. Other specifications include a quad-core Qualcomm Snapdragon 400 clocked at 1.2GHz coupled with 512MB of RAM (LPDDR2). It comes with 4GB (eMMC) of inbuilt storage. It is backed by a 410mAh battery. It features Photoplethysmogram (PPG) sensor to track heartbeat, a 9-axis (gyro/ accelerometer/ compass), and a barometer. It comes with IP67 certification that makes it dust and water resistant.
For the latest tech news and reviews, follow Gadgets 360 on Twitter, Facebook, and Google News. For the latest videos on gadgets and tech, subscribe to our YouTube channel.
Related Stories