Lenovo seems all set to jump onto the wearable bandwagon with the launch of its first fitness tracker, the Smartband SW-B100.
Ahead of the company's announcement, the Lenovo Smartband SW-B100 has appeared on the company's store under 'Wireless - Accessories'. The official site currently includes two colour variants (Blue and Orange) of the Smartband SW-B100.
As of now, there is no official word yet about the availability, pricing, and specifications of the new fitness tracker from Lenovo. However, we can expect the company will announce the Smartband SW-B100 in the coming days.
First spotted by Gizmobic, the yet-to-be-announced Smartband SW-B100 is compatible with Android (Android 4.3 and above), iOS (iOS 7.1 and above), and even Windows (Windows 8 and above) devices.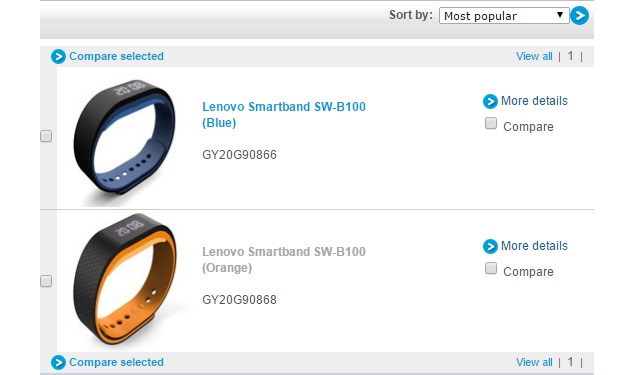 The official listing suggests that Lenovo has designed the new fitness tracker targeting the youth. The page notes, "The Lenovo Smartband is for young people who take care of their personal health and are interested in new tech trend products."
The listing also reveals that the Smartband SW-B100 can track "exercise, sleep and heart rate", while it can also "help customise notifications for both work and life (home)". Some of the other features listed by the company include exercise tracking (such as steps, distance, calories, heart rate, and daily/weekly/monthly data graph in APP); sleep tracking; smart device interaction that allows call or SMS alert reminder with number or name; alert reminder for appointment alerts, exercise reminders; SNS sharing, and auto-locking or unlocking of PCs without manually entering passwords.
Lenovo's Smartband SW-B100 will be up against some stiff competition from fitness trackers from Sony, Samsung and even Xiaomi.
Sony at IFA launched its new SmartBand Talk alongside SmartWatch 3. The new wearable from Sony features built-in microphone and speaker for combined with a short call function.
Samsung's Gear Fit, on the other hand, comprises a pedometer, heart rate monitor, and a sleep monitor. Other built-in functions include a fitness app, exercise mode, stopwatch, timer, schedule, smart relay, media controller.
Lastly, Xiaomi's budget Mi Band can monitor user's fitness and can track sleep. It features a Bluetooth chip and accelerometer, and can be powered for up to 30 days on a single charge, apart from also doubling up as an alarm clock.