India's Intex Technologies has unveiled its first wearable device in the form of the iRist, a smartwatch that runs Android 4.4 KitKat - not Android Wear - and can operate independently of your smartphone. Launched at the sidelines of Mobile World Congress (MWC) Shanghai, the iRist is priced at Rs. 11,999 and will be available in India starting August in Black, Pink, and Orange colour variants. The smartwatch will be exclusive to eBay India "for a few days" before it is available via Intex's retail partners across the country.
(Also see: Intex to Unveil First Smartphone With Sailfish OS 2.0 at MWC Shanghai)
The iRist comes with a 3G Micro-SIM slot, which means you can make and receive calls with the device by simply pairing it with a Bluetooth headset (included in the retail box). Other connectivity options include built-in Wi-Fi (with Hotspot support), GPS, and Micro-USB. The iRist comes with a dock that is needed to charge the device. Intex has packed in a 600mAh battery with the iRist, which, the company claims, can delivery up to 4 hours of talk time or up to 200 hours of standby time.
The Intex iRist comes with a 1.56-inch display 240x240 display that can display up to 16 million colours and features sapphire glass protection on top. It is powered by a 1.2GHz dual-core MediaTek MT6572 chipset alongside 512MB RAM and 4GB internal storage, 1.3GB of which is accessible for user applications and data. It also supports microSD cards up to 32GB.
Interestingly, Intex has packed in a 5-megapixel 720p shooter on the right edge of the watch (pointing outwards if you wear it on your left hand). It also includes an ambient light sensor, which means the display's brightness can be automatically adjusted depending upon the lighting conditions. The Intex iRist also packs in a pedometer, accelerometer, compass, and a gyroscope. According to Intex, the iRist is water and dust resistant, which means it can survive minor splashes, but not prolonged exposures.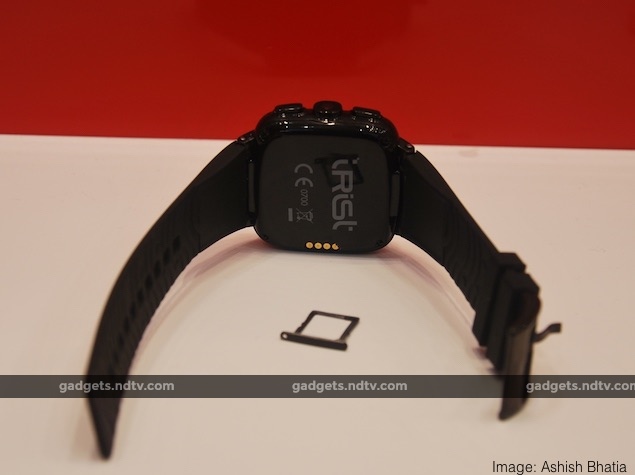 In terms of software, as mentioned before, the iRist comes with Android 4.4 KitKat, and not Android Wear, Google's de facto operating system for wearables. The decision was of course made to facilitate the operation of the watch in standalone mode, since Android Wear devices are tethered to an Android device. You can double tap the watch to wake up its display, and Intex has developed a custom voice assistant that can be used to interact with the iRist. The watch also supports on-screen keyboard input.
The iRist comes with access to Google Play store, and Intex claims many popular apps like WhatsApp and Twitter are already optimised for the watch's display. We will test this claim when we get to spend some time with the device, but app compatibility will be a concern since most Android apps are not optimised for a square, low-resolution display.
To at least partially address this, the iRist comes with built-in dialler and apps for common functions like listening to music, watching videos, and sending/ receiving messages, tracking steps, and more. The iRist includes 11 watch-in faces that users can choose from, and more can be added only via an over-the-air (OTA) firmware update.
The iRist can also be paired with a smartwatch with the help of the iConnect app, which syncs the smartphone's contacts, photos, bookmarks, and messages to the watch. Stay tuned for our first impressions of the Intex iRist.
Disclosure: The correspondent has travelled to MWC Shanghai at Intex's expense.