Watchmaker Fossil has finally forayed into the smartwatch segment with launch of its first Android Wear-powered smartwatch alongside other wearables.
The American company introduced its Fossil Q line of connected wearables including two types of connected watches (both display and non-display) and two styles of connected bracelets (one for men and one for women). The complete Fossil Q line of products is powered by Intel.
The entire Fossil Q range is compatible with Android 4.3 Jelly Bean and higher, iPhone 5 and above (running iOS 8.2 and higher), and can be connected to smartphones via Bluetooth. It can be synced with all popular fitness apps such as Google Fit, Health, UP by Jawbone, and UA Record by Under Armour. All the devices also feature wireless charging base for wire-free charging.
The company is marketing the Android Wear-based Q Founder as its most premium and high-end smartwatch. Priced at $275 (approximately Rs. 18,000), the Q Founder is expected to go on sale just in time for the holidays. The company says that the Q Founder was developed in collaboration with Intel and Google. Based on Android Wear, the smartwatch is compatible with both Android and iPhone.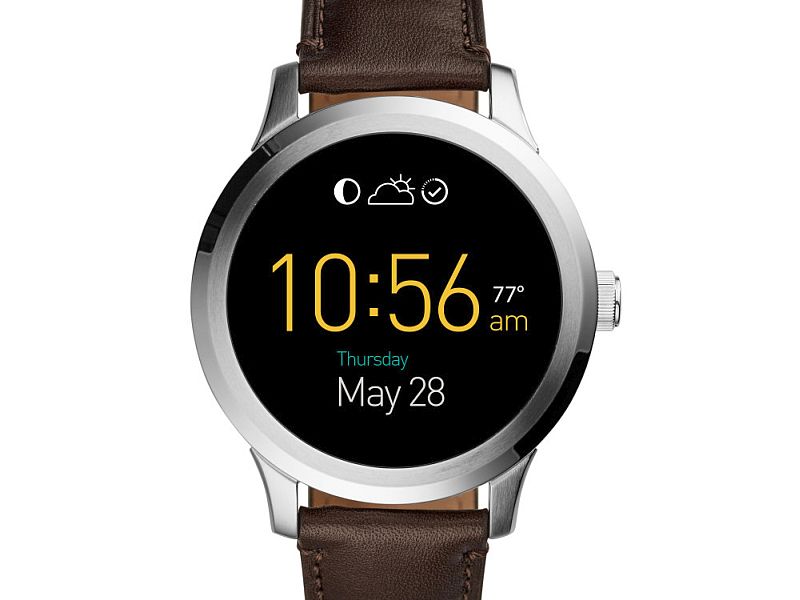 The other two products from Fossil's Q line include Q Reveler and the Q Dreamer, which are fitness trackers, priced at $125 (approximately Rs. 8,000) each. Both can track various activities such as running, sleeping, and can even notify about incoming notifications via LED lights. Both will go on sale starting Sunday.
Lastly, the Q Grant is the company's regular watch with some built-in sensors. It can also track fitness, alert about emails, texts, incoming calls and app notifications. The biggest addition to Q Grant is its coloured LED indicators which are placed either side of the watch. It will also go on sale this Sunday and has been priced at $175-$195 (approximately Rs. 11,500-13,000).
Unfortunately, the company has not detailed the innards of its smartwatches.
Announcing the Fossil Q line of connected wearables, Jill Elliott-Sones, chief creative officer at Fossil, said, "Our customers are obsessed with their personal sense of style and staying connected, and we are thrilled to enter into this emerging category with an answer to their needs. Fossil Q is the result of countless hours of meticulous design expressed through a playful curious lens. Our hope is the unique attention to detail in both our connected accessories line and app cue our audience to try new things, be more curious and experience the world around them like never before."