Garmin, a company best known for its navigation systems, has launched a total of three smartwatches and a fitness tracker at the ongoing CES 2015 show. The smartwatches are dubbed Garmin Vivoactive, Fenix 3 and Epix, while the fitness tracking band is named Vivofit 2.
The Garming Vivoactive is a $250 (roughly Rs. 15,900) wearable (or $300 (roughly Rs. 19,000) with the heart rate monitor bundle) that will hit shelves starting Q1 this year. The device will offer black and white silicone band options along with a leather strap option, which will arrive in more number of colour options.
Vivoactive (seen above), as expected, shows smartphone notifications, supports touchscreen, and has an app market of its own dubbed "ConnectQI". The square-shaped smartwatch shows smartphone notifications via Bluetooth connectivity. The notifications include social media-related notifications emails, missed calls, GPS, texts and calendar reminders. Additionally, the GPS system keeps a track of the user's activities like running, biking, swimming, and golf. The waterproof watch is functional up to 50 metres underwater. The firm claims the smartwatch to run for three weeks and on a single charge or up to 10 hours when GPS is activated. Vibration-based notifications are also included.
The Garmin Fenix 3 is more rugged, and is meant for active users. It will also reach the markets in Q1 this year at $500 (roughly Rs. 31,600) for the standard model, $550 (roughly Rs. 34,800) with the heart rate monitor, and $600 (roughly Rs. 38,000) for the sapphire screen model. The device is available in combinations of Silver with Red band, Gray with Black band, and Sapphire with stainless steel band.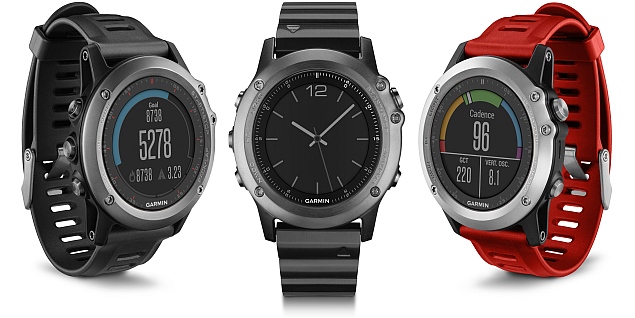 The Fenix 3 (seen above) smartwatch, like the Vivoactive, is waterproof (but up to 100 metres), features GPS, and is claimed to run for six weeks without activating GPS. The device can perform recovery checks after intense workouts, give data like speed, distance, vertical drop and more under the Ski/Board mode, and features the usual activity tracker for counting steps, sleep hours, and more. The Fenix 3 also includes the ConnectQI app market. In addition, axis electronic compass, barometer and auto-calibrating altimeter come housed inside the smartwatch.
The Garmin Epix smartwatch launched at CES 2015 is also a rugged multi-sport device like the Fenix 3 but comes with a couple of extra functionalities like GLONASS and preloaded maps. Also, the device is not available in Sapphire screen version. The device is rated to deliver up to 24 hours on watch mode, and up to 50 hours with its battery saving mode dubbed UltraTrac. Arriving in this quarter, the smartwatch is priced at $550 (roughly Rs. 34,800). Detailed features of the Garmin Epix can be found here.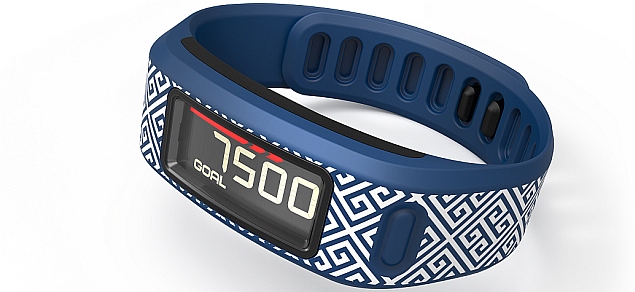 Lastly, Garmin announced the fitness tracker Vivofit 2 (seen above), which is an update over the previous version. The firm collaborated with Jonathan Adler, a designer, to offer custom bands for the wearable that are based on colour variants including Blue, Orange, Deep Orange, Black, Red, Sky Blue, Green and Purple. Designed for easy buckling, the bands made of rubber material clasp in to the place by snapping it on the wrist. Users then have to rotate it 90 degrees to lock it. Stainless steel and leather band variants are also available.
The Vivofit 2, like other fitness trackers in the market, connects with smartphones with the help of a companion app - Garmin Connect Mobile. The smartwatch additionally keeps a track of user's activities and also links with the user's MyFitnessPal account. The wearable bundled with Jonathan Adler bands will start shipping in this quarter at a suggested retail price of $140 (roughly Rs. 8,900). The three-pack Jonathan Adler band bundle for the Vivofit 2 and Vivofit will also be available at $40 (roughly Rs. 2,500).