As further evidence to show Apple is certainly researching the the concept of a smartwatch, long expected to be called Apple iWatch, the US Patent and Trademark Office (USPTO) has awarded another patent to the Cupertino firm for a wrist-worn gadget design with touchscreen, gestures and smartphone connectivity.
The patent, titled "Wrist-worn electronic device and methods therefor", was granted to Apple on Tuesday and was submitted in July 2011. The patent describes a wrist-worn device to pair via various protocols with a smartphone, tablet or desktop PC featuring cellular or Wi-Fi connectivity.
The detachable device seen in the patent is meant to be clipped onto a wristband, and can control functions of the smartphone and apps, apart from being able to display incoming calls and messages, as well as social and news feeds, similar to what other smartwatches display.
The patent, filed years ago, likens the watch face to a square-shaped iPod nano, an attachable wrist-carrying concept that actually made it to reality as a media player with the sixth-generation iPod nano, as Apple Insider notes. Interestingly, one diagram in the patent labels the wearable device 'iTime' - though since iWatch is trademarked, the latter seems more probable.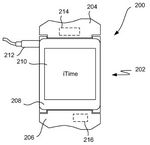 The smartwatch in the patent is described as being able to alert the user via audio, visual or haptic feedback (like vibrations). The device might also house haptic sensors as indicated by the patent, and also perform gesture recognition. "For example, the gesture might be a single shake (or bounce, tap, etc.) of the user's wrist for one user input option (e.g., accept incoming call), and might be a pair of shakes (or bounces, taps, etc.) for another user input option (e.g., decline incoming call)," states the invention background section.
The patent describes the core body as well as the strap of the smartwatch to include various sensors, biometric components, GPS modules, NFC antennas, Bluetooth packages, proximity detectors and others. Proximity-based triggers are also described, where the wrist-worn electronic device would warn the user if the paired smartphone has been left behind, stolen or out of range.
Of course, one cannot say what features seen in the patent will be included in the rumoured Apple iWatch until (or if ever) it is official unveiled. The patent, far from providing details as to what the final commercial product would exactly feature, indicates what the Cupertino firm was thinking about in 2011.
Apple is expected to launch its alleged iWatch in October this year. The rumoured iWatch is also said to sport an 2.5-inch display and collect health-related data of users. The Cupertino firm also poached a senior executive from Swiss luxury watch brand Tag Heuer, which is expected could be to help it with the launch of its iWatch expected this autumn.