Apple on Wednesday announced its OS update for its Apple Watch devices, watchOS 2, will be available as a free update to all
Apple Watch
users starting September 16, the same day when iOS 9 starts seeding to compatible devices. Additionally, Apple at its keynote on Wednesday also revealed the new Apple Watch Hermes collection which includes new leather bands from Hermes, including the Single Tour, Double Tour and Cuff. It also showed off new Gold and Rose Gold variants of the Apple Watch Sport.
(Also see: iPhone 6s and iPhone 6s Plus With 3D Touch Display Launched)
At its Wednesday event, Apple repeated much of what it had said during WWDC. It stressed that the new watchOS 2 makes "apps faster and more fluid" by running natively on the Apple Watch. The company also revealed new watch faces alongside announcing ability for third-party apps to display information on the watch face as complications.
Touted as the "first major software update for Apple Watch," the watchOS 2 brings ways to customise new watch faces including Photo, Photo Album, and Time-Lapse.
(Also see: iPad Pro With 12.9-Inch Display, Apple Pencil Stylus Launched)
watchOS 2 includes new communication features such as the ability to respond via Mail with dictation, smart replies or emoji, and Digital Touch which offers more creativity with multiple sketch colours.
The ability to show third-party app details in complications opens a variety of options for developers. For users, the new third-party app integration will mean they can see news headlines, upcoming flight times and more. The Time Travel feature allows users to conveniently explore events in the future by scrolling the Digital Crown. The company also announced that developers can now take advantage of key hardware and APIs to create native third-party apps for the Apple Watch. Giving an example, the company notes, "playing back video in the CNN app, using the speaker and microphone in iTranslate or measuring heart rate while cycling with Strava."
(Also see: Apple Overhauls Apple TV With App Store, Siri Search)
To recall, Apple Watch comes in two different sizes, 38mm and 42mm, and is also available in three collections, Apple Watch Sport, starting at $349 (approximately Rs. 23,250) in the US; Apple Watch, starting at $549 (approximately Rs. 36,500); and Apple Watch Edition prices starting at $10,000 (approximately Rs. 6,66,350).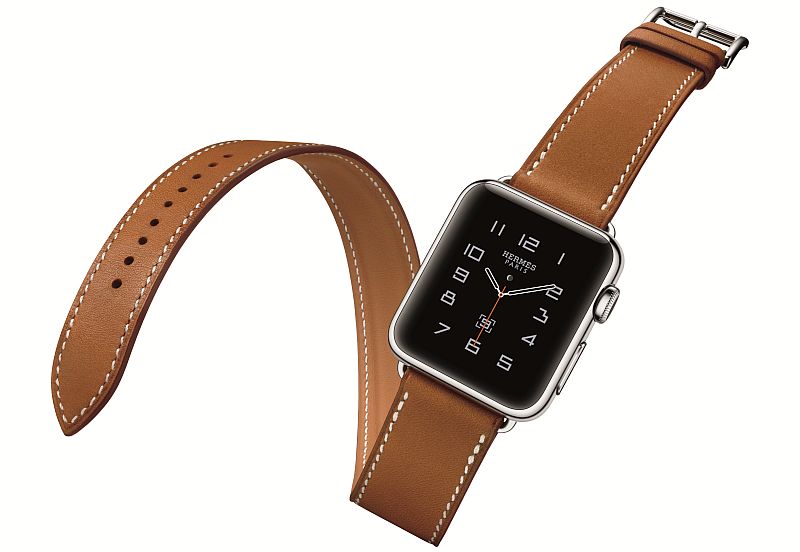 Adding style quotient to its Apple Watch, the Cupertino-based company unveiled the new Apple Watch Hermes Collection on Wednesday.
Apple Watch Hermes collection starts at $1,100 (approximately Rs. 73,000) in the US for the 38mm stainless steel case with the Single Tour strap; $1,150 (approximately Rs. 76,600) for the 42mm stainless steel case with the Single Tour strap; $1,250 (approximately Rs. 83,000) for the 38mm stainless steel case with the Double Tour strap, and $1,500 (approximately Rs. 99,900) for the 42mm stainless steel case with the Cuff. The new Apple Watch Hermes Collection will be available at select Apple retail stores apart from select Hermes store starting October 5 in Australia, Canada, China, France, Germany, Hong Kong, Italy, Japan, Korea, Russia, Singapore, Switzerland, the UK, and the US.
The company also added two new Apple Watch Sport cases - in Gold aluminum and Rose Gold aluminum colours.
To refresh, the Apple Watch requires iPhone 5, iPhone 5c, iPhone 5s, iPhone 6 or iPhone 6 Plus, iPhone 6s and iPhone 6s Plus running iOS 8.2 or later.