For all its critics, the Apple Watch has received a positive response in the market, if the latest consumer satisfaction survey data is to be believed.
According to a survey done by Wristly Apple Watch Owner Network, the Apple Watch received an overall satisfaction score of 97 percent. The survey noted that is the the highest ever rating for any first-generation Apple product, higher than the original iPhone and the iPad.
The rating was derived by adding the percentage of customers "Very Satisfied/ Delighted" (66 percent) and "Somewhat Satisfied" (31 percent). The survey showed that 2 percent of the customers were "Neither Satisfied or Dissatisfied" with the Apple Watch, while 1 percent were "Somewhat Dissatisfied".
Wristly also asked a set of pre-qualification questions to users, and based on their answers 34 percent were classified as "tech insiders" while 53 percent were termed "non-tech" users. The "non-tech" users liked the Apple Watch more than "tech insiders", Wristly, a research company and Ben Banjarin, a Creative Strategies analyst revealed.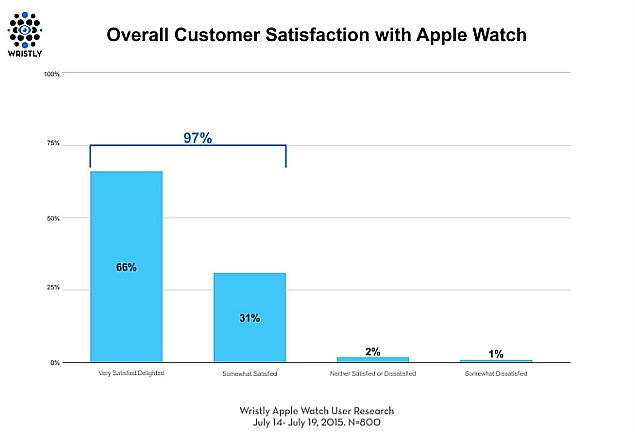 "What has been fascinating about the Wristly Apple Watch Panel is how diverse it is across the adoption cycle spectrum. We have those on the bleeding edge of adoption all the way through mainstream consumers who aren't buying it for the sake of Apple fanaticism or love of tech and gadgetry but because they saw the utility and usefulness of the product right off the bat. They are all represented in our panel," the report said.
Wristly notes that the original iPhone had a customer satisfaction score of 92 percent, while the score for the original iPad stood at 91 percent.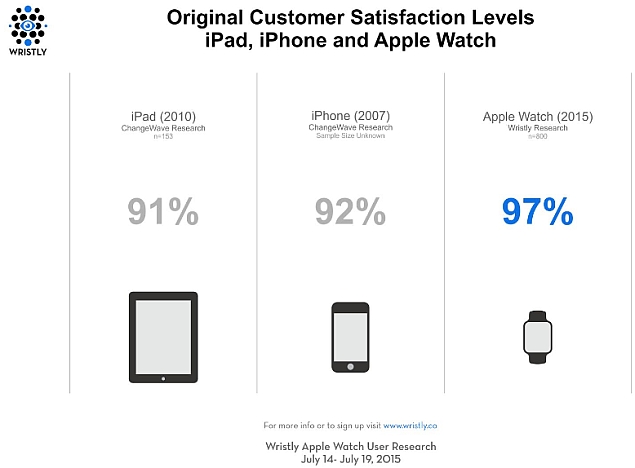 That'll be music to the ears of Tim Cook, as Apple Watch is the first big launch by Cupertino under his leadership. Now all eyes would be on Apple Watch sales figures when Apple's quarterly earnings come out.
For the latest tech news and reviews, follow Gadgets 360 on Twitter, Facebook, and Google News. For the latest videos on gadgets and tech, subscribe to our YouTube channel.
Related Stories