Apple has been quietly working on its first smartwatch, which officially scheduled to launch early next year. The company earlier this month announced the availability of WatchKit SDK (software developer kit) for developers to build apps for the upcoming
Apple Watch
.
Now, the Cupertino-based giant has refreshed the dedicated Apple Watch microsite to highlight new sections for 'Timekeeping', 'New Ways to Connect', and 'Health and Fitness', alongside more information about each function and interactive images.
First spotted by 9to5mac, it notes that previously the Apple Watch microsite had a single 'Features' page that included various smartwatch functionalities.
The new 'Timekeeping' section includes various features of the display of the smartwatch such as watch face, notifications, stopwatch, alarm, and world clock, among others.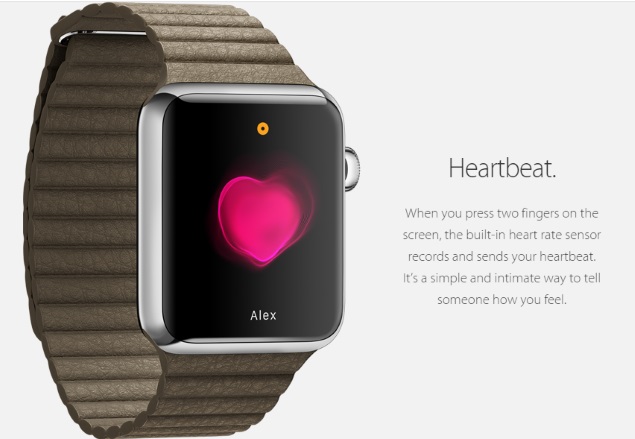 The Timekeeping section also details complications, which are a few specialised functions in watchmaking. The site notes, "Some complications are traditional, such as moon phases or sunrises and sunsets. And some are unique to Apple Watch, like stock quotes, weather reports, your next calendar event, and a daily activity tracker. When you tap a complication, Apple Watch opens the corresponding app."
Apple has also revealed names of various Watch faces that it showcased during launch, it includes Chronograph, Modular, Utility, Mickey Mouse, Motion, and Astronomy. The company touts that the Apple Watch can show Stopwatch in digital, analog, or hybrid view. "It can even show you a real-time average of your lap times on a graph - something you won't find on other watches," adds Apple.
The 'New Ways to Connect' pagelists various communication apps that include Sketch (for drawing something and sharing it with friends); Tap (sharing a vibration pattern), and Heartbeat (to share heartbeats with others).
Lastly, the 'Health and Fitness' pagelists some of health and fitness-related animations for fitness apps such as move, exercise, and stand monitoring functions.