Apple appears to be working on a new swappable band for the Apple Watch that can also double as a protective encasement and stand. The new magnetically-closed Milanese Loop band was spotted in a patent filed by the company.
The Apple Watch was launched with six different swappable band styles, and it seems the company is already working on a successor. A patent recently granted to Apple reveals that the new Milanese Loop band has a convertible design, allowing it to serve more than one purpose.
The patent reveals that the band can be rolled into a protective case when travelling, or even as a stand on allowing you to keep it on your bedside table or desk. The document reveals that the proposed band will have two separate straps made of malleable material.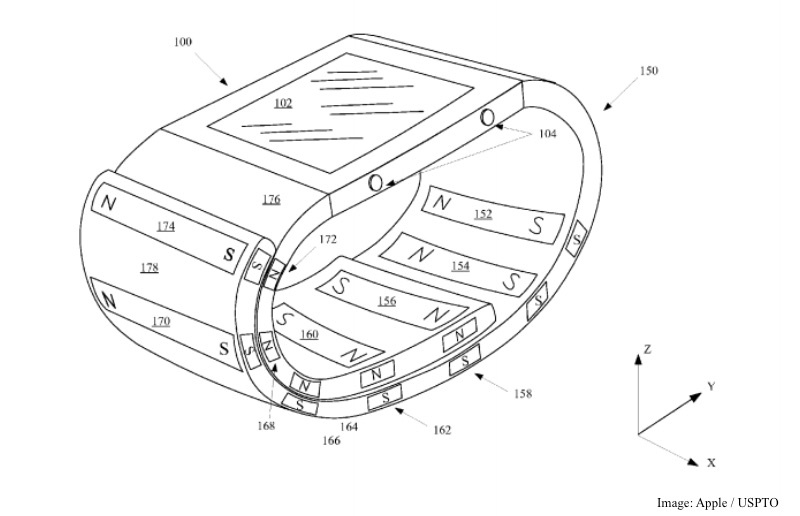 This is how the company has described it. "Since the wrist straps include a number of magnets arranged with magnetic polarity patterns that are complementary to one another, the wrist straps become magnetically coupled around a user's wrist once they come in close proximity to one another. The second wrapping configuration is achieved by rotating a first strap of the wristband around a lower surface of the device and rotating a second strap of the wristband around an upper surface of the device"
The illustrated images in the patent document reveal that the new Milanese Loop could be attached to other devices such as the MacBook or an iMac or even a refrigerator. Though, how it would attach to the MacBook is hazy, as the MacBook has an aluminium body.
Multiple reports suggest that Apple plans to launch the Apple Watch 2 by April, exactly a year after the company began selling the first generation of Apple Watch to people. The company is also expected to launch a 4-inch iPhone, reportedly dubbed iPhone 6c (or iPhone 7c, or iPhone 5e).
For the latest tech news and reviews, follow Gadgets 360 on Twitter, Facebook, and Google News. For the latest videos on gadgets and tech, subscribe to our YouTube channel.
Related Stories