Google has pushed out what seems to be its biggest Android Wear software update to date for users. The update raises the level of customisation for Android Wear smartwatch users, increases support functions, and tweaks the UI for easier access to features, and more.
Until now, most Android Wear devices or smartwatches featured an always-on ambient mode or always-on screen, with the Moto 360 the only exception. However, after the update, apps too will receive the similar treatment - ensuring they stay visible as long as the user wants them to. As with the always-on screen, the app's UI will only be full colour when the user is actively looking at it, and will drop to monochrome after to save battery life.
Android Wear has also been given support for devices with built-in Wi-Fi connectivity. This would allow Android Wear users with Wi-Fi enabled smartwatches to browse the Internet even when the smartphone is out of Bluetooth range of the connected smartphone. Android Wear users will also be able to connect their smartwatch to their smartphone over Wi-Fi, no longer requiring Bluetooth for receiving notifications, sending messages, or using apps.
The Android Wear update also adds support for new gestures. This includes letting users flick their wrists to scroll through the notifications and the news stream instead of waking up the watch and tapping several times. The smartwatch apps and contacts are also easy to access using less number of taps on the screen. On tapping, users would now get three tabs upfront - apps, contacts, and voice search.
Furthermore, users can now draw emojis on the watch screen. Once drawn, Google will recognise the emoji, convert it into the pictogram, send it via a text or message. Notably, Google launched its Handwriting Input app earlier this month for Android smartphones and tablets, an input app that also recognised drawn emojis apart from handwritten text.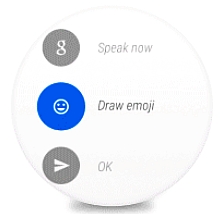 Google has made it clear that this Android Wear software update is reaching out to all the compatible seven smartwatches over the next few weeks, starting with LG Watch Urbane. As before, it is up to the manufacturers to customise and release the update for their respective smartwatches.
While Google hasn't mentioned the addition of two other features, Sony on its blog post detailing the Android Wear update for its SmartWatch 3 wearable says pop-up notifications and adjustable font sizes are also coming. Meanwhile, the inclusion of what appears to be a Google Maps app for Android Wear has also been tipped, this time by Google itself in its announcement blog post's representational image for the new always-on apps feature.

It is worth mentioning that the update comes right at the time when Apple is going to launch its Apple Watch. Google is also reportedly "close to finishing" the final technical details for its Android Wear smartwatch companion app for iPhone. It's worth noting that Google's Android Wear smartwatch app after completion will have to get a final nod from Apple before it lands on the App Store.