LG has announced that its first
Android Wear
running wearable, the G Watch, is now on sale worldwide.
The company has confirmed that the LG G Watch will be available both online as well as in physical stores in twelve countries, including - Australia, Canada, France, Germany, India, Ireland, Italy, Japan, Spain, South Korea, United Kingdom, and United States. While will be up for grabs from physical retailers in fifteen countries, among which include Brazil, Mexico, Russia, Singapore and New Zealand. The company noted that the G Watch price will be announced locally in each market.
(Also see: Samsung Gear Live, LG G Watch: First Impressions)
The LG G Watch, initially unveiled in March, went up for pre-order with an 'Add to Cart' option at Rs. 14,999 via Google Play India within hours of Google's I/O 2014 Keynote address. Notably, the LG G Watch is currently listed as 'out of inventory' at the Google Play India.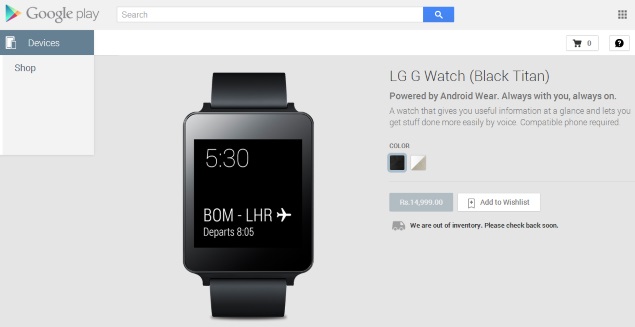 The other Android Wear-based smartwatch revealed at the Google I/O, the Samsung Gear Live, also went on pre-order earlier this month at Rs. 15,900 via Google Play. Interestingly, the Gear Live is also now listed as 'out of inventory' on Google Play India.
Detailed specifications of the LG G Watch include a 1.2GHz Qualcomm Snapdragon 400 processor; an always-on 1.65-inch IPS (280x280 pixels) display; an IP67 rating with dust and water resistance; 4GB built-in storage, 512MB of RAM, a 400mAh battery, Bluetooth 4.0 connectivity, and a 9-axis sensor. It has dimensions of 37.9x46.5x9.95mm, and weighs in at 63 grams. It will be available in Black Titan and White Gold, and can be personalised with any standard 22mm strap available in the market.
Recently, Google released the official Android Wear companion app, to enable users to manage their smartwatch from their Android phones. A dedicated Android Wear app section was also added to the Google Play Store, apart from Android Wear support in an updated version of Google Play Services.
The new Android Wear smartwatches - the LG G Watch and Samsung Gear Live - also reportedly received a minor software update.