Losing things is a common enough problem that people went ahead and invented the treasure tag, but if movies like Home Alone taught us anything, then it's that you really don't want to lose track of your children either. Okay, most people aren't probably going to lose their children the way you'd misplace your keys or your wallet, but jokes apart, we do live in a world that seems quite different from how it was 10, 20, or 30 years ago. As a parent, it isn't unreasonable to want a good way to track your children and ensure their safety.
There are a number of ways to accomplish this - for instance, you could give your child a smartphone. Then, using apps you can track the phone's location, or just call up and speak to your child. It's a trend that's becoming more common these days, and we've come across children just starting school whose doting parents are putting an iPhone in their pockets. The catch, as most parents know, is that many schools strongly discourage this, and just carrying a smartphone that's switch on during school hours can be grounds for punishment. Plus, a smartphone puts the entire Internet in your child's hands; and makes it possible for anyone to call or otherwise communicate with your child, with a number of new platforms coming up every day that you'll have to monitor.
For older children, this might still be the best option, but for younger kids, a better solution is required. Delhi-based Fitnano believes that it has the solution. The company has a product called the Kidfit that is going to launch in June, which allows you to track your child, call her or him if you want to, without allowing anyone else to do so or providing Internet access. You can pre-order one now for just Rs. 299 with a final price that should be Rs. 3,499, though the company is still trying to find out if it can lower that further.
Tarun Shekhar, one of the founders of the company, spoke to Gadgets 360 and walked us through a demo of the product, which should be available from the start of June. "I was working as an engineer at STMicroelectronics for four years," says Shekhar, "before we designed this product. We wanted to make it in India, but unfortunately, in the ecosystem right now, we could not find anyone who can make it for us at a competitive price, so we are manufacturing in China for now."
The Kidfit looks like a toy watch that a child might wear. It's available in pastels, with buttons that make it look like a Fisher-Price toy. The LCD display just shows the time but there are four buttons - two on either side. On one side, the buttons are labeled 'Mom' and 'Dad'. On the other side, there's a power button, and an 'SOS' button.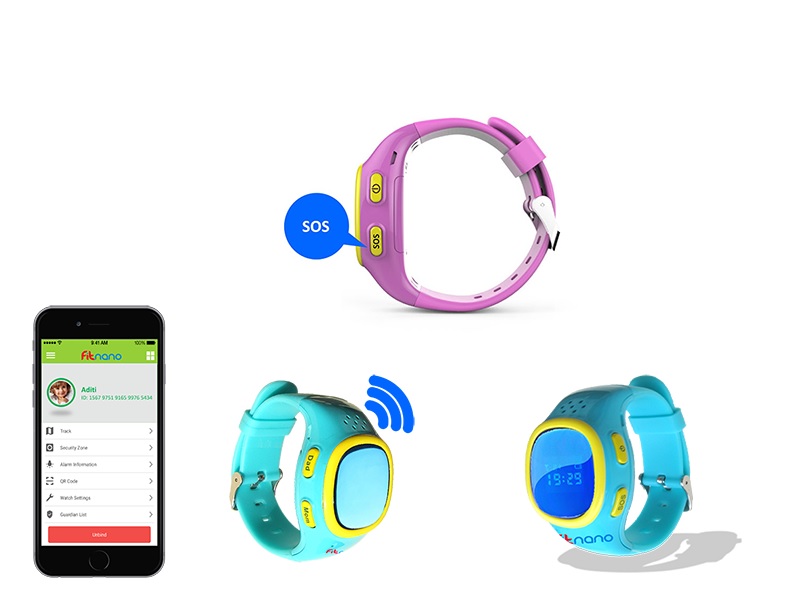 "What you do is, there is an app you download free, which works on Android and on iOS," explains Shekhar, "and then you pair the watch with your phone, after which, you can see the location of the watch at all times using the app."
The app is also used to configure the wearable - you program the keys with the numbers to dial for the Mom and Dad buttons, and you can also use the app to set the frequency for location pings - from once a minute, to once an hour, depending on what you think is necessary. Check at a high enough frequency, and the battery needs to be charged every second day, "Roughly around 40 hours," says Shekhar. "If you are polling once in half an hour, which should be fine for most people, then the battery will last around 72 hours, and you can charge the Kidfit with a regular Micro-USB cable."
The way it works is pretty simple - the Kidfit is actually connected using a regular Micro-SIM that the user will purchase and insert. The device picks up the GPS signal, and uses a 2G data connection to transmit this to the app on your phone. The same SIM card also means that the Kidfit can be used to make calls.
"There is a speaker in the band, and a mic on the other side, so you can call the Kidfit from your phone," says Shekhar. "And you can set a whitelist of numbers that are allowed to call the band. If someone else tries to call, it won't allow the connection." And since the whole process is controlled via an app on your phone - there is no way to directly access the settings from the watch - there is no way your child would be able to even inadvertently circumvent these security measures. In the demo, the speaker is quite loud, and the call came through clearly.
The same way, the Mom and Dad buttons are also programmed from the app, and a long press on either sends out a phone call. And the SOS button will try and call both numbers, and play an emergency message, while also sending an SMS alert that includes a Google Maps link to the location of the watch. "You can dial the number of the watch, but using the app, you can also make a spy call," adds Shekhar. "So the watch doesn't ring, it just connects a call but the speaker stays off. So that way you can hear your children, make sure they're playing nicely, things like that."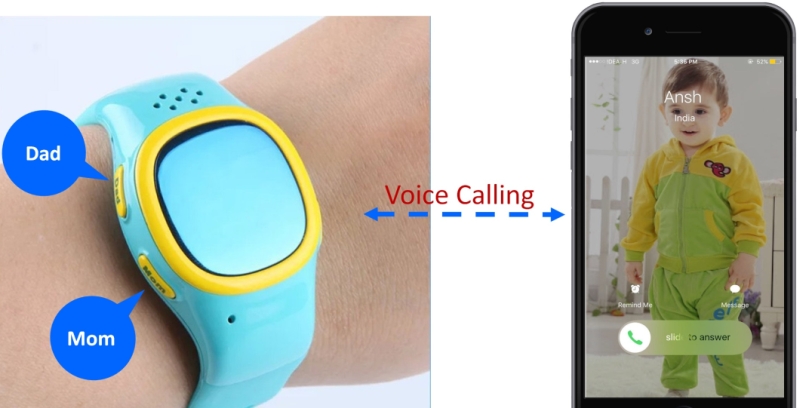 You can also define "safe" zones using the app, and get automatic alerts the moment your child steps out of one of these locations. "So if they're playing in your colony, they're safe, but if they go outside for any reason, you'll get an alert," he explains.
There are plenty of other devices that offer these features, but as of now, from what we could tell by looking online, there isn't much that is available in India. Most products come with built in SIM cards, which limit the countries they will work in, and require monthly fees. A few are available globally, but prices are closer to Rs. 10,000, before factoring in import costs.
With this in mind, the Rs. 3,499 price starts to look pretty reasonable; you're also going to be paying a little money to keep a prepaid SIM that's connected in the device, but it wouldn't be much. Shekhar says that the company is hoping to bring the price down to Rs. 2,999, though he admits that fabricating the parts in China means that there isn't much he can do about import fees.

The device itself is pretty simple, and not necessarily something that most people need. Given the relatively low price point, it does seem appealing - though without having tested the device to see how accurate it is and how quickly it refreshes outside of a trial conducted by the watch's inventor, we can't recommend it. That being said, it certainly looks like something you should check out if you're concerned about tracking your child.