Virtual reality has become a hot new tech sector with a lot of market activity ever since Facebook purchased Oculus for $2 billion. Sony, HTC, Samsung, and Google are all active in the VR market today, and VR headsets will soon see prime time, with Samsung having already released its first offering and the consumer edition of the Oculus Rift expected to launch in the first quarter of 2016 with a consumer price of around $350 (roughly Rs. 23,313).
Absentia, founded by BITS Goa 2012 batchmates, is taking a crack at this space with its VR headset called Tesseract. Pre-orders are going at Rs. 12,000 for the full-HD version, and Rs. 20,000 for the QHD version. The startup received $180,000 (Rs. 1.2 crores) in seed funding led by Astarc Ventures in November.
Aditya Gupta, who joined the team as a research scientist, told Gadgets 360 during a demo session in Bengaluru that he had dropped out last week from his third year at BITS Goa to work full-time at Absentia.
(Also see: Oculus Rift Preview: Bringing Reality to the Virtual World)
"His hobby is to read patents," quips Shubham Mishra, co-founder of Absentia, talking about Gupta. Absentia's three co-founders had been working in the virtual reality space for three years. "We started the work on the hardware and the software in the second year itself, and by the end of the third year, we published five international research papers and registered four patents in India. We hold two US patents for the device."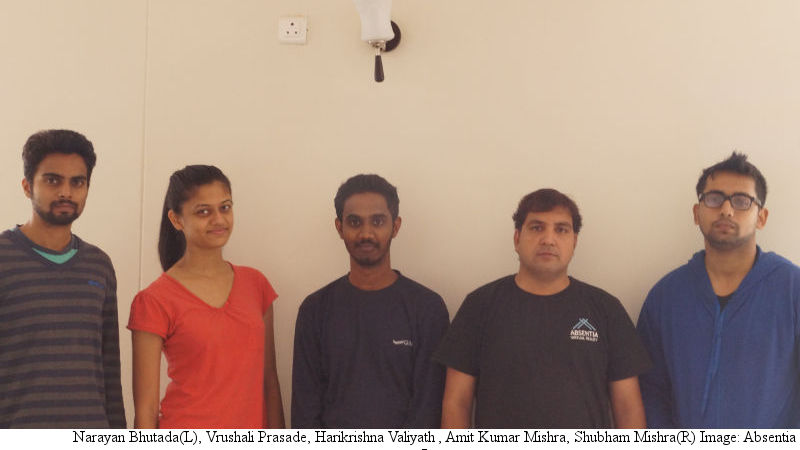 Can India be a place for tech hardware-based market innovations? Mishra is confident that hardware startups will see more funding in the future." VCs are looking forward to transition from a traction-based market to a profit-based market. If you need profit, you need products. Eventually, there will be a rise to these kind of startups," he says.
(Also see: 12 Indian Hardware Startups That are Making an Impact)
Some of Tesseract's components are being completely manufactured in India - while other parts, like the display are being sourced internationally. The lenses are fabricated in Chennai, India. The casing is being made in Mysore. The next version will be in India completely, Mishra says. "The assembly is being done in India. The screen - the display of it is being sourced from Taiwan. One part of being sourced from Shenzhen," says Mishra.
The team claims that the headset integrates two Inertial Motion Units for head tracking, and is embedded with a 5.5-inch LCD display, with a pixel density of over 346ppi on the 1080p version, and 463ppi on the 1440p (QHD) version. The company claims a latency rate of less than 10ms, screen refresh rate of 90Hz, and a field of view of around 110 degrees. If these figures are accurate, the latency is better than the existing competition, and the field of view matches the best out there.
"There is very little software overhead, we've recorded 10-20MB of RAM usage," claims Gupta. "The headset does not use the System's processor, RAM or GPU. If the computer can run the game, it will run on the device." Again, that's a far cry from the other systems - powering the Oculus Rift took a computer that was significantly more powerful than the office laptop we normally use. If Gupta is not exaggerating, then the Tesseract is a big step forward.
The weight of the latest demo unit - the one we saw - has been reduced 50-60 grams, Gupta says, based on the latest round of reviews and feedback that the team received. Absentia claims to have shipped around 50 units so far, to enterprises and developers. The company can up production to a thousand per week, if required, he says.
(Also see: HTC Vive First Impressions: Serious Oculus Rift Competition)
Absentia's team arrived at the idea of making the headset after long sessions of dog-fooding, out of a fervent desire to "experience VR properly", on a catalog of games that they already had.
"We eventually tried to convert every game from 2D to 3D, make it compatible for virtual reality. So we built some algorithms, which will convert anything, any digital media from 2D to 3D, along with head tracking," Gupta says.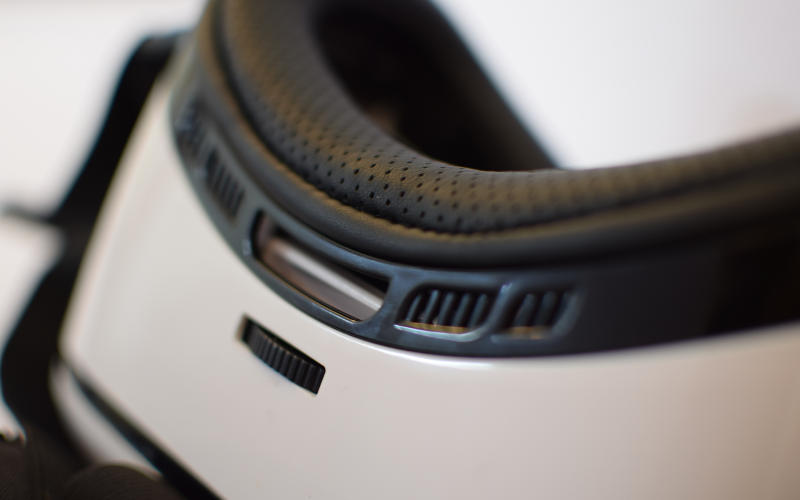 The Tesseract headset connects to PCs via HDMI and USB, and pairs well with FPS shooters - in the demo shown to Gadgets 360, Call of Duty, the headset tracks the movement of your head, and can be used to assist in aiming the gunsight. It takes a little bit of dexterity from the hand and head. The headset works well if you wear glasses as well.
While we had a bit of trouble familiarising ourselves with the game and head tracking as a new gameplay element, Absentia's demo headset didn't raise any red flags like screen flickering, or an awkward field of vision. The pixel density of the display was high enough for us to not notice any of the pixels. A friend of ours took to the headset like a duck to water, he was fully immersed and having a great time on it. The Absentia team could see one of their own tribe. "Proper gamer hai yeh," was the verdict.
(
Also see
:
Absentia Tesseract VR First Impressions: A Promising Start, But Lots Of Room to Improve
)
Gupta says Absentia's software is capable of converting all existing digital media to VR, including movies and videos, not just games. Explaining some of the software techniques employed, Gupta adds that Tesseract uses an algorithm that scans all pixels on a screen and assigns them position and colour vectors.
"The range of RGB under which maximum pixels fall, are detected as the background. After that, clustering is performed wherein pixels are scanned column by column. They are then compared and depending on a defined threshold, breakpoints are calculated to detect edges of objects," explains Gupta.
"When a complete object has been detected, it is upsized with a scalar value, which gives the illusion of depth. Detecting the background ensures that the ground doesn't get upsized," he adds. "Various optimisation techniques have been used to reduce computation and increase frame rate. All pixel data is extracted directly from back buffers, which gives us minimum 60fps, and averages around 100fps."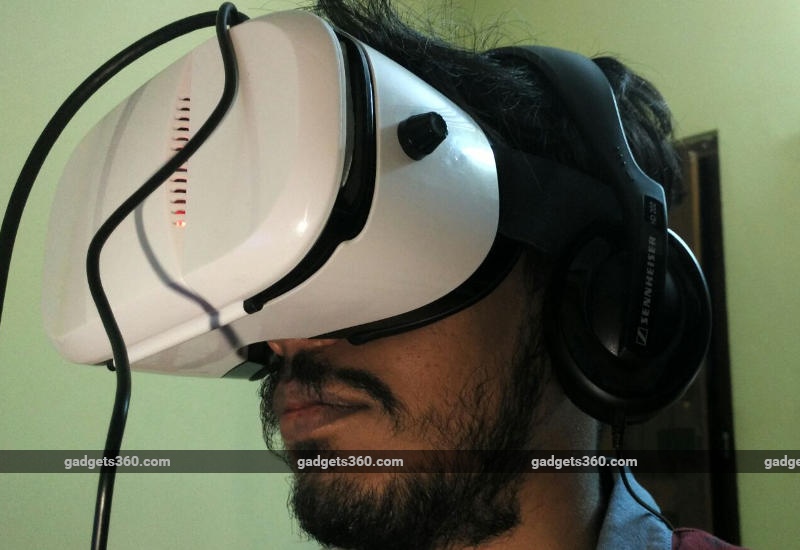 The Tesseract headset can be adjusted using three controls: inter pupillary adjustment, immersion tilt, and myopic vision correction. Gupta says this allows it to be used even by people who normally wear glasses. It felt light enough to wear for long sessions, and uses a moisture wicking fabric, with tiny vents. Gupta adds that a new version of the headset, to be showcased at Comic Con Mumbai on 19 and 20th December, will have haptic feedback sensors so that the user gets directional vibrations too.
"If you hear a gunshot from the left or right side, you get the vibration from that direction too," says Mishra. At Comic Con Delhi this week, the company will showcase an arcade game style peripheral that provides gun input along with the VR headset.
The headset has other applications apart from gaming - Mishra says that the company is working with companies in the architecture, furniture and interior decoration segment. These companies weren't able to get the kind of desired throughput they required from a Google Cardboard headset, he explains. "If you want good graphics, you need a powerful processor and graphics card."
We tested the headset to view a Youtube 360 degree video, but the axis was reversed, and there wasn't an accessible driver panel or a hardware toggle to switch the axis. It seems like one of the most promising potential applications of the headset, outside of gaming. Such content could be a major content play - with movies, documentaries and news being captured in a way where the viewer no longer has to gaze at what the director or cameraman is focused on. The New York Times already has a VR app that captures stories from across the globe, and Samsung's Gear VR headset, which works with select Galaxy smartphones, has a vast catalog of games and apps, apart from access to apps like Netflix and Hulu.
After twenty minutes of being immersed, our friend felt that it was a bit disorienting. Many users experience this kind of problem with virtual reality, but Mishra seems unconcerned. He expects a fair number of fence sitters, as it has a fairly long learning curve. "It's a hardcore gaming thing. You need to get used to it," he says.