Following the huge demand for the Mi 3 phone, Xiaomi is not likely to underestimate demand for its products in India again. The Chinese company is presently selling the Redmi 1S phone online, while the Mi 3 is on a temporary hiatus, according to Xiaomi India operations head Manu Jain, but many more devices such as the Redmi Note and the Mi 4 are expected in the coming months.
When the Redmi 1S was launched in Delhi last Tuesday, Xiaomi Vice President Hugo Barra spoke to NDTV Gadgets about various things, ranging from the supply chain issues that faced the Mi 3, to thoughts about upcoming products from the company, and what he sees as the important factors in the emerging wearables market. In part one of this interview, we focused on the Mi 3; today, we're going to focus more on what is coming up next. While many of the products that Barra talked about are expected soon, two products that were announced recently could take longer to reach the market in India.
"The [Redmi] Note will be here in a few weeks," Barra says, adding, "the Mi TV and the Mi Box are two more things that we're working on. But there are two long processes there. One is the certification process - they both require BIS certification and that can take time - and then for both, we also need content partnerships because these are essentially content streaming appliances, so without content they don't really make sense."
"We don't want people to be buying the Mi TV because it's a great, cheap TV, because that's not what it is. It's a smart TV," Barra explains.
One potentially interesting aspect of this direction, for Xiaomi, is that a smart TV will require an app store to make it useful. While Barra has earlier stated that Xiaomi is not bringing its Mi Store to India, he admits that for a smart TV or smart box like the Mi Box, a content platform will be needed. And once such partnerships are in place, it might also make sense to extend the scope to phones as well.
"We will need some kind of store for apps, not on phones, but on TVs," says Barra. "[The store would be for] for games and apps, but the content should be integrated into the UI."
Barra also told us that the Mi Band - Xiaomi's first foray into wearables - was expected to be in the market by the end of 2014, confirming earlier statements.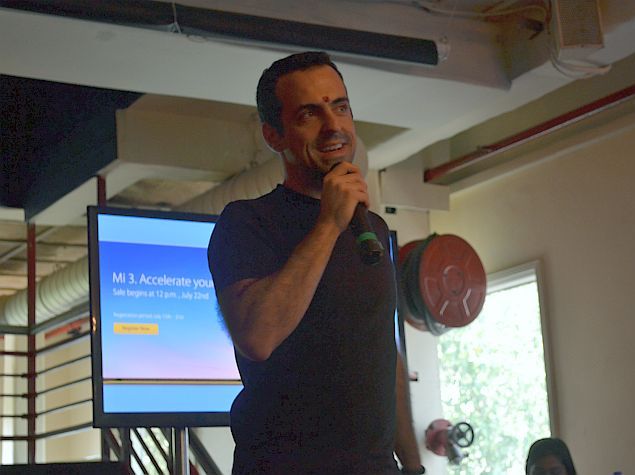 "It also requires certification because it's a Bluetooth device," he says. "We're also still localising the app, because it has nutrition things in it, we have to localise it to India, to the local foods and so on."
While Xiaomi has entered the wearables category with the Mi Band, the company doesn't have a play yet in the smartwatch market. That's not much of a surprise considering the company's strength lies in competing on price in well-established product categories.
"Smartwatches will be a huge thing," says Barra. "We haven't seen the industry's best work yet; I think we're still a little way from seeing great use cases, primarily because we haven't opened it up to developers yet. Android wear is a great project but the developer story is still to come."
And while Barra is himself an ex-Googler and has extremely positive things to say about Android Wear, he believes that Apple will set the tone in the category, at least initially.
"I think that this is one of the things we can expect from Apple, a fantastic developer story, around the iWatch," says Barra. "That's what Apple does, right? As far as Android Wear is concerned, I love the project. I was there, when the project started, I think it's great to see the Android ecosystem really being a pioneer, so I'm very happy to see that happen."
"The team behind the Android Wear project is really good, those guys are some of the best engineers and PMs I've ever worked with. I'm excited about it, it's just the beginning, and I'm looking forward to seeing the developer story unfold."
Scaling up scale without having to compromise on the specifications or price remains the key focus for Xiaomi. According to Barra, the lack of traditional costs like physical infrastructure or a traditional marketing budget means the company can keep costs in check. This is why, he believes, Xiaomi will be able to continue growing without needing to change its current sales model.
Barra admits though that the company is losing out on reaching a large population of the country that doesn't shop online.
"It's a matter of picking your battles - we would never be able to have that price on retail," says Barra. "It's a matter of focus - we are an e-commerce company. We will focus on building a Mi Storefront in India, before we even think of building retail."
At the same time, he agrees that the numbers reached by Xiaomi in India are minuscule (less than 100,000 units of the Mi 3 sold), and says the company will be ramping up the numbers of devices it brings to India in the future.
"It is a very small number, but we thought that's how much we could sell in terms of demand," said Barra. "We dramatically underestimated demand. So that's why we're going to ramp Redmi 1S, because that is a product we can ramp much more easily, from a volume perspective, and we're going to put a lot more volume into the market."
If you are someone looking forward to getting your hands on a Redmi 1S, that's probably music for your ears.