By the time I reached the 19km mark during the 2015 edition of the Airtel Delhi half-marathon, I was running solely on willpower. I was thinking only about my goal - to finish my first half-marathon in two hours. Frantic glances at my Fitbit Surge revealed that I was going to miss my goal and as I tried to run faster, a catch in my left calf told me that I had been running on fumes for the past few kilometres. I slowed down, put one foot in front of the other in a desperate bid to reach the finish line.
This is the story of how I decided to get fit, and have some fun along the way, thanks to running, and technology. I was going to run my first half-marathon, and I was going to take the time to train up to it, using fitness trackers to help ensure that I hit my targets.
(Also see: Beyond the Wrist: Fitness Trackers for Your Head, Feet, Ears, and More)
Six months before the run, my BMI was hovering on the overweight mark (24.9) and I had lost only 1kg in around a year. That was when I decided to head to the gym for the first time in my life, and soon enough I realised just how unfit I was. I couldn't jog for 200m without pausing for breath, and I couldn't hold a plank for 10 seconds.
A month later, as I was busting a gut while trying to run 5km, I watched a colleague run 10km with ease. He mentioned that he's training for the Delhi half-marathon and that is when I decided to participate. It helped me set a fitness goal - to lose weight and to be able to run 21km.
The catch is that a long distance run requires you to be consistent about the distance and speed you're covering, and pulling out your phone to check the pace isn't really easy to do. If you're not running on a treadmill or on a track with mile markers, then you're going to risk dropping your expensive smartphone and breaking it. Or you could try the Fitbit Surge.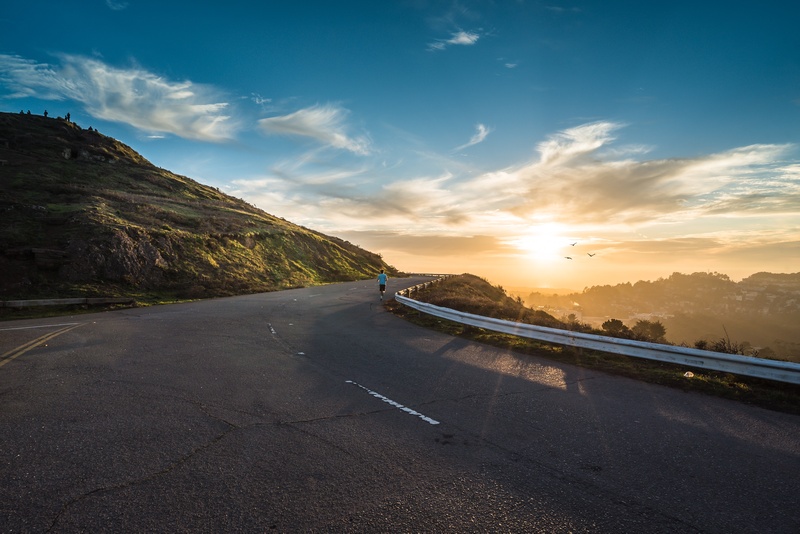 Being able to quickly glance at the wrist while running is much more convenient, and the iPhone stays safely stowed away in a pouch, so you can listen to music while you run. At the same time, the Fitbit shows you the average pace and heart rate, so you know you're getting the results you want.
(Also see: Fitness Gadgets and Apps Want to Build a Healthier India)
On the day of the half marathon, I was rested and ready, and my gadgets were charged up all the way. So why was I struggling so hard by the end of it? Well, technology is helpful, but doesn't really replace good form.
In spite of training for nearly six months, I made several mistakes on race day that first-time runners should avoid. The first, and biggest error, was that I never ran more than 12km during my training phase. It sounds stupid considering that I had to run 21km, but it's hard to push yourself for more than 70 minutes when you're running alone. First time runners should find a buddy - find a Facebook group, or an online fitness community. If you can't find a running partner, try an app like Zombies, Run - that might help you run for longer, even if the music doesn't.
The other issue is that apps and gadgets aren't always perfectly calibrated - the Fitbit Surge and Runkeeper on the iPhone will keep alerting you between 50 and 200 meters before each kilometre marker. According to both, my half-marathon ended in 1 hours, 58 minutes, and 30 seconds, a full two-and-a-half minutes ahead of the actual 21km mark.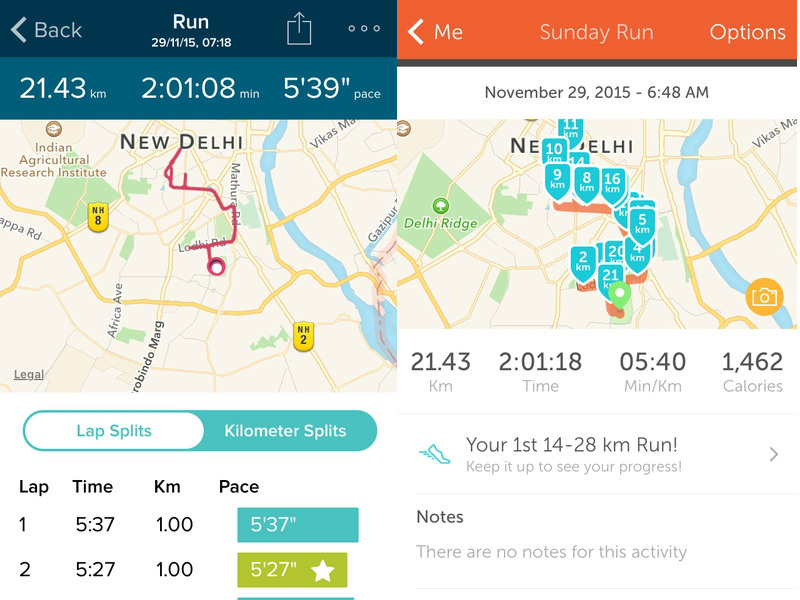 Part of the problem is also that many people taking part in the half-marathon don't know the rules of the road. This means that all the preparation you do with apps and gadgets comes to nought. In the early stages of the race, I spent too much energy trying to overtake slower runners. Most people won't follow basic running etiquette, such as keeping to one side to allow others to pass. You'll often see five people running side by side, leaving you with little choice but to use the footpath, or climb up on the divider to go past them.
Things can get worse if the support stations aren't arranged properly. Water and energy stations were often only on one side of the road, so runners were crowding towards them, and sometimes even stopping right in front of others. In the later stages volunteers were on both sides of the road, but that wasn't the case initially.
At one of the medical stations, a volunteer was spraying a pain relief spray, some of which was in the air around the station. I passed too close to the station and right through some of the spray, which made my eyes burn for a minute or two. There isn't much you can do to avoid such incidents, except keep your guard up.
These are all issues that your apps and gadgets won't help you to prepare for. Poor pacing on the other hand was one error that should have been avoided, even if it is to be expected from first timers. If you are a beginner, try running with one of the pacers - people who guarantee finishing within a target time - to balance your run better. The 2-hour pacers started too far ahead of me for me to catch them, but I'd have had a much better run if I'd been running with them. At the end of the day, no gadget can give you the same value as a highly experienced person, who's done this many times before.
(Also see: I've Used All Fitness Bands and I Wouldn't Recommend Any of Them)
Runners always tell others to sprint the last 100 metres and finish on a high. I learnt the true meaning of exhaustion during the race and I found myself slowly trudging past the finish line instead. I had imagined myself celebrating like Usain Bolt. But after 2 hours and 51 seconds of constant running, I couldn't even muster a small smile immediately after the finish. Once I'd recovered some of my energy, a sense of achievement began to sink in. To finish a half marathon is a big accomplishment for anyone, but to go from zero to 21km within six months - and to regain my fitness in the process - made this a particularly special run for me. At the end of the day, the gadgets didn't really make a difference, and next time, I'm going to find people to run with instead - but along the way, they helped me to think that this was possible, and that I would be able to complete the run.