The wearables segment saw a huge jump in 2014 with the launch of Google's Android Wear, the Gear VR Innovator Edition by Samsung, and the Apple Watch joining the leagues as well by end of the year. We entered 2015 with hopes that the segment will see more newcomers, new advancements, and new products.
At CES 2015, we were not disappointed and saw some huge announcements coming from the wearables segment and some major companies showcasing their products. Here we have summarised all announcements made in the wearables segment in Las Vegas.
Sony
Sony might have not announced any smartphones at CES; though the company showcased a number of devices including the new stainless steel edition of the SmartWatch 3.
Sony, one of first movers in the wearables segment, did not announce any pricing of the new stainless steel edition SmartWatch 3; though it announced that further pricing and availability details will be shared in February. Sony's SmartWatch 3, the first Android Wear device from the company, was unveiled at IFA last year.
Lenovo
Lenovo announced its first wearable, the Vibe Band VB10, at CES this year. Priced at $89 (approximately Rs. 5,500), the Lenovo Vibe Band VB10 will be available beginning April.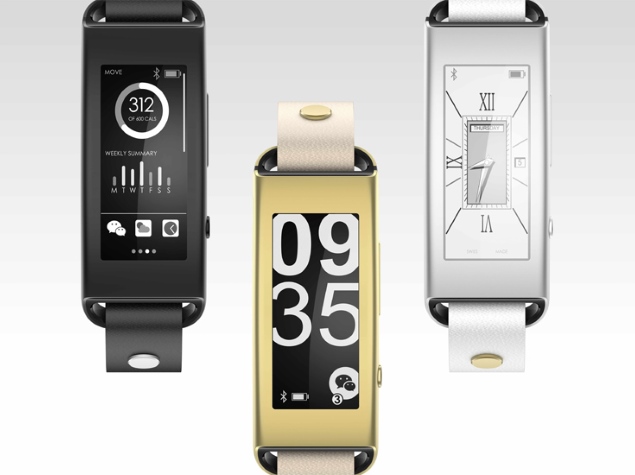 The Lenovo Vibe Band VB10 features a curved 1.43-inch E-ink display with resolution of 296x128 pixels. The smartband is compatible with any device running Android 4.4 and higher, and even with iOS devices. Apart from being a fitness tracker (with accelerometer to help track steps, calories, distance, sleep) the Vibe Band VB10 can also display instant notifications - for calls, SMS, Facebook, Twitter, and more - with the display space for up to 150 characters.
Garmin
A brand that is usually associated with navigation systems, Garmin launched a total of three smartwatches and a fitness tracker at CES 2015. The smartwatches include Garmin Vivoactive, Fenix 3 and Epix, while the fitness tracking band is named Vivofit 2.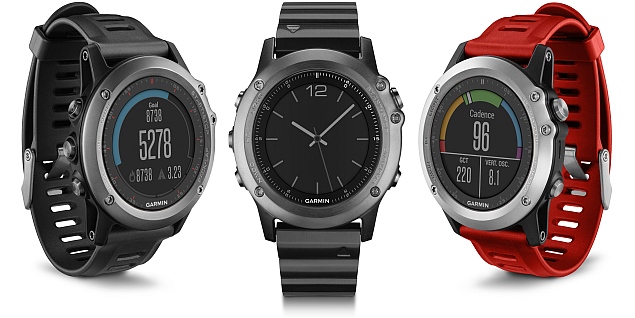 The Garmin Vivoactive is a $250 (roughly Rs. 15,900) wearable (or $300 (roughly Rs. 19,000) with the heart rate monitor bundle) that will hit shelves starting Q1 this year. The Garmin Fenix 3 is more rugged, and is meant for active users. It will also reach the markets in Q1 this year at $500 (roughly Rs. 31,600) for the standard model, $550 (roughly Rs. 34,800) with the heart rate monitor, and $600 (roughly Rs. 38,000) for the sapphire screen model. Arriving in this quarter, the Epix smartwatch is priced at $550 (roughly Rs. 34,800).
Garmin's new fitness tracker Vivofit 2 is an update over the previous version. The wearable will start shipping in this quarter at a suggested retail price of $140 (roughly Rs. 8,900).
Alcatel
Alcatel announced a slew of handsets and tablets at CES, while it also showcased its new Alcatel One Touch Watch at the event.
NDTV Gadgets got a chance to spend some time with the new Watch and it looked and felt pretty good, supported Android as well as iOS for notifications, and came with the usual gamut of sensors one would expect.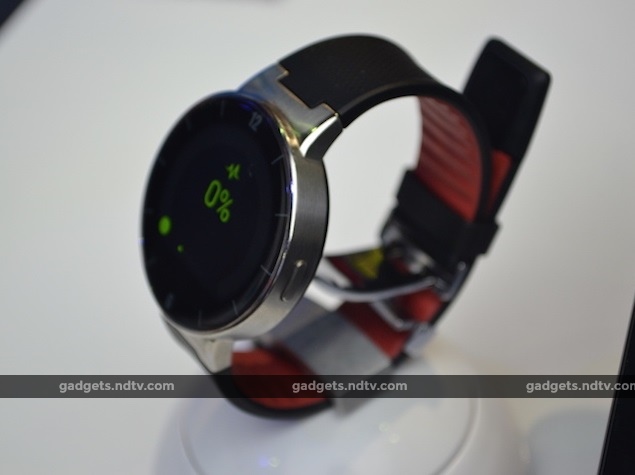 The best part, unlike the smartwatches from big name manufacturers, this one eliminated the need of a dock by including a USB port in the strap. It is expected to launch in March at $150 with a battery life of up to 2-5 days on a two-hour charge.
Razer
Razer, best known as a gaming company, launched an entry-level version of the Nabu wristband it had unveiled last year - the Razer Nabu X. The Razer Nabu X will be priced at $49.99 (approximately Rs. 3,100) and will start shipping in spring.
The new Razer Nabu X fitness tracker doesn't include an OLED display like the Razer Nabu, and instead features three differently-coloured LED lights which glow in different combinations based on the type of notification alert such as calls or alarm. The smartband is IP67-rated water resistant, and can survive immersion up to 1 metre for 30 minutes. It packs an accelerometer and a vibration motor.
Withings
Withings launched the Activite Pop health-tracking watch at CES. It has been launched at a price of $150 (roughly Rs. 9,500). The Withings Activite Pop features a waterproof silicone band and includes an additional daily fitness goal needle on the dial that moves from 0 to 100 as the user meets the 10,000-steps goal.
It supports Bluetooth connectivity and uses it to pair with the Withings HealthMate app, which is available for iOS only right now - an Android companion app is coming soon. The device also monitors the user's sleep.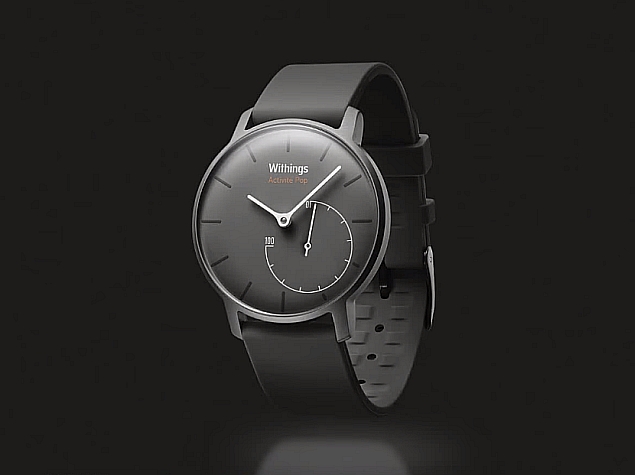 The wearable can last for up to 8 months after which the battery needs to be changed. It is also water resistant to 30 metres and can vibrate to wake up the user if an alarm is set in the app.
LG
Amidst a number of television, smartphone, and other product launches, an LG-made smartwatch was also teased at Audi's CES 2015 event. The unnamed smartwatch from LG was spotted running Open webOS and not Android Wear.
The new LG smartwatch was seen flaunting a three-button design, a round dial similar to the G Watch R and the Moto 360 that were launched last year.
Misfit and Swarovski
Misfit Wearables in partnership with Swarovski launched a luxury version of the Misfit Shine activity tracker, called Swarovski Shine at CES.
The new Swarovski Shine Collection will be available in three sets ranging from $169.99 to $249.99 (between Rs. 10,800 and Rs. 15,900 approximately). The collection is now available to pre-order in the United States from Misfit's online store.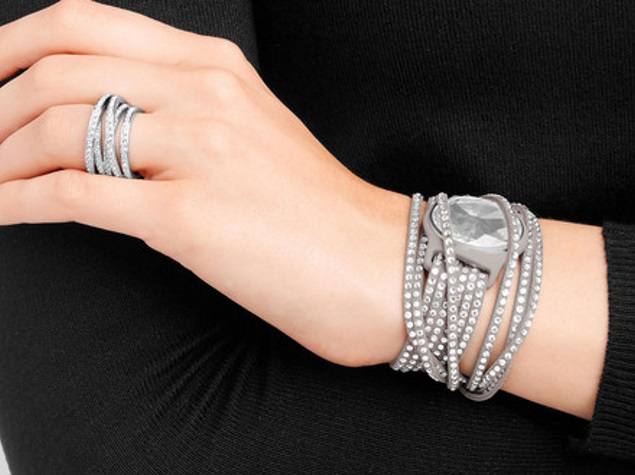 The company even claimed that the new Swarovski Shine Collection is "the world's first wireless activity and sleep monitor" that does not require charging or replacing of batteries. "Simply expose the violet Swarovski Shine to light to keep it charged," added the company.
Other announcements
MediaTek, the mobile chipmaker, at the CES 2015 introduced a range of new SoCs (system on chip) for audio, smart TVs, and wireless connectivity alongside wearable devices.
The company introduced the MediaTek MT2601 SoC for wearable devices running on Google's Android Wear software. The SoC is already in mass production, and is ready for inclusion by Android Wear device manufactures.
Intel also revealed some new products including a computer built into a jacket button and a wristband that could transform into a selfie-snapping flying camera.
Curie, the new button-sized computer for smart clothes, is expected later in 2015 and includes Bluetooth radio as well as the latest from Intel's Quark line of low-power chips.
Intel Chief Executive Brian Krzanich also revealed that the company will work with Oakley to launch a smart gadget for athletes later this year.
At CES 2015, BlackBerry showed off its first step to support cross-platform wearable messaging technology with the introduction of BBM for Android Wear. The company however didn't launch any wearable device.