More and more information about the newly announced Apple Watch is trickling out as analysts weigh in on what was announced at Tuesday's huge launch event and journalists are allowed hands-on time with the device. Beyond the usual tech perspectives, fashion editors and even horology experts are weighing in on Apple's vision for wearable tech.
Yahoo's David Pogue noted how unlike Apple it was to offer so many options rather than deciding for itself what users should like. After being allowed a rare hands-on opportunity, he noted that the interface and capabilities had similarities to those of Google Wear devices. He clarified that two of the four "lenses" on the rear emit visible light while the other two are infrared sensors. Together, they determine pulse rate and activity.
The device will be water resistant, but not entirely waterproof. Apps will be managed through the user's paired iPhone, presumably through a dedicated app. Apple announced voice dictation and Siri voice input, but it has now been confirmed that users can make and receive voice calls through the Apple Watch as well. Icons can be rearranged and sorted into clusters for easier navigation. The (presumably much more expensive) gold Edition watches will come in a box that doubles as a charging stand.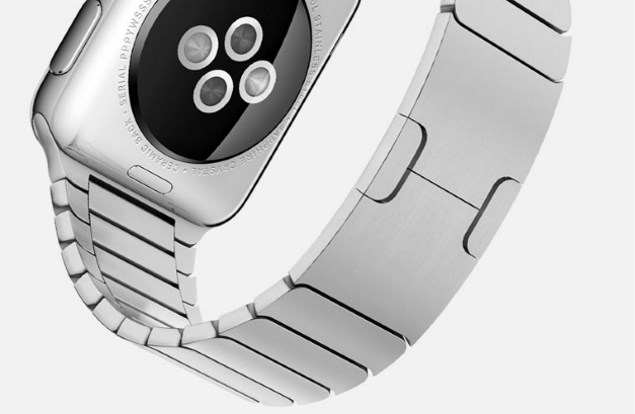 According to Leander Kahney at Cult of Mac, the sensors on the rear of the Apple Watch will also detect when it isn't on the wearer's wrist anymore and immediately lock it. A passcode is required each time the watch is put on. This is to prevent unauthorised use of a person's Apple Pay credentials and access to his or her personal information if a watch is stolen.
Various sources noted that Apple, famous for boasting about its products' attributes, had stayed completely silent on the topic of battery life during the launch announcement. Re/code's requests for information were deflected by Apple, though a spokesperson did say she expected users would be charging their devices every night. Analysts hope that Apple is working on hardware and software tweaks that will eke out more battery life per charge. Other key details such as processor and storage specifications are also still unknown.
The uncharacteristic lack of a specific launch date is also generally interpreted to mean that the company has a lot of work to do, and the fact that no photos or specifications were leaked before the event led some to speculate that the manufacturing, tooling and component procurement processes haven't even begun.
One of the most interesting perspectives has come from Benjamin Clymer, whose website Hodinkee describes itself as "one of the most widely read wristwatch publications in the world". Clymer's impression of the Apple Watch is that it is far better designed than most $350 watches and could easily become part of any watch enthusiast's collection, even if he or she wouldn't wear it every day.
Clymer had high praise for Apple's work in the areas of the watch's styling and construction quality, but had especially glowing words for Apple's choices of straps, buckles and materials. Describing the attention to detail as "downright incredible", he noted that several of the options are actually improvements on classic watch ideas. The high-quality leather strap, the easily adjustable link bracelet and the retro-futuristic magnetised Milanese looping strap were particular favourites of his, and he praised the company for really understanding where watches came from and how they have come to be appreciated as collectors' items.
On the downside, Clymer noted that the Apple Watch's technology is likely to become outdated in a few years, rendering it very different from collectible watches that can be treasured by owners over entire lifetimes and even handed down over generations. He felt that the Apple Watch does not inspire the same kind of emotion as a mechanical watch would, and so it might not displace a traditional watch from the wrists of those people who really love watches, even if they like its functionality.
Reuters summed up the reactions of various fashion industry experts and noted that opinions were divided. One particular note that emerged was that despite being available in two sizes, there was no clear "his" and "hers" differentiation between the two. Roseanne Morrison, fashion director at The Doneger Group, was quoted as saying the device was too much like a tech product and not feminine or sexy enough, though Jin S Kim at Displayblog countered this by saying the device should not be looked at as unisex but as asexual, just like Apple's iPhones and other products which appeal equally to all genders.