There was a lot of buzz around smartwatches last year, but as we noted in our review of the Samsung Gear Live and the LG G Watch, Android Wear isn't perfect just yet.
If you've already got an Android Wear smartwatch though, there are actually quite a few things you can already do with your device. Some of it is built into the watch from the start but aside from this, you can download Android Wear apps from the Play Store. An easy way to find a curated selection of these apps is to open the Android Wear app on your phone, swipe to the bottom of the screen, and tap "Browse suggested apps". There's a lot to choose from there, but unfortunately not a lot is useful. Here are 6 apps that we can highlight recommend though:
1. WatchMaker
The Android Wear market on Google Play already has a number of different watch faces you can download, and some of them are really great. It's still a pretty limited selection though, and most of the available options don't really make use of the fact that the watch has a huge selection of data available to it.
That's where apps like WatchMaker and Facer come into the picture. WatchMaker is free, but since most of the apps useful features are locked unless you buy the premium version (linked above), so you'll have to put down a dollar for either app.
We prefer WatchMaker because it felt a little easier to use, but both apps are actually pretty similar; they let you design your own custom Android Wear watch face, or you can go to third-party sites like FaceRepo and download watch faces that others have made.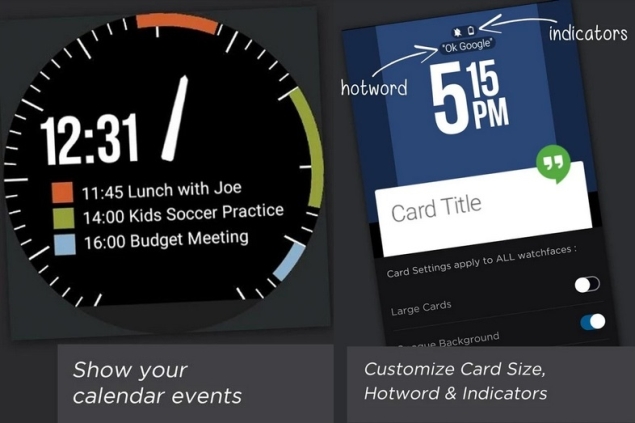 With WatchMaker, you can make a watch face that also shows the calendar, or your next meeting, battery levels or even the weather. This can be more useful than needing to wait for a notification or calling up an app on your wrist if you just want to see your next pending task.
If you just want a customisable watch face with a few widgets, then you can also check out Watch Faces. The app is pretty basic compared to WatchMaker and Facer, but if you want to make a simple face you could try this as it is free.
2. Smart Watch Faces
The problem with an app like WatchMaker is that it's a little complicated and can be a little daunting to use. If you just want an app which already delivers the functionality you're looking for, without requiring any tweaking, then Smart Watch Faces is a great alternative. It installs four watch faces to your Android Wear device, each of which has a slightly different smart function. These watch faces show when you're busy, or tell you what the next meeting is, or what the day's weather is like. Each face is very stylish, in a minimalist fashion, which makes sense when you realise the app was made by ustwo, the creators of Monument Valley.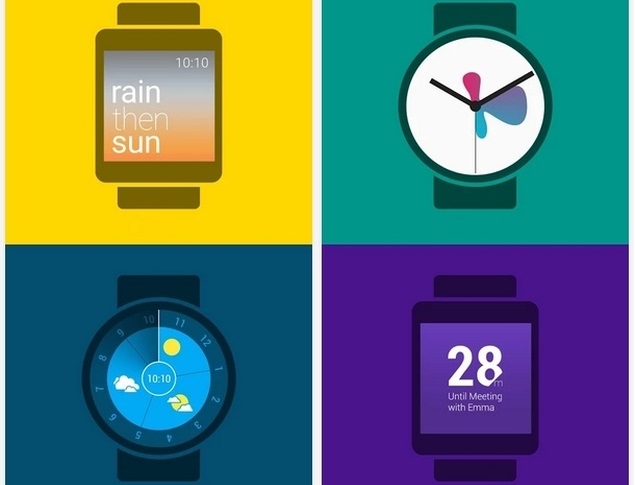 Speaking of stylish faces, if you just want a good looking watch face that doesn't do anything extra, then you should check out Luxury Watch Faces - it's a free app with a large selection of watch faces to choose from.
3. Duolingo
We're big fans of Duolingo, because its sleek design and fun approach to learning makes picking up a new language feel like a video game. If you feel the same way, then you'll probably be interested to know that Duolingo also supports Android Wear.
(Also see: Eight apps to turn your life into a videogame)
A smartwatch is obviously not the right interface for the full featured app, since the screen is too small to effectively display all the information you need. Duolingo's designers realised this, and instead decided to use Android Wear as an extension of the full app on your phone. On your smartwatch, Duolingo shows you flashcards from the language you're learning, and takes you through a short exercise of just 10 words, to help you quickly test yourself. The short duration keeps it from getting boring, and remains manageable on your wrist.
4. Yo
We feel Yo is a little too limited to actually make sense on a phone - if you're taking the time to pull out your phone and launch an app, you could just as easily use something like WhatsApp. On Android Wear though, Yo becomes suddenly convenient - launch the app, scroll through contacts and just tap on a name so send a Yo - handy if you just want to tell someone that you've left office, without having to dictate a text message while you're on the move.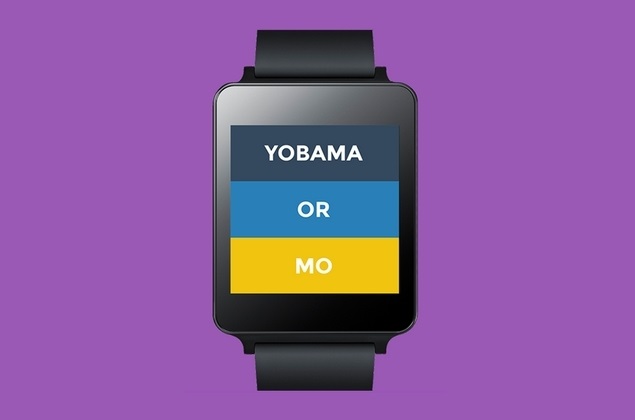 5. My CookBook (Recipe Manager)
There are a couple of different cookbook apps available for Android Wear but My CookBook is our favourite because it allows you to download other digital cookbooks manually, giving you access to a really big range of recipes. It also allows you to search different websites for recipes you can then import to your phone, so it's really easy to add content to the app.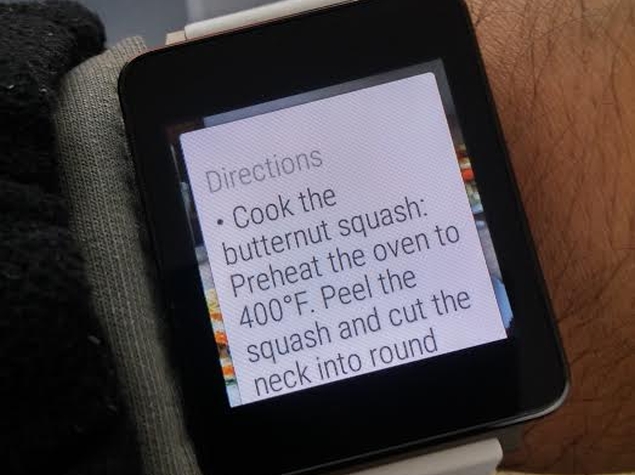 Its integration with Android Wear is pretty solid too - open any recipe on your phone and a notification comes on your watch. Now you can slip the phone back into your pocket and swipe through the steps of the recipe on your watch. This is a lot easier than constantly checking with your phone or tablet while cooking, as long as you're careful and don't smear food on your watch.
6. @here for Android Wear
The Google Maps integration with Android Wear lets you navigate quickly, which is really handy, but if you want to see the address of a place, or see a small map view to give you an idea of the area's layout, then it's not very useful.
If so, then you can download @here - just say "Okay Google at here" and you'll see a notification with the address you're at. Swipe and you will see a map view of your area, and swipe again to see a zoomed in view. If you want more detail, or want to share the information with someone, just swipe again and tap the "Open in phone" button.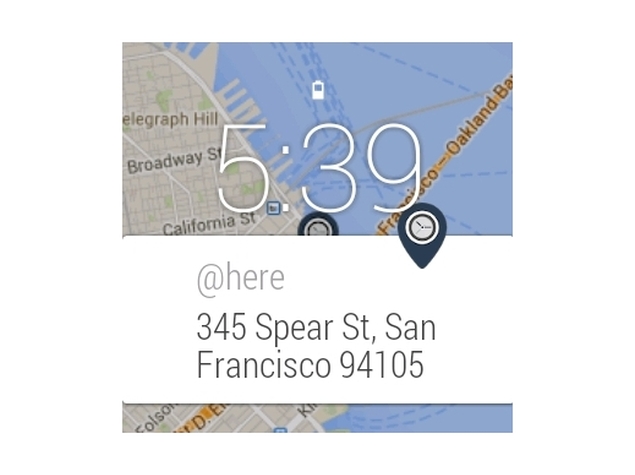 There are plenty of other apps and games available for Android Wear, but we found that interacting with most was a problem - typing in numbers on a watch-based calculator for example, is a painfully imprecise experience, and trying to play tic-tac-toe was equally pointless.
Apps that rely on cramming a large amount of data on to a small screen are not very usable - apps like Duolingo and My CookBook are great because instead of replicating the full app from the phone onto your wrist, they provide a bite-sized version that is useful at times when you don't want to pull out your phone.
Do you have an Android Wear device? What are your impressions about the smartwatch, and what apps do you use? Tell us via the comments.