Arguably one of India's most ostentatious TV manufacturers, Vu has been gaining a lot of attention with its out-of-the-box products and pricing. It's been producing well specified, affordable TVs that more and more buyers are choosing over big-name brands such as Samsung, Sony and LG. Vu also claims to be the only Indian company selling A+ grade panels in India, and has an established business in commercial displays.
The product we're reviewing today is one of Vu's larger TVs, the 60S8575. At 60 inches, it's a behemoth of a TV that will occupy a large chunk of your TV wall, and offers a cinematic experience for all your home viewing. It isn't quite as well specified as the Vu 50-inch UHD 3D Smart LED TV that we reviewed a while ago, with a much lower full-HD resolution, no 3D support and a generally barebones smart interface. But there is something special about the TV; it's one of three Vu models that comes with TViST speakers, which are the company's latest value offering. With TVs growing larger and sound not keeping up, the addition of dedicated speakers is likely to entice buyers. We find out more in our review.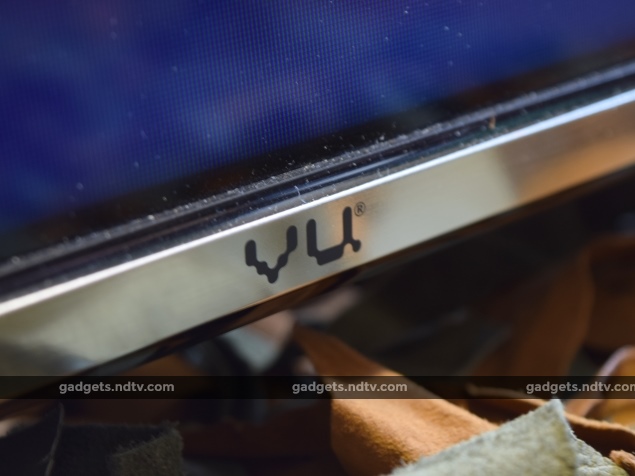 Specifications, design and features
The Vu 60S8575 is a 60-inch full-HD LED TV with a 1920x1080 pixel resolution. It features an A+ panel with edge-lit LED backlighting and a slim bezel. Inputs include four HDMI, three USB, one component, one composite AV, one RF, and one VGA port, while outputs include optical and stereo audio (3.5mm). There is both Ethernet and Wi-Fi connectivity, along with an Android Jelly Bean-based smart interface with its own Chrome-based browser. The TV is also Bluetooth-enabled, but this is only to connect to the remote, and Bluetooth cannot be used to pair with external devices.
The Vu TViST powered speakers measure 1065x62x60mm, and have an output power of 20W each. The frequency response ranges from 40-20,000Hz, while impedance is rated at 8Ohms. The speakers have their own remote and can be used in two modes: joined togetheras a single soundbar, or upright as individual towers. Stands have been included in the package as well. The speakers can be connected to external devices either through Bluetooth or a 3.5mm stereo (auxiliary) cable.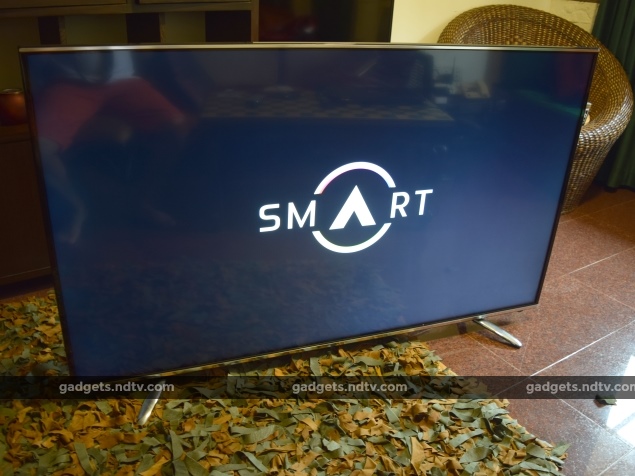 The TV itself is nothing special to look at. Apart from a fairly slim bezel, there's nothing that really stands out about the TV. The stands are easy to attach, but this design requires a wide platform for the TV to be placed on, which was a problem for us. The TV does include a wall-mounting kit and can therefore safely be hung on a wall if you don't have a large enough TV table. It isn't a particularly slim model, either, and the only visually appealing factor is the sheer size of the screen.
The remote included with the 60S8575 looks and feels just like the remote on the Vu 50-inch UHD we reviewed earlier. However, a key difference is the use of Bluetooth, which makes the remote function similarly to the one on the Samsung SUHD TV. It uses IR to switch the TV on and operate in case there is no Bluetooth connection, but quickly pairs to enable motion control and non-directional use of the remote. A quick shake of the remote enables the on-screen cursor. This is actually quite irritating, because the cursor pops up even at the slightest shake of the remote and then remains on screen till you press a directional button (which will of course trigger its own function). However, not having to point the remote at the TV is refreshingly convenient, and makes it incredibly easy to use.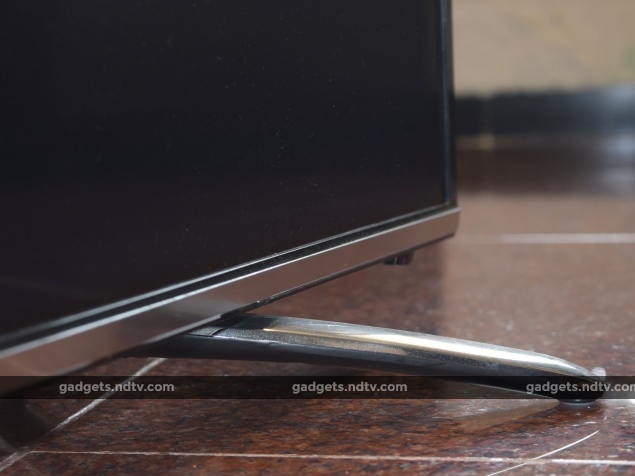 The Vu 60S8575 is a smart TV, and features an Android-based user interface. There's very little 'Android' about it in reality, though, since there is no direct access to Google Play as was the case with the Micromax 50K2330UHD. However, you can install applications through the browser directly if you choose to. There are only a handful of apps pre-installed; the most useful being the browser and the third-party YouTube client. Both of these kept asking for security certificates every few seconds and were painful to deal with.
There is an in-built media player that can recognise content on a USB drive. This usually worked well, and most formats ran smoothly, including some 2560x1440 videos which were comfortably downscaled to full-HD resolution. The settings menu is a bit underdeveloped, and there isn't much you can tweak in terms of picture and sound settings on the Vu TV. On the whole, the interface leaves a lot to be desired.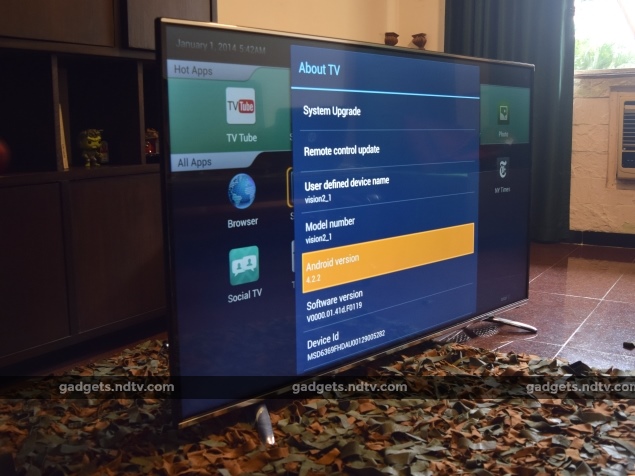 Picture performance
We put the Vu 60S8575 to test with a handful of our usual test videos, including standard definition clips, 720p clips streamed off YouTube from a laptop, and a full-HD print of Toy Story 3. As previously mentioned, we even ran higher resolution 2560x1440 videos to see how the TV handled downscaling and high bit-rate files.
We started with Toy Story 3, and we found the picture to be too grainy and lacking in detail, even at the highest resolution. Colour reproduction is average, and there's no real excitement or 'pop' in the picture. Instead, it essentially chugs along without any real drive or purpose. Far too many artefacts show themselves, and there's too much grain for this to be considered a good picture. Additionally, the TV often got the aspect ratio wrong, either stretching or compacting the picture to make it fit within the frame rather than allowing black bars. On some occasions, this could not even be adjusted and we were forced to watch a stretched picture.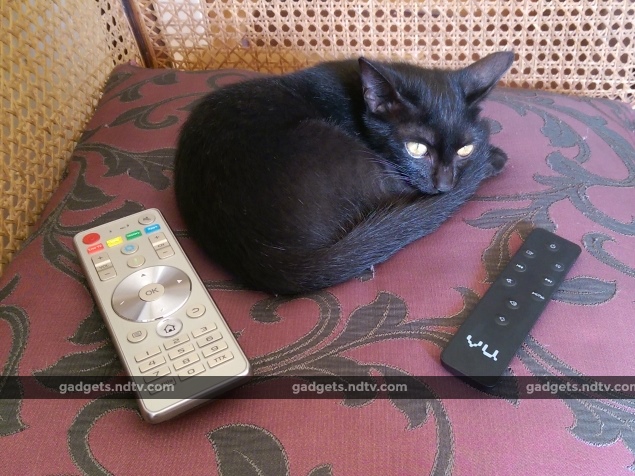 With a 720p print of Maroon 5's Sugar played off YouTube through an HDMI-connected laptop, we found more of the same lack of sharpness. Grain and artefacts only increased with the lower resolution, and the upscaling was simply terrible. The TV's only redeeming quality was its motion handling. With smoothening and all the enhancements enabled, the picture flowed realistically, with no visible judder or shakiness.
Standard definition content brings out the absolute worst in the TV because of the complete lack of quality in the upscaling. The size of the TV contributes to making low-resolution content grainy and unwatchable.
The only occasion when we saw truly good performance was when we played a heavily encoded 2560x1440 pixel clip that the TV downscaled to full-HD. The colours seemed to improve, as did the detail and sharpness. A lot of this can be credited to the quality of the video and the high bit-rate encoding, so it's safe to say that the TV maintains the quality of high-resolution content without really adding any value to it.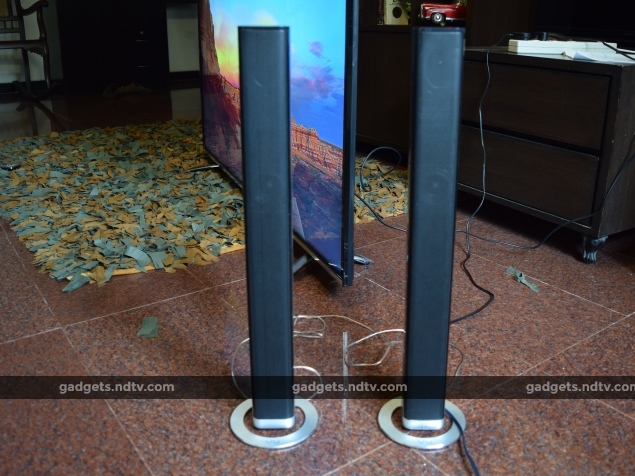 Sound Performance
The Vu 60S8575 itself has average sound performance that is as unexciting as its picture quality. There's very little in terms of definition, excitement or tone. On its own, there is very little to recommend in this TV when it comes to sound. However, Vu bundles the TViST speakers with it, and with them connected the sound is a whole new story.
The TViST set is unique in that it can be set up either as dual tower speakers or as a single soundbar. Speaker mode is a bit more suited to music because the two channels are separated and therefore distinctly audible, while soundbar mode suits movies and TV better. The TViST speakers are considerably louder and punchier than the TV's own speakers, with the biggest improvement being the volume. You can go louder without affecting the sound badly, and voice and sound effects are also improved.
Connectivity for the TViST is limited, with only Bluetooth and 3.5mm stereo as options. The Vu 60S8575, while Bluetooth enabled, did not actually let us pair it with the speaker for audio, despite many attempts. We therefore had to use an auxiliary cable to connect the speakers to the TV. Bluetooth worked well when we paired the TViST set with the Samsung SUHD TV and to smartphones for streaming music wirelessly. Sound was better defined, cleaner and generally vastly improved in all ways. It's still short of fantastic, and performance with music is average at best, but this still an excellent value addition when you consider that you aren't paying anything extra.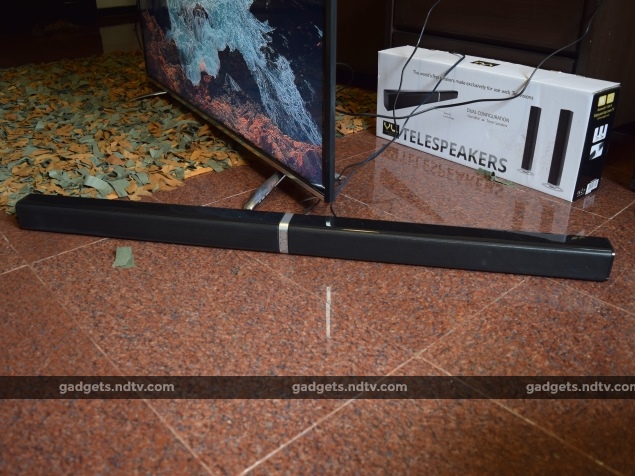 Verdict
The Vu 60S8575 is below par as a TV in many ways. Its weak specifications list, poor smart interface, poor picture performance and average sound performance make this a TV with no real qualities. Instead, it relies only on its large size to stand out.
However, if you aren't too fussy about the picture and only intend to use the TV for standard cable programming and the occasional movie, it should be fine. The addition of the TViST speaker package sweetens the deal considerably, and it will do a decent job of improving your TVs sound and also serve as a decent pair of living room speakers at the same time. More than anything else, you're unlikely to find too many 60-inch TVs for less than Rs. 1,00,000, making this a value-oriented purchase.
Price (MRP): Rs. 92,000

Pros
TViST speakers improve sound performance considerably

Good remote

Big, cinematic screen

Cons

Picture that lacks sharpness and excitement

Clunky and underdeveloped Android-based UI
Terrible upscaling and aspect ratio management

Limited Bluetooth functionality

Ratings (Out of 5)
Design: 2.5

Performance: 2

Value for money: 4

Overall: 2.5