Vu (pronounced 'view', in case you didn't know) may claim to be an American company and even has a registered office there, but in fact it is as Indian as Indian gets. That isn't necessarily a bad thing, because Vu has slowly been making a name for itself as one of the leading Indian display manufacturers. Since launching in 2006, Vu has maintained a solid presence in the Indian market, regularly launching feature-packed televisions that seriously undercut competitors on pricing. The company is also aggressively trying to promote the idea of selling televisions online, in the process breaking every unspoken rule of Indian retail. Whether that will work is anyone's guess, but the Vu LEDN50K310X3D, a 50-inch 3D UHD TV with smart functionality that costs Rs. 90,000, is as good a deal as any.
You can't help but be amazed by the perceived value of this TV. A similar model from Sony of the same size and with the same feature set retails at nearly twice the price. The question we must ask is what exactly are you trading for the benefit of paying that much less? And more importantly, can you really do without those bits?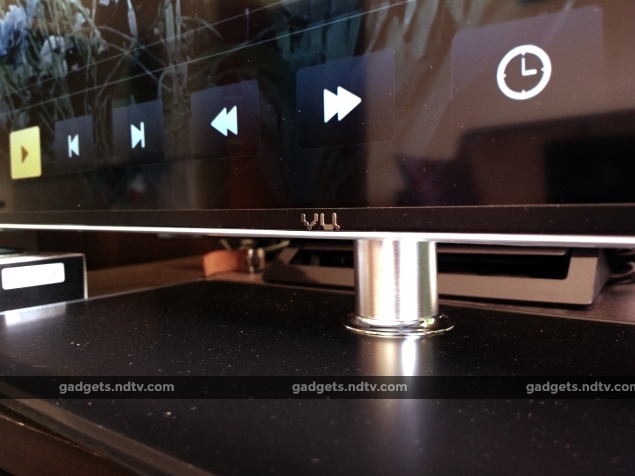 Design and Features
Most TVs are black, except for the occasional shiny silver finishes that Samsung and LG like to try out on their high-end models. However, the back and sides of the Vu LEDN50K310X3D are white. This is an unusual colour choice and doesn't match the black panel at all. This shouldn't matter too much because none of it is visible head-on. The bezel is also slim, with nearly the entire front occupied by the panel itself.
The stand is a simple affair with sturdy parts. It took us all of five minutes to assemble it and get the TV into position. The box does include wall-mounting equipment if you prefer your TV up on a wall.
The Vu LEDN50K310X3D isn't quite as slim as we'd like, considering that Samsung and LG have managed to produce TVs that put today's thinnest smartphones to shame. However, at this price, we can't be fussy about everything.

Connectivity options on the Vu include a total of four HDMI ports and three USB ports. Two of each are conveniently located near the top left corner, which is great if you often plug in a pen drive or a portable device. On one side, you'll find an audio-out port for headphones and a DVB-T/C tuner input. Along the bottom are the other two HDMI ports, the third USB port, an Ethernet port for a wired Internet connection, a VGA port with a 3.5mm audio input, an optical audio input, and a set of RCA terminals for composite and component AV. The HDMI 2 port supports MHL connectivity, which will be useful if you have a compatible smartphone.

While we don't really expect TV remotes to be beautiful and tough as steel, we still expect them to be somewhat sturdy and simple to use. Vu's remote is anything but that. It feels cheap, and the buttons have an unpleasant click when pressed. The four-way pad in the middle wobbled violently even when we simply ran a finger over it. Overall, we came away with the impression that this remote won't last too long without a lot of care.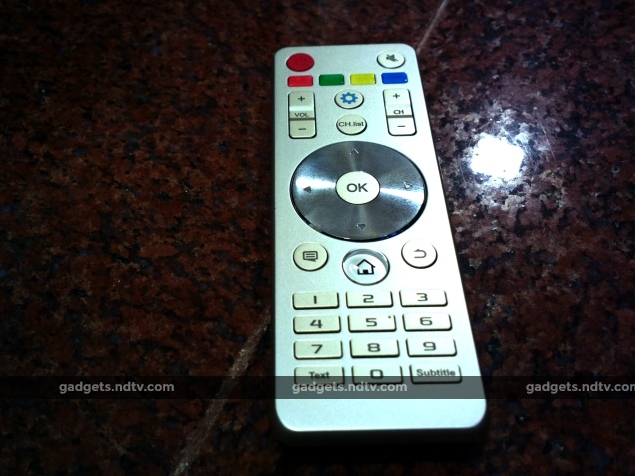 The smart interface of the TV could have been better too. Again, we aren't looking for an out-of-the-ordinary experience from the interface, since the point is to get you to your content quickly and get out of the way. Unfortunately, the UI is slow and clunky, with response times of two to three seconds when a selection is made. Loading screens lagged too much for our liking, and left us slightly irritated. Even once you have content running, accessing settings is a cumbersome task. The clunky interface makes it hard to pause, rewind and fast-forward media quickly. This brings us back to the remote, which should have had dedicated buttons for these controls.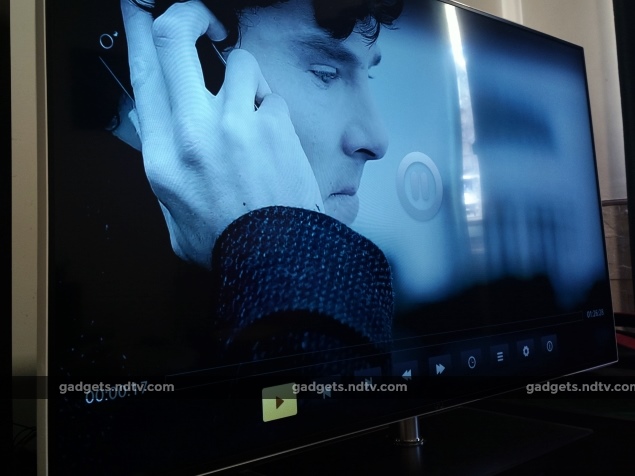 Picture Performance
We used several types of content to properly review the Vu LEDN50K310X3D. This included a variety of standard definition and 720p TV shows and video clips, a 1080p 2D version of Edge of Tomorrow, a 1080p 3D version of X-Men: Days of Future Past, and a demo 4K clip of stock footage. We also ran a few YouTube videos at different resolutions to see how performance was while streaming media over the Internet.
Picture quality varied between good and satisfactory, depending on the content that was being played. There was some motion issues; we noticed significant judder when the TV was put through heavy action scenes. This reduces when the scene switches to something calm and slow, becoming bearable, and in most cases unnoticeable.
There are also occasional colour issues. Bright scenes don't suffer quite as much, but darker, duller scenes are washed out and feel unsatisfactory. Tweaking the colour settings can change that temporarily, but this won't remain consistent. A new scene may lead to the colours being overdone and require you to change the settings again. And above all, black levels are below average, appearing more of a dark shade of grey. This interfered considerably with the overall picture.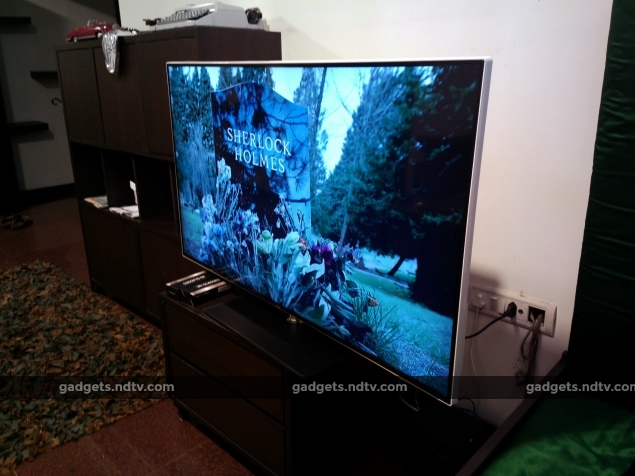 Upscaling lower-resolution content to use all of those pixels is something the TV does fairly well. Most standard definition and 720p content played smoothly and picture quality was free of outwardly evident flaws. Native full-HD and 4K content looked far better, of course. Still, we have seen better 4K performance from Samsung and LG, at least in terms of motion and colour reproduction.
We were looking forward to trying out the TV with 3D, and it didn't disappoint. Although the Vu LEDN50K310X3D uses active 3D, the flickering of the glasses was surprisingly light and the experience didn't cause as much fatigue as we're used to with active 3D. There is a real sense of depth and dimension to the 3D picture. Raindrops and shattering glass felt so real, our reflexes kicked in more often than we would care to admit. It's a beautiful 3D picture, provided you're watching the right kind of content.
Sound Performance
Audio output from the Vu 50-inch LED isn't bad in any way, but it isn't particularly good either. We weren't expecting much from a pair of speakers that are way too small to do a great job, but we still found ourselves a bit disappointed with the way they sounded at times. Volume is on the low side, and you might find yourself turning it up nearly all the way to the top just to get decent enough output.
There's also a bit of drone with the low frequencies. Certain low notes have a tendency to boom and roar through the room, which almost feels like distortion. Apart from these two complaints, though, sound is decent enough. It's also important to ensure the back of this TV isn't too close to a wall or cabinet, as this will cause problem with audio delivery. Correct positioning solved most of our problems.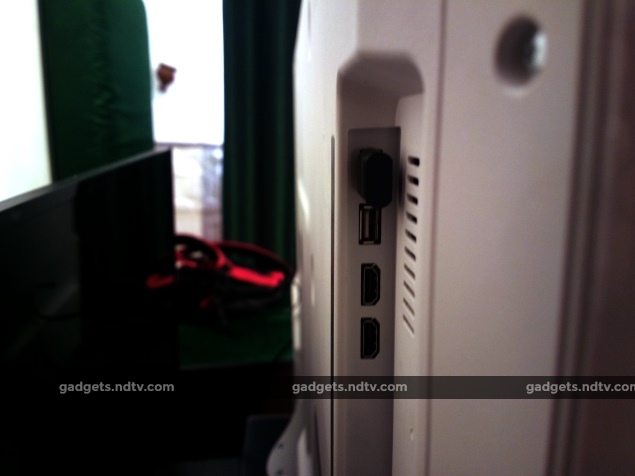 Verdict
The Vu LEDN50K310X3D 50-inch UHD 3D Smart LED TV is a bit of a mixed bag when it comes to performance. It has its strengths and flaws, and there were times when it delighted us and then got on our nerves in the span of a few seconds. There's also the matter of how long it will last, which we cannot say for certain.
There's no denying that this is still excellent value. You'd be hard-pressed to find another 50-inch TV with so many features at this low a price. Whether you'll actually put all the features to use is a completely subjective matter. For one thing, there's still a desperate lack of Ultra HD content, and for another, 3D movie watching is usually limited to the movie theater. Smart functions aren't all that interesting either. But there's a definite shift in viewing preferences, and hopefully we won't be kept waiting for UHD content much longer.
If you think you'll make full use of these futuristic functions now or in the near future, it might be worth bearing with the shortcomings and investing in a low-cost TV such as this one. And even if you don't, you're assured a big-screen experience for much less than what the Japanese and Korean brands charge. We'll conditionally recommend the Vu LEDN50K310X3D 50-inch UHD 3D Smart LED TV for the above reasons.
Price (MRP): Rs. 90,000

Pros
Comprehensive feature list

Superb value

Excellent depth and quality with 3D

Decent performance with UHD video
Conveniently located ports

Cons

Sound performance could be better

Colours feel dull and washed out at times
Poor remote and user interface

Ratings (Out of 5)
Design: 3

Performance: 3

Value for money: 5

Overall: 3.5