We won't blame you if you haven't heard of V-Moda before. It's a small outfit from the United States that has established the 'fashion headphone' industry around itself in a short time frame. It was also founded by Val Kolton, a professional DJ and producer, who used his industry connections to get V-Moda onto the heads of some of the top DJs and producers around the world, including Hardwell, Avicii and Tiesto. It's quite obvious that V-Moda is a brand that focuses on electronic music.
The V-Moda Crossfade M-100 is the company's flagship product, and at Rs. 24,990, is well into the premium price bracket. It follows V-Moda's typical styling cues; a look that has worked for some years now. It's available in three colour options; Matte Black Metal (our review sample), White/Silver, and Shadow, which in our opinion is the best of the three.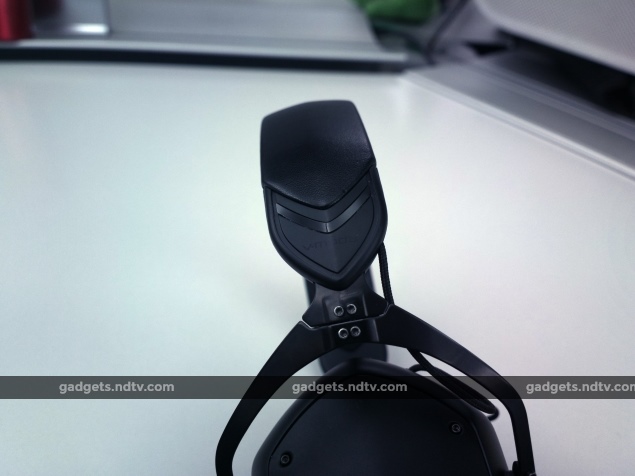 Design and Specifications
It's hard to find fault with the aesthetic appeal of the V-Moda Crossfade M-100 headphones. From the distinct hexagonal shape of the driver casing to the sharp lines and exposed bolts of the headband, it all feels very industrial, and it's fair to say that V-Moda has been at the forefront of bringing this industrial look and feel to the headphones market. It goes well with their electronica-focused brand image.
The bungee-cord-like detachable cable also gives it an adventurous look and feel. As would be expected with headphones at this price, they're all metal. The cool feel of metal on your fingertips is an experience that never grows old. The Crossfade M-100 also has a neat double-hinged mechanism which lets the earcups slide straight up into the curve of the headband, which is a lot more convenient than the typical swivel-style that most other folding headphones have.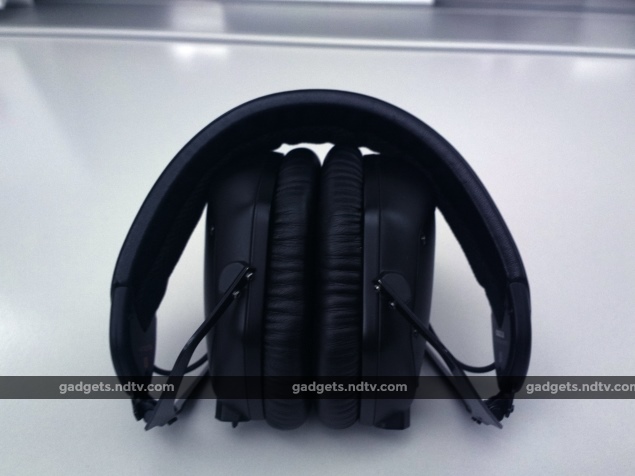 The Crossfade M-100s sport a relatively low impedance level of 32ohms, which helps achieve some seriously high-volume, high-intensity sound without trying too hard. Considering that we've been using a smartphone and a laptop to drive the M-100s, we're quite happy with the results. The 103dB sensitivity keeps things tolerable over average-length listening sessions too.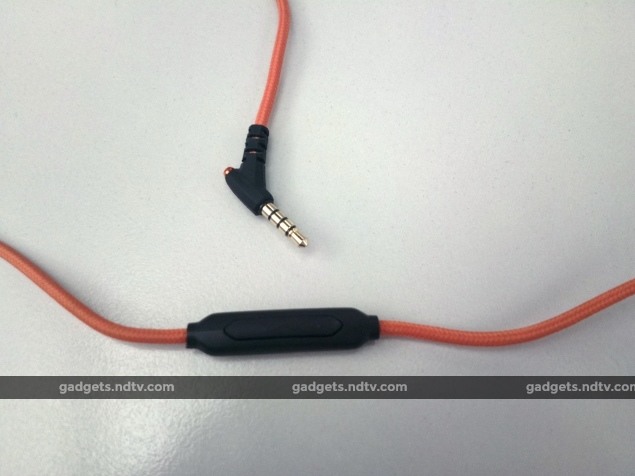 Fit and Comfort
As we've said before, nothing tops the fit of a proper around-ear design. The Crossfade M-100 just barely gets itself around our ears, and the fit is snug, but it's comfortable enough for us not to complain too much.
We suggest sticking to a snug fit when adjusting the headband, since these cans are on the heavier side at 280g. The snug, tight fit will ensure that the drivers are positioned optimally over your ears, and keep them comfortable over time.
That said, the fit will cause your ears to heat up, and you may want to take a breather every so often. The firm clamping action keeps the Crossfade M-100s on your head through all kinds of movement, so they're great for your daily commute, but even better if you're a DJ who tends to bob your head about during a show.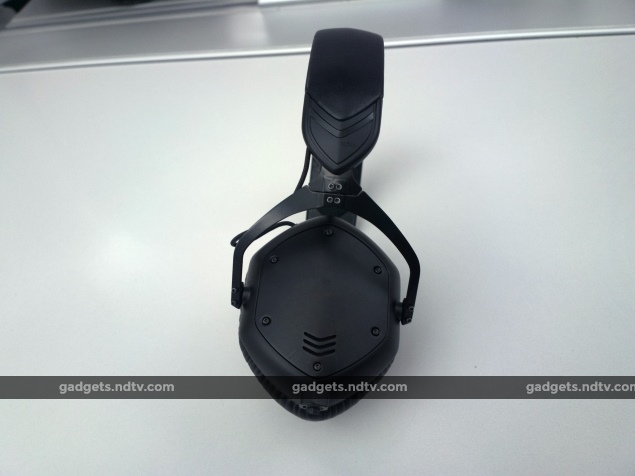 Performance
Seeing as these are headphones built by DJs for DJs and their listeners, we think it's fair to bias our listening towards electronic music in general. We did throw in a bit of hip-hop to run the Crossfade M100s through aggressive vocals and heavy bass thump, but we tried to vary our track selection to include many sub-genres within the electronica universe. We used the following tracks while evaluating the V-Moda Crossfade M100: Close To You by The Avalanches and Missing by Everything But The Girl in 16/44.1 FLAC format, and We Are The People by Empire Of The Sun, Bonfire by Knife Party, World Is Yours by Marletron and Rock The House by Gorillaz in MP3 format.
The first thing noticeable about the M-100's sonics is a meaty thump in the bass. Hard progressive tracks like World Is Yours sounded more exciting than we've heard before, with a real feeling of attack and drive evident. Even the lone hip-hop track on our evaluation list, Rock The House, had its droning bass notes significantly enhanced by these cans. When we ran through the raw bass attack of Bonfire, we remained more than satisfied with their translation of bass, especially when the bass drops for the first time, bobbing along and everything.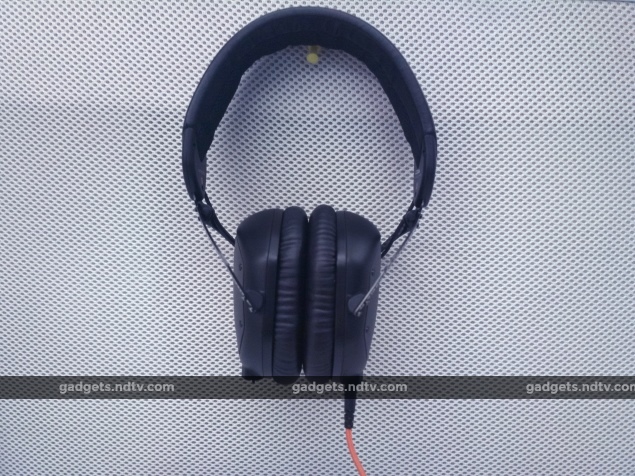 Speaking of Bonfire, the bass does have a tendency to overpower the mids. The reggae-style vocals were clear, but not very convincing. The vocals in We Are The People weren't quite as lost, though. They did once again feel a bit weak, but Luke Steele's unique voice sounded accurate and the higher notes seemed to sound exactly as they were meant to. It's safe to say then that vocals are just a little bit weak in delivery.
Switching over to the two less intense electronica tracks, the sample-based Close To You and the uptempo dance-pop classic Missing, showed that the sonic signature of the Crossfade M-100 has clearly been configured for better bass. Highs, while present and proper, aren't quite as powerful. Powerful lows, decent mids and just-about-satisfactory highs are the theme here.
Both of these tracks did, however, showcase the imaging of these cans. The V-Moda Crossfade M-100 is surprisingly open and provides clear separation of instruments. The tendency of The Avalanches to employ many distinct samples can be tricky for headphones to pick up, but the M-100 does a great job of spotting some of the fainter elements in the track.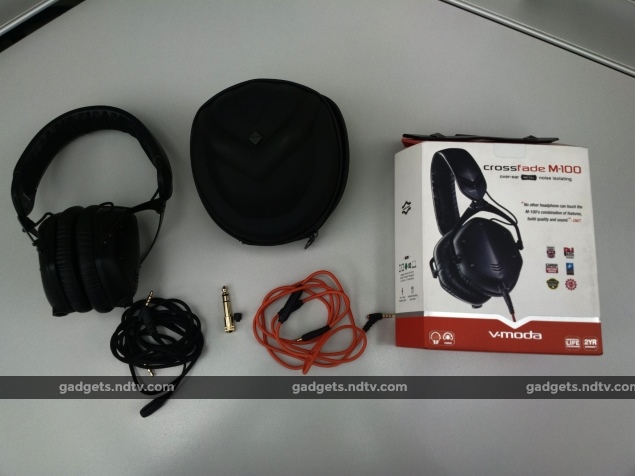 Verdict
The V-Moda Crossfade M-100 is DJ grade and built for electronic music, and within that universe, there's very little negative to say about them. On the whole though, questions can be raised about its abilities with gentler tracks that employ more mids and highs. The Crossfade M-100 is very low-frequency-centric, and if that's the kind of music you listen to, its fantastic.
It also looks beautiful and is built to last. The industrial design elements work well to keep with the electronica feel, and they're comfortable enough when worn right. Pricing has to be the only weak point here, and it will take some convincing to get a significant number of people on board with what is otherwise a 'premium' audio experience.
Price (MRP): Rs. 24,990

Pros
Beautiful industrial design

Good fit

Meaty bass response

Good stereo imaging

Cons

High frequency handling could be better

Too expensive

Ratings (Out of 5)
Design: 5

Performance: 4

Value for money: 2.5

Overall: 4