We woke up this morning feeling like it was 2005. That was the year that Mumbai was submerged due to never-seen-before rainfall, and Eris, the solar system's largest known dwarf planet, was discovered. It's also probably the last year that dedicated portable media players were still exciting. Yet here we are, well into 2015, reviewing a portable media player from Transcend.
The Transcend MP710 is a tiny device that does exactly what it says on the box, and not much more. Because it's fitness oriented, it features a G-Sensor Step Counter and run-friendly hooked earphones. The pocketable size and lightweight build can be considered advantages, but there is nothing else special about the device. It is simply a portable media player and recorder with 8GB of storage space.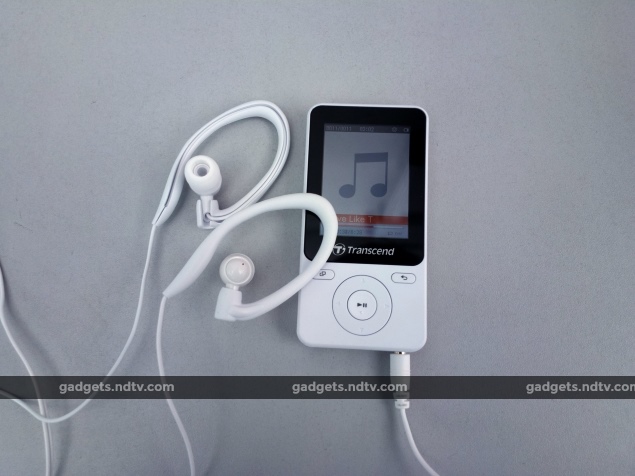 Design and Specifications
The MP710 is made entirely of plastic, which keeps it down to a lightweight 39g without the headphones connected. At 88x44x10mm, dimensions are on the compact side too, which is a good thing for a fitness-focused PMP. There are two colour options, and the dull finish looks good in an understated way. The 2-inch 240x320-pixel TFT LCD screen can be used to play AMV and AVI format files, but unfortunately it's a terrible screen to actually watch anything on. It exists mainly to provide visual cues to navigation and to display album art.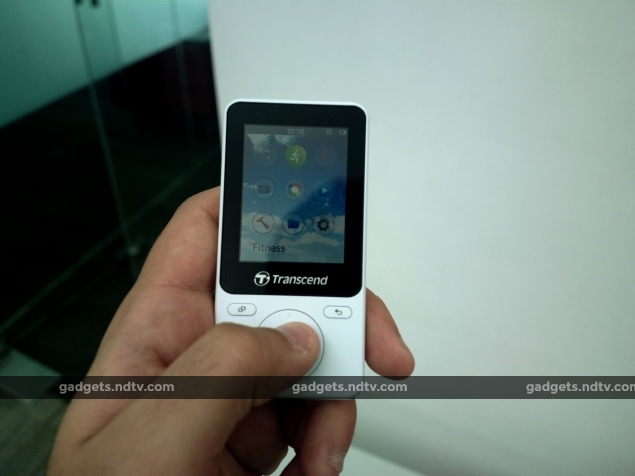 Charging is, thankfully, via microUSB, which is one of the few things Transcend didn't take from 2005. The headphone jack is on the bottom, alongside a line-in port which is a rather strange addition to a simple PMP. The buttons are simple and foolproof, as is the interface. There aren't too many options, and everything is marked with simple icons and text cues. If there's one thing going for the Transcend MP710, it is that this is as simple as it gets.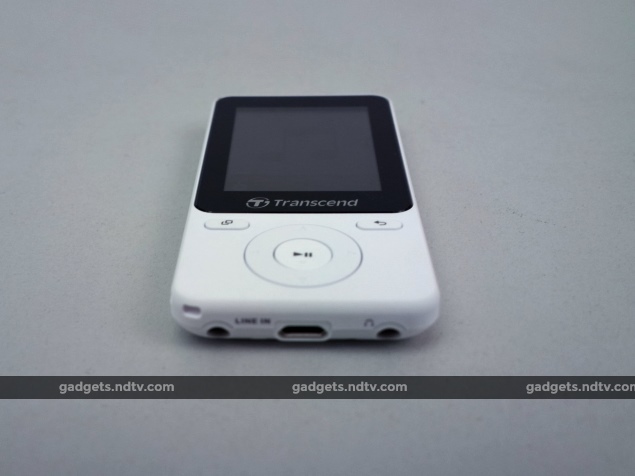 Even the specifications indicate this same approach to simplicity. The devices supports exactly three audio formats (MP3, WAV, WMA), two photo formats (JPEG and BMP), two video formats (AVI and AMV), and only one "e-book format" (TXT) which isn't even an e-book format. Things that will appeal to the commuter crowd, however, are the FM radio and a neck strap to use if you are afraid you might drop the device. As for storage, it's a paltry 8GB, that too non-expandable.
Also worth mentioning is the fact that the bundled in-ears are an absolute pain. They're confusing and hard to put on thanks to the poorly designed ear clips, and are too uncomfortable to leave on for extended periods. Their audio reproduction is also terrible, but we'll go into detail on that in the next section. We would highly recommend that you replace them immediately if you do end up buying this device.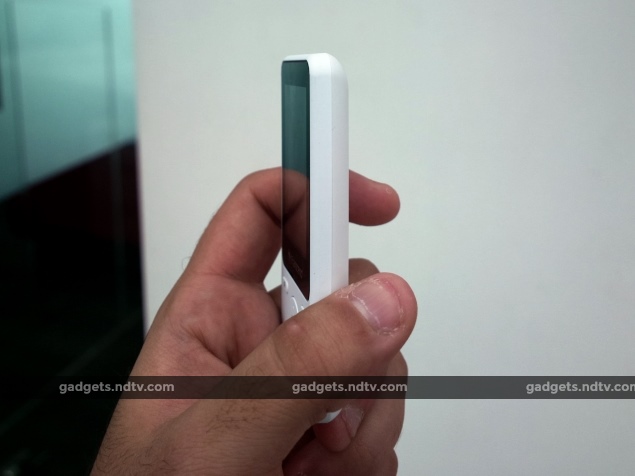 Performance
We've stated that the system is pretty foolproof as far as getting it running and operational is concerned. This is perhaps the only praiseworthy thing about the Transcend MP710's performance.
Starting with audio quality, we're sad to say that the MP710 and its bundled headphones are absolutely appalling. There was a significant hiss to some of the classic audio tracks we tested; more than the acceptable limit. There was also a significant problem with stereo separation, with certain elements of tracks clearly playing through only one earpiece and ignoring the other. The in-ears are so bad, it's as if they had been designed by someone serving his or her last day at the job before quitting and disappearing forever.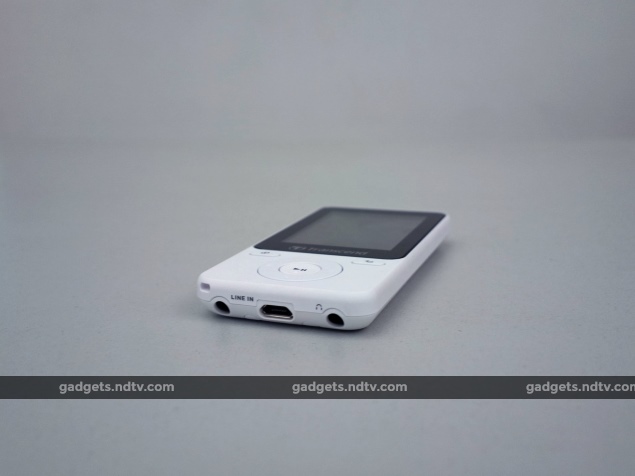 We hoped that adding a quality aftermarket pair of headphones to the mix would make a difference, but the Transcend MP710, unbelievably enough, sounded no better when we used the V-Moda Crossfade M-100. There was a slightly warped feel to the sound, as if was being routed through a rolled-up cardboard tube. Even at its loudest, the Transcend MP710 couldn't overpower the sound of typical office chatter. Yes, audio performance really is that bad.
Now, portable players ordinarily have the advantage of superior battery life. Unfortunately, and this has become a theme now, the Transcend MP710 disappointed us here too. The company claims 42 hours of audio playback. Our test, which involved running the device on loop with a playlist of 15 tracks, lasted just over 22 hours. While this is still a somewhat respectable figure, it isn't exactly revolutionary and doesn't set the MP710 apart in any way.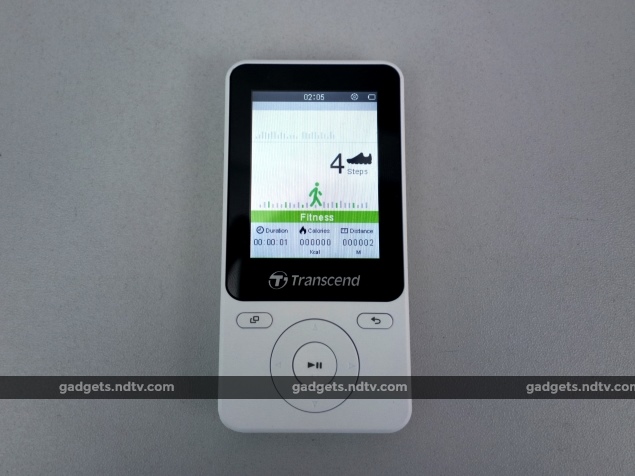 Oh and the fitness functions? The step counter hilariously went from zero to one hundred in a matter of seconds, all while we were seated on our office chair. Actually getting up and walking slowed the pace down to the point that only half the steps we actually took were recorded. It felt almost as if Transcend was trying to deliberately mess things up now.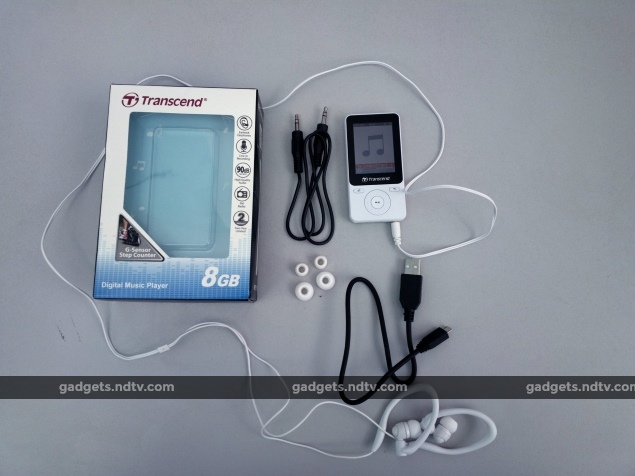 Verdict
Bringing back products from the past is like reminding us of our foolish teenage years. If we were to draw a comparison, the Transcend MP710 would be like a 40-year-old in baggy jeans and a sideways baseball cap trying to sneak in to a college canteen and look inconspicuous. Even today's least expensive smartphones can handle audio playback and recording better. If you are thinking of spending money on this device, save it instead and buy yourself a better phone the next time you upgrade.

Price (MRP): Rs. 3,999

Pros
Cons

Bad audio output

Low-quality bundled earphones
Limited storage space and file format support
Average battery life
Step counter is a joke
Ratings (Out of 5)
Design: 2

Performance: 1

Value for money: 2.5

Overall: 2