Google's Chromecast promised to be an extremely low-cost way to turn any TV with an HDMI port into a smart TV, letting you stream content to the dongle from your smartphone, tablet or any other device running Chrome. While the device launched over an year ago in the US it has yet to hit the Indian shores officially.
Yes, Chromecast is available through importers at Rs.3,500 or more online, but that's a lot more than the $35 (approximately Rs.2,100) that it costs in the US, which makes the main USP of the product - it's low price - redundant. A new product called the TeeWe, made by hardware startup Mango Man Consumer Electronics, aims to fill that gap, and the company's HDMI dongle is priced well at Rs.2,399, with a pre-order price of Rs.1,999.
You can stream content to the TeeWe from Android and iOS devices, with desktop clients for Mac and PC becoming available by the time the units reach customers.
We used the Teewe for over a week to see how well it works and how it measures up to Google's Chromecast.
Design
Given how many Indian products often struggle with design, we were certainly pleased with the look and finish of the TeeWe. It is very similar to the Chromecast in size, though a little bulkier. Instead of the key-like shape of the Chromecast, the TeeWe is a smooth rectangle - it's perfectly flat but the plastic body doesn't have sharp edges either. The HDMI jack sticks out along one of the smaller sides, and there's a Micro-USB port along the long side at the other end of the stick. This is used to connect the dongle to a power supply - the included wall adapter (Chromecast doesn't come with one) has a long cable so it wasn't very inconvenient to use.
The all plastic body doesn't really feel like a premium product, but it doesn't look cheap or tacky either. When you consider the price of the product, we think that Mango Man's design work is up to the mark.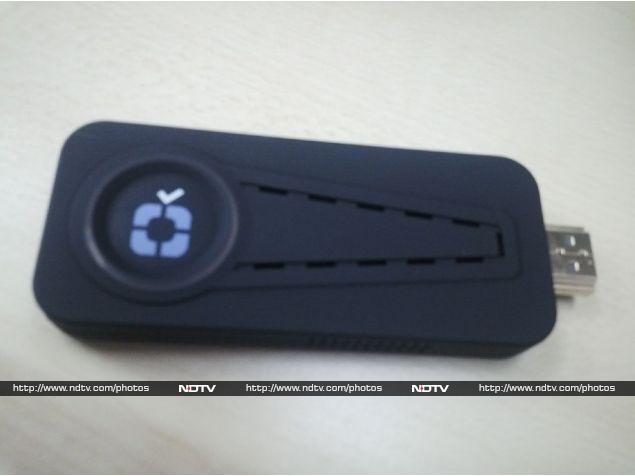 Setup
Setting up the TeeWe is pretty straightforward. Connect the dongle to your TV's HDMI port, and connect the power. After that, follow on-screen instructions to set up the TeeWe's Wi-Fi.
To do this, you first connect your mobile device to the TeeWe-generated WiFi network, and use the connection to set up the TeeWe with your home Wi-Fi. Once this is done, you just select the content you want on the mobile device, and you can start streaming it to the TeeWe.
Features
The TeeWe is designed for entertainment - you can use it to stream local media (photos, music and movies) from your mobile or tablet to a TeeWe plugged into a big screen television without any trouble. You can also use it to stream video from the Web, controlled through the app on your phone or tablet.
The app is straightforward, with the different sections laid out in scrollable rows. You have YouTube videos, and a curated list of free content on the Internet to make it easy for people to find free Indian TV shows and movies. There are also rows for locally stored content, so you can push your songs and videos directly from your phone without needing Internet access, as long as the two devices are on the same Wi-Fi network.
What's missing right now is a screen-mirroring option. According to the TeeWe team, this wasn't something in the initial roadmap at all, but the feedback they've received so far means that it's something they want to add in the near future via over-the-air software updates.
Performance
The TeeWe was able to stream plenty of videos from YouTube smoothly, changing streams as soon as we tapped the icons on our mobile's screen. Playing local content was similarly easy and the playback was completely without any stuttering or lag.
To test the local playback, we tried a number of video samples - this included 720p and full-HD content, in popular formats like AVI, MP4 and MKV. Full-HD playback stuttered at times, but 720p worked flawlessly throught.
The TeeWe app is the only way to send media to the dongle and using the app itself is straightforward. On our Android device, the app found all the movies on the tablet but on the iPad, it was a little less useful because like most people, we store our local media in different apps. TeeWe can find locally saved videos only if they're saved in your device's Videos or copied directly to the TeeWee app, but that's an OS limitation every app must live with.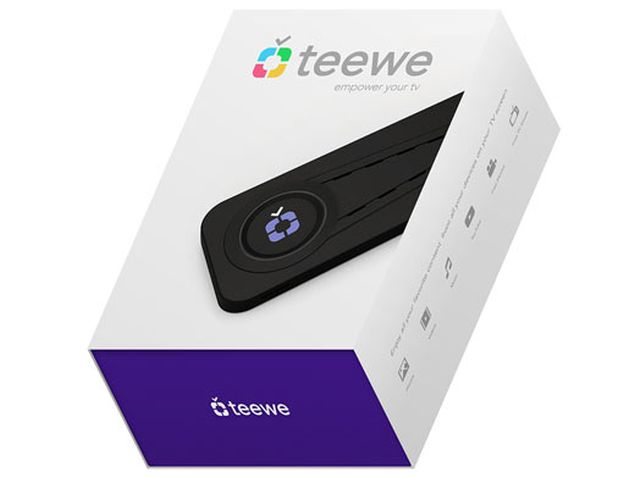 Verdict
If you're looking for a low-cost way to stream videos from the Internet or your smartphone/ table to the big screen, the TeeWe looks like a pretty good choice. The companion app is easy to use, and the actual streaming worked without any difficulties.
The catch is that there are a number of ways to bring this kind of functionality to your television without having to use a TeeWe. If you have a laptop, you can probably connect it directly to the television with a simple HDMI cable. If you have a game console like the Xbox 360 or PlayStation 3, then too you can share your videos over Wi-Fi quite easily. Not to mention other alternatives like HTPCs, Chromecast and indeed Apple TV.
However, all those options are either too expensive, inconvenient or suffer from a lack of portability. If you want something that can slip easily into your pocket and carried to a friend's house, the TeeWe is perhaps the best option officially available in India right now that doesn't cost a bomb.
So does that make the TeeWe better than the Chromeast? Not without the third-party support. As Google's official HDMI dongle, support for Chromecast has been integrated into a lot of apps on Android, and indeed iOS. If you have the Popcorn Time app on your Android device, for example, you can use it to download and stream movies directly to your TV using a Chromecast.
It is hard to imagine Popcorn Time adding support for Teewe unless Mango Man can somehow convince the developers to come on board. But the company doesn't seem too keen to do that, saying it wants to add Chromecast support to its own app instead, a move that indicates it's more keen to push its software instead of hardware.
While the Teewe may never get as popular as the Chromecast, it's still a solid choice for anyone looking to get started with streaming videos to the big screen.
Affiliate links may be automatically generated - see our ethics statement for details.