If you've (legally, of course) downloaded a bunch of movies to your laptop, and now want to watch them on your TV, then the easiest way to do this is to use a HDMI cable to connect the two. But this is not always convenient, and besides, maybe you've (again, legally) got a bunch of films on your phone. Most phones don't come with HDMI ports to connect to your TV, and while your phone might support Miracast, there's a good chance that your TV will not.
That's where Wi-Fi connected streaming devices like Google's Chromecast come into the picture. The Chromecast was launched nearly two years ago internationally, and finally launched in India last December, priced at Rs. 2,999.
The Chromecast is great if you have a lot of online video content that you want to stream - in fact, if you buy a Chromecast from Google, you get 20GB of data usage per month free on Airtel broadband for three months, and a two-month subscription to Eros Now, which has a lot of Bollywood content. It's not ideal for streaming content from your PC to the TV though; you'll need to install and set up something like a Plex to do that effectively.
And that's the niche that the recently launched Teewe 2, made by Bangalore-based Mango Man, wants to fill. In September last year, we had a chance to review the Teewe, and despite some shortcomings, we liked the little dongle. Of course, the highly competitive pricing of Rs. 1,999 helped, as did the fact that the Chromecast wasn't officially available in India when the original Teewe was launched, though that quickly changed.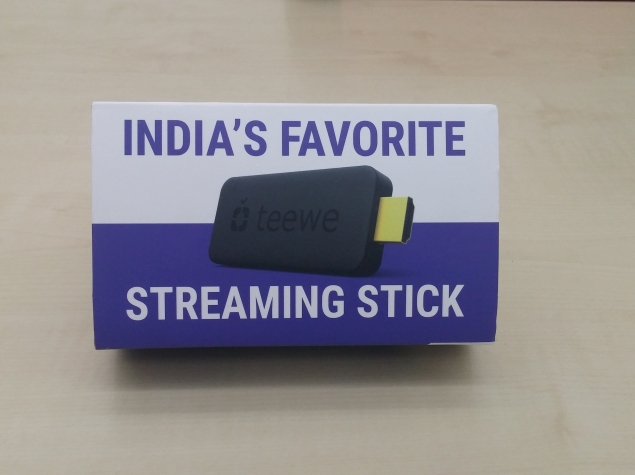 Though pricier now at Rs. 2,399, the Teewe 2 has also improved in these last nine months. The question is whether it's changed enough to deliver to make it a good pick over something like a Chromecast that perhaps has better recall and brand trust? We used the Teewe 2 for around a week to try and find out.
Design
Design is one of the obvious changes that you immediately see with the Teewe 2. While the original dongle was a little bulky, the Teewe 2 is much sleeker - it's 70 percent the size of the original, according to Mango Man's CEO Sai Srinivas - and this new model is even smaller than a Chromecast, even if only barely.
It maintains the simple rectangular design of the original, but has done away with colourful flourishes - instead you've got a tiny and discreet block with a stylishly etched logo along one side. The dongle, which goes into your TV's HDMI port, is powered via the Micro-USB port, so if your TV has a USB port, you can simply connect the two. Otherwise, there's an included power adaptor, so you can connect the Teewe 2 to an electric socket too. The Chromecast doesn't ship with a wall adaptor, so this is a nice, if tiny, bonus.
Mango Man - the company that makes the Teewe 2 - has also improved the quality of plastic that it uses for the Teewe 2, and the new model feels like a premium product. It actually measures up to the level of polish you'd see on the Chromecast, unlike the other products in this category that we've seen, including the original Teewe.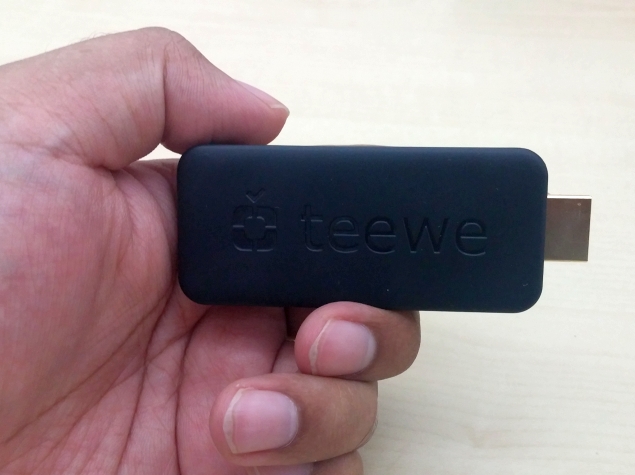 The looks don't really matter since the dongle will be hidden away behind your television, but it's still nice to get a product that looks like it was made with care, and that's definitely the case here.
Setup
Setting up the Teewe 2 is also pretty foolproof. To set it up, you need a Wi-Fi network, a smartphone or tablet, and the Teewe 2 of course. First, connect the Teewe 2 to the television, and power it up. Then, you have to download the Teewe app on to your device, and follow the on-screen instructions, which are pretty similar to how you setup the Chromecast.
The process is particularly easy to follow if you're using an Android phone - you download the app, and it automatically detects the Teewe 2 dongle. It then prompts you to connect to it, enter your Wi-Fi password, and that's it, you're done.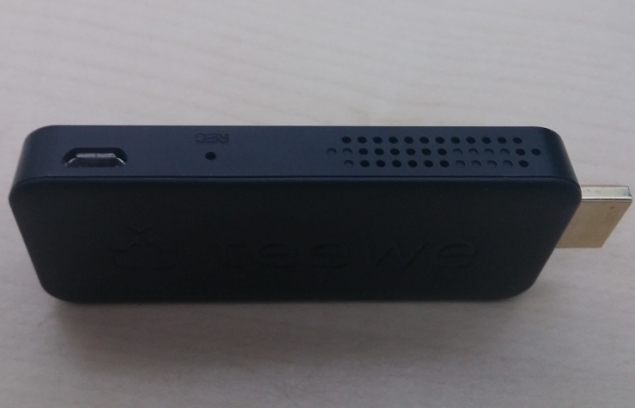 If you're using iOS, then the process is only slightly more complicated. The Teewe 2 generates its own Wi-Fi network. You have to disconnect your phone or tablet from your home network, and join the Teewe 2's network. Next, you configure the Wi-Fi for your home network on the dongle, and then the Teewe 2 is ready to use.
Features
The Teewe 2 also ships with improved apps, and the Android phone and iPad apps look very similar. The interface for the PC app - which needs to be installed separately, of course - is a little more detailed, but still pretty easy to understand. In all three cases, you can see a home page with a wide selection of content from YouTube. Scroll down and you can see locally stored media as well. This means that you can either trigger a YouTube stream on the Teewe 2 by tapping it on your phone or laptop, or you could send a song, a movie, or a picture. This second feature will work even when there's no working Internet connection, though again, both devices need to be on the same Wi-Fi network.
The Teewe app automatically scans your device to locate all the media on it - you can customise this on the PC to manually add folders if you prefer - and then allows you to easily play whatever locally stored content you have. This is the big reason to get a Teewe 2 - it's an idiot-proof method to stream (legally) downloaded videos from your computer to your TV. We Indians aren't huge fans of streaming, and tend to have large video libraries on our computers, which would make the Teewe 2 quite useful.
At the same time, the Teewe app also curates YouTube content that you might want to watch, such as Indian TV shows, movies, or songs. This obviously needs Internet access to work. Mango Man is also working on tie-ups with other content providers in India, for films and music both. We already know that like the Chromecast, the Teewe 2 also comes with a two month subscription for Eros Now (the service is expected to launch in July, says Srinivas) but aside from that, Srinivas says that more service tie ups are also coming.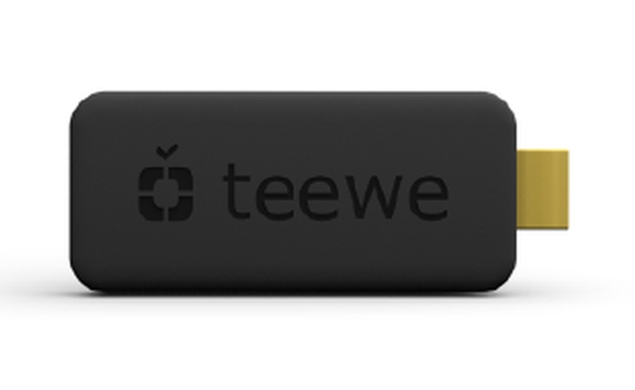 On the PC (or on a Mac) you can also install the Teewe Chrome extension, which can be used to send videos from a supported webpage to the Teewe 2 dongle. You can also mirror the entire screen, so if you come across a page where the video content isn't picked up by the Teewe app - or if you just want to project a giant Facebook timeline to show a friend - then you can always do that. This, of course, is similar to the Chromecast. Sites that already support the Teewe extension include Scoopwhoop, Reddit, 9Gag, Khan Academy and Coursera, and the Srinivas says that Mango Man is adding support for more sites now.
The Teewe 2 doesn't support screen mirroring on your phones though. Srinivas says that he doesn't see the point. "The app picks up all your local content, so you don't really need to mirror your screen," says Srinivas. "The only possible use case would be gaming, but I can tell you - I'm a gamer myself, and I used to work in the industry - that [mirroring] would not work. With any mirroring solution, there's a slight lag, which is okay if you're watching a video, because it's only the first second, then you won't notice anything. But with a game, it would become incredibly frustrating."
Another feature that you may find convenient is that the PC and mobiles apps can talk to each other. As long as you've got the Teewe app running on your laptop, you can still launch the videos on to your television via the Teewe 2 dongle, entirely controlling things from your phone. Multiple devices can connect to the same dongle, which means that we could start a YouTube video from our iPad, then mirror the screen on our computer to show a website, and then start playing a slideshow of photos from our phone without any hassle.
This can also be used to play content from your laptop on your other devices. Suppose you've got Teewe installed on your laptop, which is full of movies. If you want to watch them on your Android phone so that you can watch a film in bed without disturbing anyone, then you can just stream it through the Teewe app; in this scenario, the dongle doesn't even need to be powered up. You can't access the content of another mobile device through the Teewe app though - either to view, or to stream to the Teewe dongle. The Mango Man team tells us that this is intentional, because people have more personal content on their phones. That makes sense, though it would be better if there was a way to opt in to letting videos from your phone be accessed on other devices.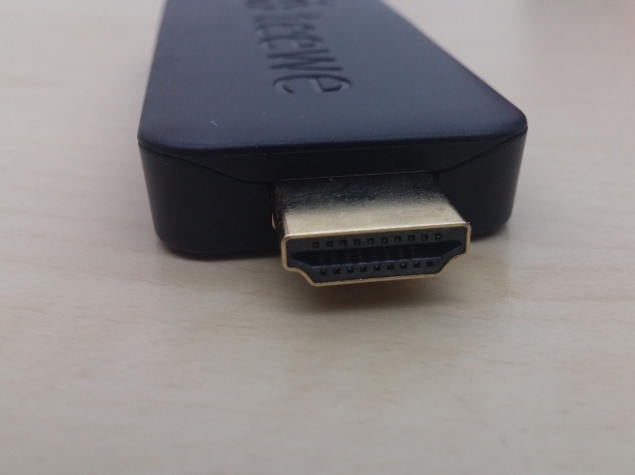 Performance
The Teewe 2 HDMI media streaming dongle features a dual-core ARM Cortex-A9 processor clocked at 1.6GHz; a quad-core GPU; 1GB of RAM, and Wi-Fi 802.11 b/g/n support. It can be connected to any TV with an HDMI port. That doesn't sound like much in the context of modern phones, but given the limited requirements of the device, it is more than enough. The dongle itself works without a hitch, loading content quickly as long as the Internet connection is fast, and near instantly when you're playing local content.
YouTube playback was occasionally happening poorly when we tested on a1Mbps connection. At 8Mbps, things seemed to load much more smoothly, as you would expect. Local media playback - both from the computer and from an Android phone happened flawlessly too. The experience on an iPad was a lot less satisfactory though.
For one thing, Teewe only has an iPhone app, and so you have to run that in 2x mode on your iPad to use the dongle. Secondly, the app didn't load thumbnails for anything we wanted to stream - luckily file names are also shown. Thirdly, the app itself is a little less useful on iOS because it will only pick up the photos that are stored in your photo gallery. It doesn't pick up any movies you've saved in a third party video app, but that's an iOS limitation, so it would be unfair to blame Teewe. And while many third-party video apps support the Chromecast and allow you to stream movies to it, you can't stream your local videos to a Teewe 2 that way either.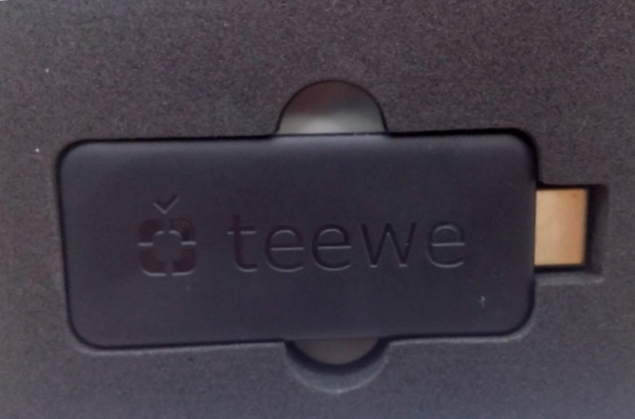 The experience for an Android user is much better. The Teewe 2 picked up all the video files we had stored - and played them without a hitch. This includes a number of 720p and full-HD videos, in various popular formals including .avi, .mp4, and .mkv.
That said, even the Android app isn't entirely free of issues. We used it for a week, and while there were some days where it performed perfectly well, on other days it would either stop working entirely, or not detect the dongle, or not detect content. At times, even when the Internet connection was working fine, the app wouldn't be able to load thumbnails videos from YouTube at all. Solving these problems was simple - you just had to close the Teewe app and start it again. It's annoying, but the problems didn't occur often enough to be a dealbreaker; far from it to be honest. However, with the price difference between the Teewe and the Chromecast getting smaller, the company is going to have to fix even the small issues if it is to compete, and these are definitely problems that can be fixed via a software update.
Price
The Teewe 2 is now available on Amazon.in. The dongle is priced at Rs. 2,399, and comes with 20GB of data per month free for three months on Airtel broadband, and two months of free Eros Now.
Verdict
The Teewe 2 is a great looking device and the price is highly competitive. It does all that it sets out to do very effectively as well. It's also refined the experience of using the Teewe significantly. The app has improved, the setup has been simplified a lot, and the hardware has also been refined. But depending on what devices you're already using, and how you plan to use this, you might still be better off spending an extra Rs. 600 to get the Chromecast.
First off, if you're a VPN user who subscribes to a lot of international streaming content from services like Netflix and Hulu that are supported on the Chromecast, then this is a no-brainer. You go with the Chromecast. If your online streaming needs are met by YouTube (and Eros now, when it becomes available), then the next thing to consider is the phone you're using.
If you're on Android, the app can locate all your media and stream it easily, while an iOS user is better off with the Chromecast. While in the process of writing this review, we were asked by someone who has an iPhone and an iPad which device they should go for. The answer is simple - the Chromecast.
On the other hand, if you've got a lot of downloaded videos on your Android phone or on your laptop, then the Teewe 2 starts to look a lot more appealing. Yes, it is possible to stream that content on to a Chromecast from both those devices as well, but the Teewe app makes it incredibly simple to find what you want and play it on the big screen. There's no additional third-party software to download - just the Teewe app - and you don't have to set up anything either, the whole process is nearly automatic. If you've downloaded a bunch of shows and movies and want to easily share them to your television screen, then it doesn't get simpler than the Teewe 2.
Affiliate links may be automatically generated - see our ethics statement for details.