Sure, you can buy yourself a branded pair of headphones. But buying into an established name usually involves paying a higher price, or settling for something that is within your budget, but doesn't really suit your needs. If you look beyond the brands, you're likely to find feature-filled products that are available at attractive prices.
Take a trip to one of the numerous electronics and computer peripherals markets of the country, and you're likely to find products such as the Rs. 1,200 TAG USB-400 Headphones, which sell for closer to Rs. 1,000 in the market. TAG stands for Technology And Gadgets, a company that markets its products to the masses. The headphones have a USB input rather than the typical 3.5mm plug, and will appeal to laptop and computer users as a result. We go into the details in our review.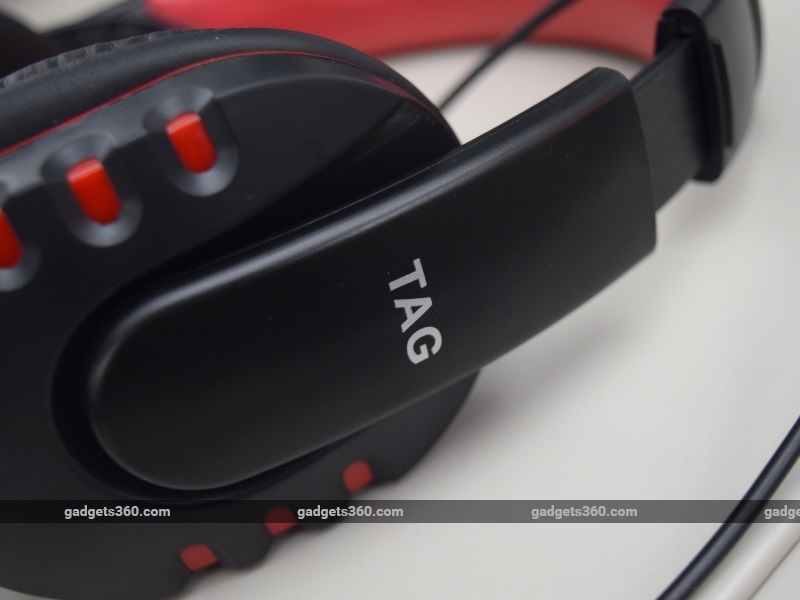 Design, specifications and comfort
One of the key features of the TAG USB-400 headset is that it connects to source devices using USB instead of the industry-standard 3.5mm plug. One of the biggest implications of this is that you can't use these headphones with smartphones and most tablets, limiting usability to computers and laptops. This also means that it requires its own digital-analogue conversion, as it can't utilise the DAC of the source device which is usually connected to the 3.5mm socket. The headset has its own DAC placed within the large in-line remote unit.
The TAG USB-400 has 40mm dynamic drivers, an impedance rating of 32Ohms, a sensitivity rating of 115dB and a frequency response range of 20-20,000Hz. There's also a microphone, and a cord that is approximately 2m long. The microphone can be adjusted and retracted upwards when not in use, and switched off entirely using the in-line remote.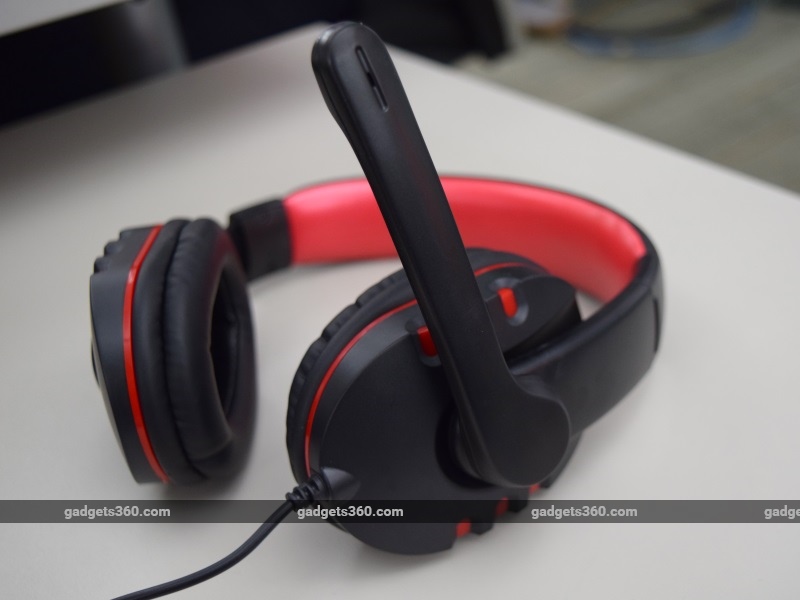 The main advantage to using a USB headset is that it will bypass your PC's on-board soundcard and use its own DAC, but this advantage is negated if its own processing is weak. Since the USB-400's DAC is forcibly paired to the headphones and cannot be bypassed, we had no way of separately reviewing the headset and the DAC.
Another advantage is that these headphones can be used with computers that don't have a 3.5mm socket or a motherboard that does not have a built-in soundcard. Either way, it's a pretty limited-scope scenario that would drive you to buy these headphones, but the product exists for those who need it. We'd expect the USB-400 to work well for people who use their computers for communication, such as for video-conferencing, online learning, or in call-centres, as well as for console gaming.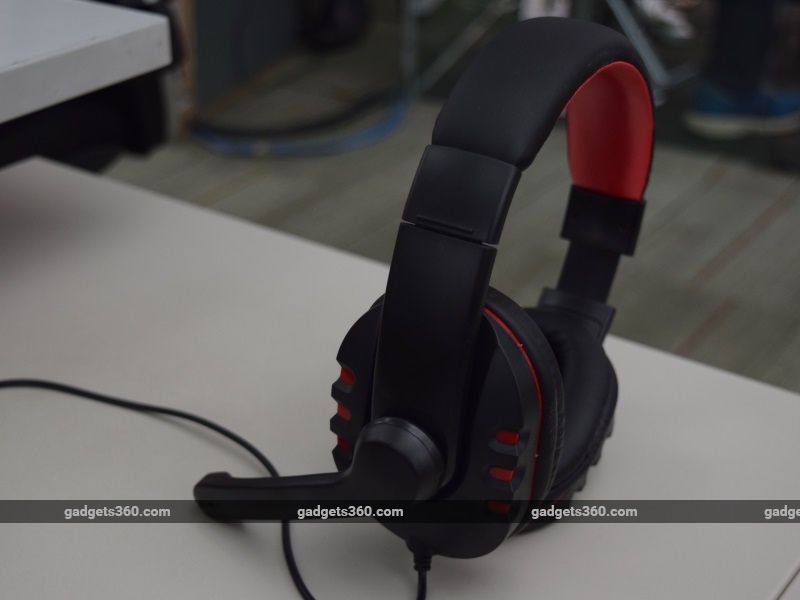 When it comes to design, we weren't impressed at all. The headphones feel cheap and tacky, and the poor construction quality and finish is evident on close inspection. The plastic casing scuffs easily, and simply does not have the level of finesse of a decent branded product. Additionally, the TAG logo (which has absolutely no element of aesthetic appeal) is unevenly printed onto the headband and looks absolutely horrendous.
Additionally, the headband adjustment mechanism is far too loose and cannot stay in place even on your head, which means that you'll find yourself constantly adjusting the headphones. The only good thing is the comfortable padding on the ear cups and headband, which make the over-ear design comfortable for constant wear.
The poor build quality continues onto the DAC/ in-line remote unit, which quite literally came apart for no reason. We managed to put it back together, but it remained precariously brittle and prone to damage for the rest of our review. The remote has volume controls and a mute/ unmute button, apart from the previously mentioned microphone mute button. At Rs. 1,200, these headphones cost far too much to be this poorly built.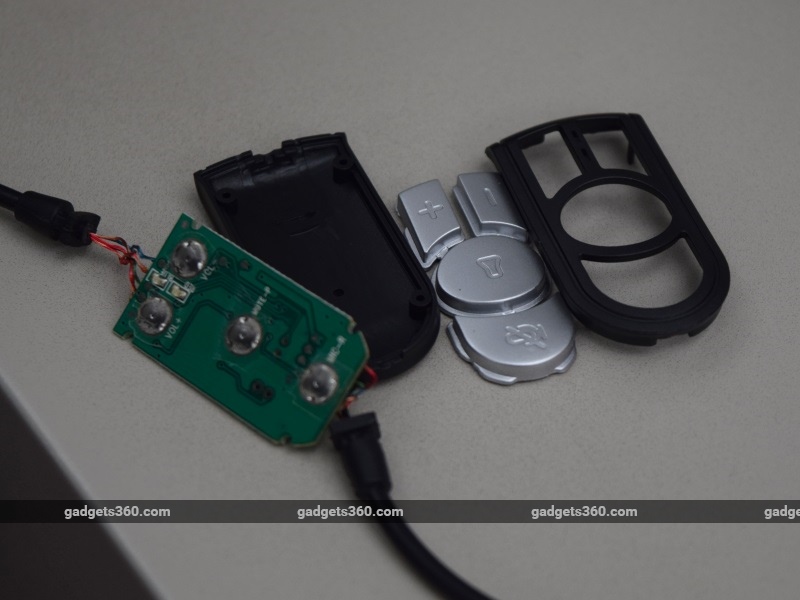 Performance
We used a Windows laptop while reviewing the TAG USB-400 headphones. Content used varied between various audio tracks, video clips, games, and more. Focus tracks for the review were Michael Jackson's You Rock My World and Coldplay's Hymn For The Weekend. Additionally, we tested the microphone using a handful of apps. It refused to work with Windows' native voice recorder and with Google Chrome-based applications such as Whatsapp for Web, but functioned properly with Audacity. Recording quality was decent, although the microphone also picks up on a lot of background noise because of its sensitivity.
Starting with You Rock My World, we found that the sound from the TAG USB-400 is loud and punchy, but not necessarily in a good way. The bass lacks subtlety and finesse, and gives the sonic signature a muddy character that tends to interfere with any definition and clarity. There is also too much colouration in the low-end of the frequency range, and the track sounded far too warm for our liking.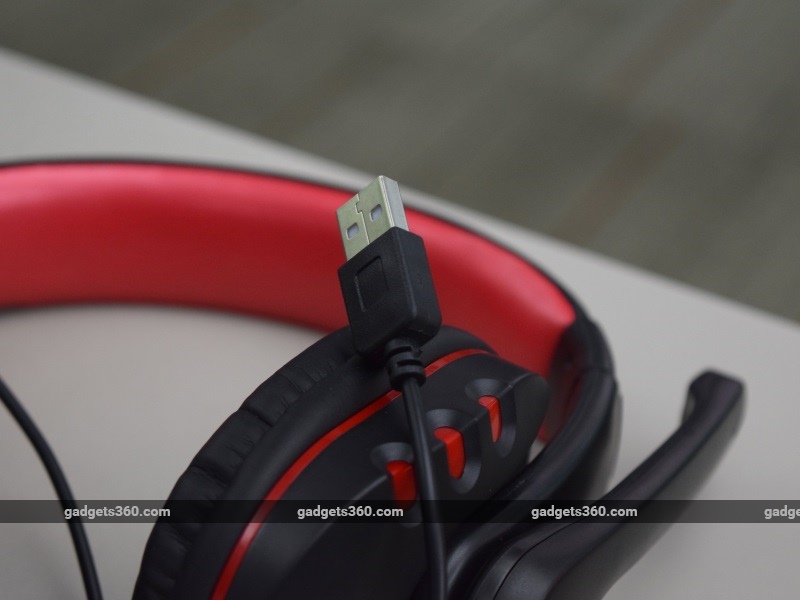 With Hymn For The Weekend, the muddiness was even more audible. Additionally, the bass and treble responses were far too shrill, and this made the listening experience extremely uncomfortable over long periods. The mids were constantly overpowered by the highs and lows, and this had an impact on Chris Martin and Beyonce's vocals, which could barely be heard clearly. With busier tracks, there's barely any audible separation of elements, and soundstaging and imaging are poor as well. It sounds messy, to say the least.
With voice clips and YouTube videos, sound is uneven and spikes at random points, which makes listening far too painful an affair. The weak mids tend to drive sonics towards the lows and highs, and as a result, voices sound unbalanced and far too varied. Although you can hear clearly, the sensitivity spikes mean that you have to keep the volume extremely low so as not to hurt your ears and give you a headache. Additionally, the volume levels are extremely uneven, and the sound is either too soft or too loud, no matter what you're listening to.
Finally, we tried the headphones with an MSI gaming laptop, while playing Far Cry 4. The sound retained its sharpness, and gunshots often startled us because of how loud and sharp they were. Although loud and usually clear enough, the sound has a tendency to become uncomfortable over longer periods. However, the headphones serve the purpose of providing loud, relatively clean sound, and USB connectivity makes it convenient for use with consoles.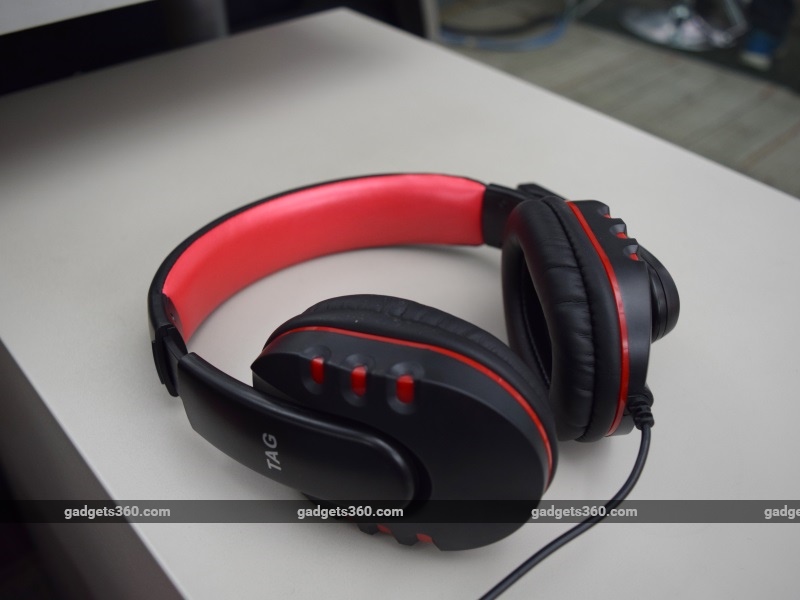 Verdict
TAG isn't a brand you've likely heard of before, but it isn't meant for people who are brand conscious. Instead, it's targeted at budget users who want functional products at a good price. However, at Rs. 1,200 the TAG USB-400 isn't exactly the most affordable pair of over-ears around, and its USB input alone does not justify the price.
This is a niche pair of headphones that will suit a limited audience, and even then, it has far too many issues with build quality and sonic capability. It's poorly built, feels cheap, comes apart easily and simply does not sound good, whether its music, videos or voice you're listening to. Although it suits a very specific purpose, it's hard to recommend this pair of headphones at all.

Price (MRP): Rs. 1,200

Pros
Comfortable to wear

USB plug suits specific purposes

Microphone is good when it works

Cons

Sound is generally bad

Poor design, feels cheap and tacky

The DAC/in-line remote came apart within minutes
Microphone doesn't always work
Volume levels are uneven and uncomfortable

Ratings (Out of 5)
Design: 1

Performance: 2

Value for money: 2.5

Overall: 2