What makes a smartphone a smartphone? Commonly accepted definitions state that a smartphone is a mobile phone with an advanced operating system and features that combine the functions of a cellular device and a personal computer in one. Essentially, a smartphone is an all-rounder. Shouldn't similar norms apply to smart TVs then?
Unfortunately, the definition of smart TV is vague at best. TVs are generally classified as smart if they have Internet connectivity, without going into more detail on what additional capabilities that connectivity can provide. As a result, "smart" TVs are everywhere, but aren't quite as useful as you might think. That's where Sony's latest product comes in.
Sony's Android TV series of televisions offers a bit more in terms of connectivity and smart features. With an operating system and user interface designed specifically for TV usage, Sony's new range is designed to take on LG's WebOS-powered smart TV and Samsung's SUHD ranges. The Rs. 3,04,900 55-inch X9300C unit we're testing today is feature-packed and loaded with everything you could possibly imagine in a TV set. Does it live up to expectations? We find out in our review.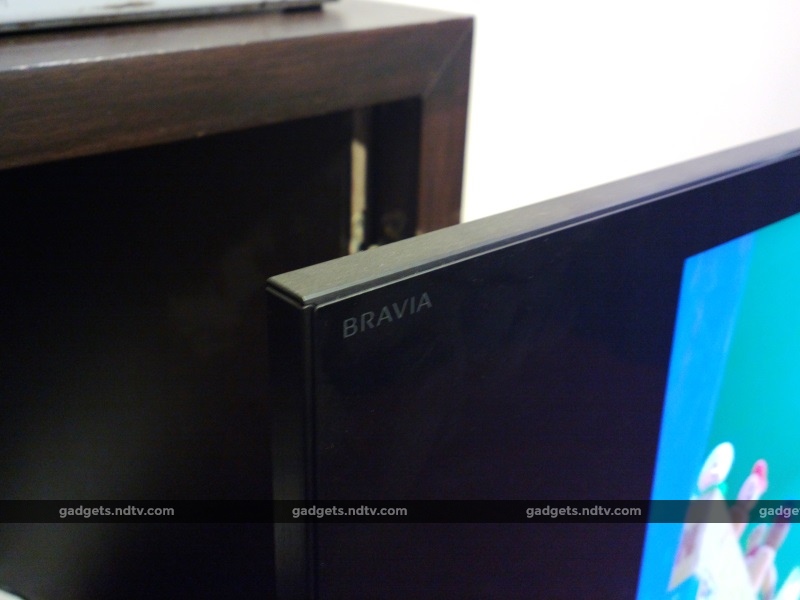 Design
Where other TVs strive to be slimmer, with borders and bezels as narrow as possible, the Sony KD-55X9300C makes no effort whatsoever to be compact. It's a large TV with thick borders and two columns for speaker drivers sticking out on either side of the screen. It isn't slim either, with a back that holds all the components that make the TV run. We don't particularly care for external looks in a TV, as long as the sacrifice is made up for elsewhere.
That said, this TV does look particularly imposing, thanks to the sheer size and the speakers sticking out. It gives the impression that the X9300C means business, and has more to offer than other TVs. From corner to corner, the TV also feels cinema-like, and from a distance, it could be mistaken it for a larger television with a 21:9 aspect ratio screen.
This is also an incredibly heavy television set, weighing close to 38kg with its stands attached. The TV can either be wall-mounted or stand-mounted. If you choose to stand-mount it, the detachable stands can be fixed in two ways; with the TV resting on its corners, or closer to the centre. The latter is a convenient option for when you have a small TV stand.
The Sony KD-55X9300C comes with a camera accessory which fits on the top and connects to the TV through a USB port. There is a single LED indicator right below the Sony logo, which ordinarily indicates when the TV is on or off, but can be customised to indicate other functions such as navigation actions, or can be switched off entirely. The connectivity panel is located in a rather inconvenient spot on the back of the TV, within a hollowed-out area. If the TV has been wall-mounted, accessing the rear will be extremely tricky. Sony does include a USB extender, which is good because that's the port you will need to access most frequently, while other cabling can be done at the time of installation and left in place.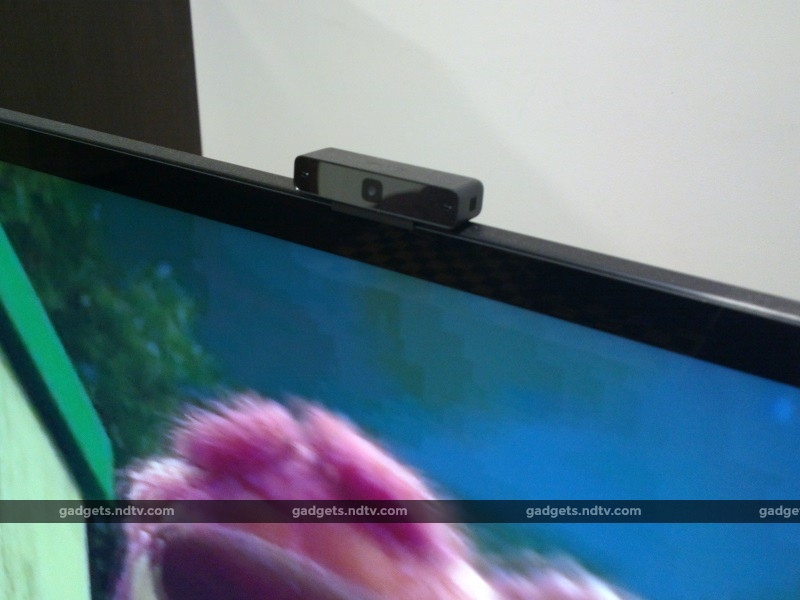 Specifications, features and software
The Sony KD-55X9300C has a 55-inch 3840x2160 pixel edge-lit screen, which will accept 4K resolution signals at up to 60Hz. Sony has also included its 4K X1 video processor with X-Reality PRO and Motionflow XR 1200Hz, for improved picture and motion handling even at 4K resolution. The TV has upto 178-degree viewing angles in all directions, and is 3D-enabled, with active-3D technology.
The X9300C has a total of four HDMI ports, three USB ports, one Ethernet port, two composite video inputs, one RF input, two analogue audio inputs, one digital audio input, and one hybrid audio out socket which can be used for speakers or headphones. There are a handful of smartphone connectivity options as well, including one-touch connect, screen mirroring, MHL, Wi-Fi direct, and TV Sideview. The speakers are configured with 2.2 channel sound, with two tweeters, two woofers and two subwoofers. The total audio output power is an incredible 90W, which is high by TV standards. Accessories included with the TV include two remote controls, a camera, and two pairs of 3D glasses.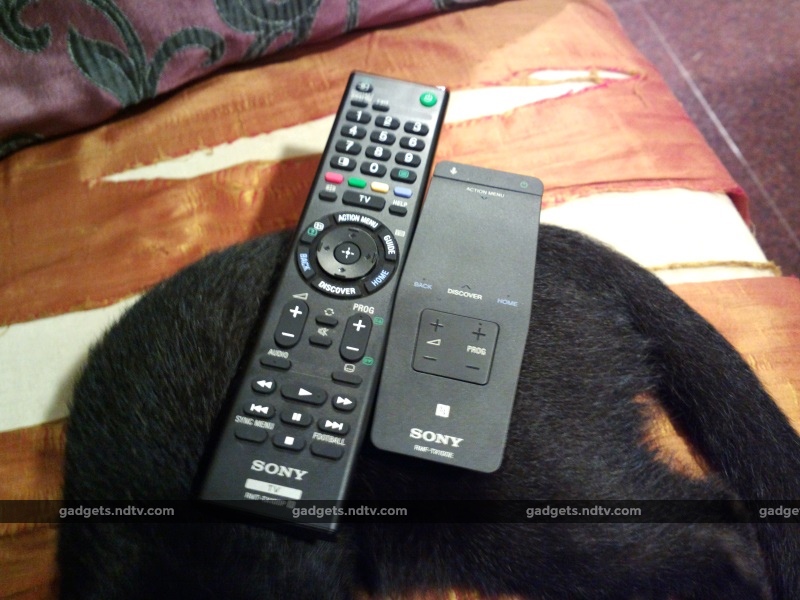 The remotes are a bit tacky, in our opinion. They feel too plastic and cheap for a TV of this calibre, and could definitely have been better in terms of weight and build. The touchpad on the smart remote is far too sensitive and often misreads gestures, and both need to be pointed perfectly at the TV in order to send commands. By comparison, LG, Samsung and Philips all supply far better remotes with their high-end TVs.
One of the highlights of the TV is its operating system and user interface. The X9300C runs the Android TV user interface, which is powered by Android Lollipop. It has 16GB of internal storage (8.2GB is user-accessible), with both wireless and wired Internet connectivity. One of the highlights of the platform is access to the Google Play Store, which although limited to apps optimised and certified for use with Android TV, is far better than the app selection offered by other smart TV interfaces.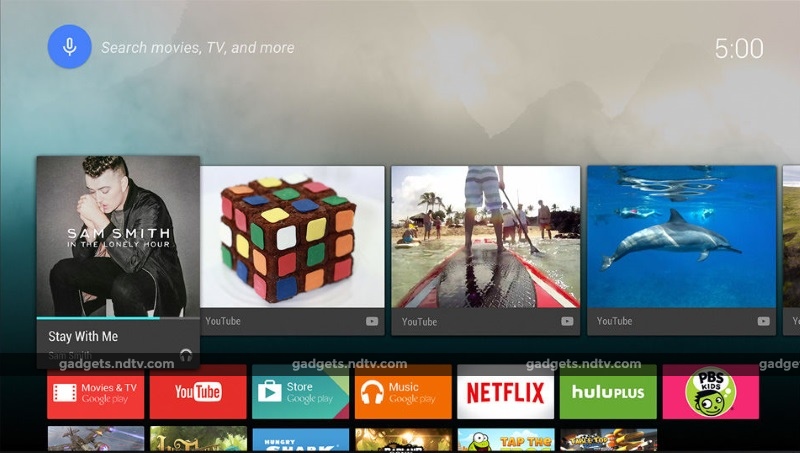 The UI is rather easy to navigate, with a simple up-down and left-right scrolling system. Content apps are all stacked together, while recommended videos can be fetched from online services and pushed to the screen. The TV's hardware sources (HDMI, component, analogue and digital) are all classified together as well, for easy access. All kinds of content can be accessed with a few button presses, while settings and Internet connection options can also be controlled through dedicated menus.
Easy Google Play access for movies is a great touch, as it makes a wide selection of movies available to users to stream directly. Settings are easy to access and control, and are properly optimised for televisions. Sony also has apps which let you use your Android smartphone as a remote for the TV, as well as an app to push notifications onto the TV screen as soon as they arrive on your phone. Our only complaints with the UI are that it is a bit slow and not as responsive as we'd like, but it's still among the better user interfaces for TVs.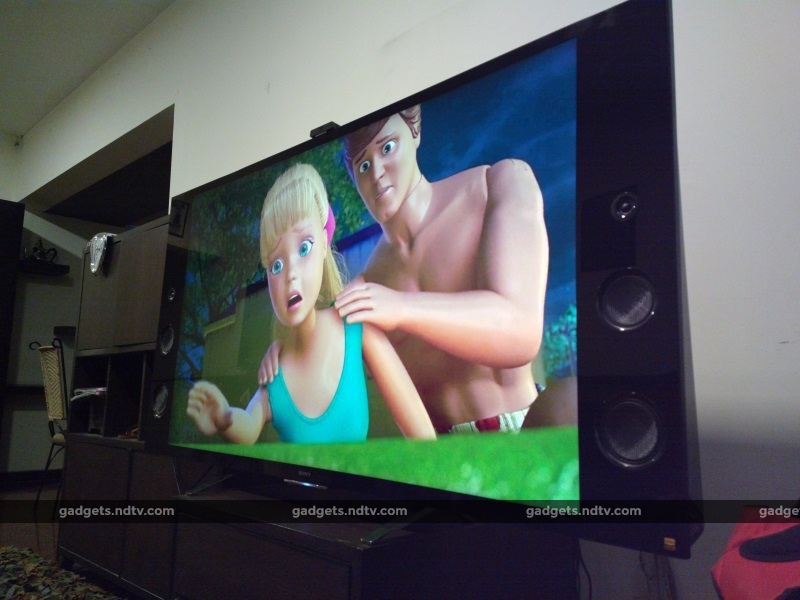 Performance
Sony, along with Samsung and LG, is considered to be one of the three top television manufacturers in the world, and is known for its superior picture performance. We tried a variety of sources and content in order to properly test the X9300C's picture capabilities, including demo content at 4K, 1440p, full-HD and 720p along with various YouTube clips.
Starting with the 4K and 1440p demo clips, we were immediately impressed with the quality of the picture. Colours were vibrant, and the TV proved capable of projecting dark and bright scenes accurately within the same frame. There was a perfect blend of warm and cool colours, which helped achieve a lifelike picture. All of this was supplemented by a virtually flawless sense of detail and beautifully smooth and subtle motion.
Moving on to full-HD, we found more of the same sharp picture, vibrant colours and fluid, lifelike motion. Sony's upscaling with full-HD is excellent, but not quite at the same level as the Samsung SUHD TV that we reviewed a few months ago. A few artefacts and grain did occasionally show up, but we usually got fantastic picture quality with full-HD content.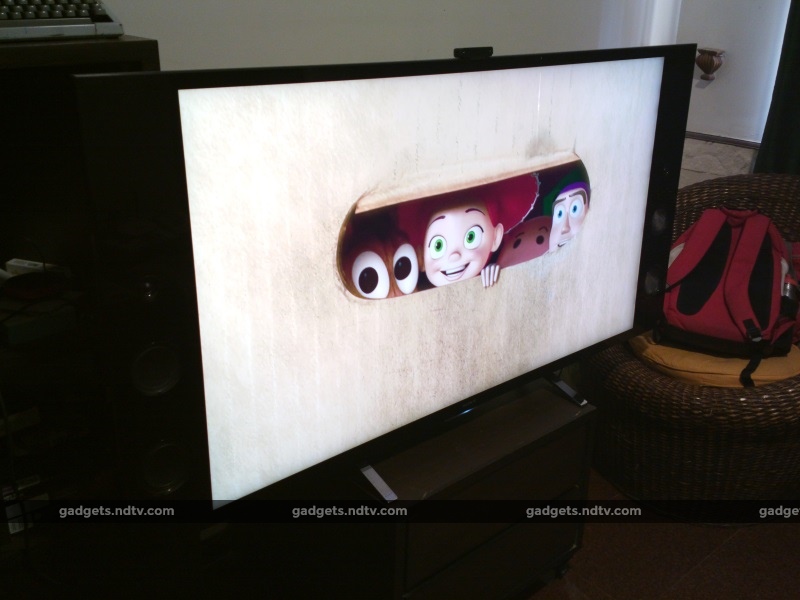 High definition (720p) and standard definition content upscaling was also fantastic, and this is where the Sony KD-55X9300C trumps the Samsung SUHD TV. Upscaling lower-resolution content to the panel's native 4K was absolutely fantastic. There were no signs of pixelation and artefacts, and the lack of detail in low-res content was smoothened out effectively. Motion quality and detail were maintained to the maximum extent possible, and the TV comfortably negated all of the problems and concerns that we usually have with big-screen TVs and low-resolution content.
We were keen to test the TVs performance with online content as well. Apart from fetching and playing most content quickly, the X9300C also played it flawlessly. This was also the case with apps and games that we had installed on the TV, and it's safe to say that this is a performance powerhouse of a television set.
Sound is another department in which the Sony KD-55X9300C stands out. Thanks to its 2.2-channel stereo arrangement of front firing speakers, sound performance far outperformed that of any other TV we've had a chance to use. This was particularly evident with music, which booms through the room in the same way that a dedicated speaker system would. Even with movies and TV shows, the sound system helped to strengthen dialogue and voice, while maintaining the power and drive of the soundtrack and backing sounds. It's bass-heavy and full of drive and attack, which works in replicating the effects you'd expect from a good subwoofer.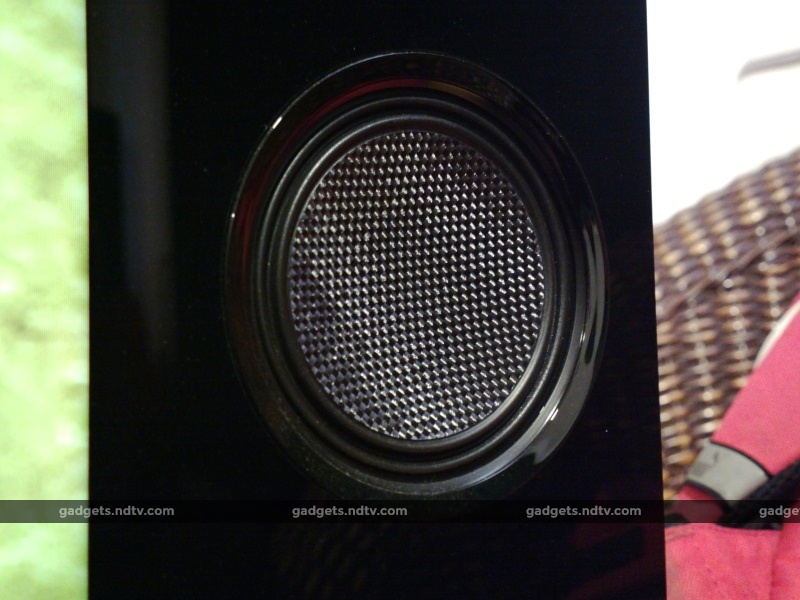 Verdict
Sony is known for doing TVs well, and its fully-loaded KD-55X9300C is a great example of the Japanese electronics giant getting every single thing right. Although it isn't necessarily the best at everything it does, the X9300C has no serious flaws. This is a TV that does a fine job of reproducing everything from standard definition to 4K, and even performs admirably with sound and smart functionality.
The only problem we see with the TV is its pricing. Considering that many manufacturers such as Micromax and Vu are selling large-screen 4K TVs for as little as Rs. 50,000, a lot of buyers might not see the sense in paying over Rs. 3,00,000 for a TV that offers a very similar package (on paper at least). Premium brands continue to charge high prices for the quality on offer, and as a result, few people understand (or are willing to pay) the difference. However, if you do have the money to spare and you're looking for an all-rounder of a smart TV, the Sony KD-55X9300C is for you. It's got everything you could possibly need from a TV, and its smart functionality will keep you future-ready for the eventual shift to streaming content.
Price (MRP): Rs. 3,04,900

Pros
Great performance with all kinds of video content

Excellent sound

Android TV UI
Google Play Store access

Cons

Expensive

Remotes could have been better

Ratings (Out of 5)
Design: 4.5

Performance: 4.5

Value for money: 2.5

Overall: 4