Sony's headphone range caters to a wide range of listeners and budgets, stretching from Rs. 590 to Rs. 41,990. So no matter what kind of headphones you're looking for, there's probably a Sony option for you to take a look at. Whether it's audiophile, wireless, noise-cancelling or just ordinary headphones you're looking for, Sony has you covered.
Today, we're reviewing the new Sony h.ear On Wireless NC (MDR-100ABN) headphones, which pack Bluetooth and digital noise-cancelling technology into a convenient over-ear design. Priced at Rs. 21,990, the headphones are definitely on the premium side of the range, but the feature set may be enough to convince a lot of buyers. Find out all about the headphones in our review.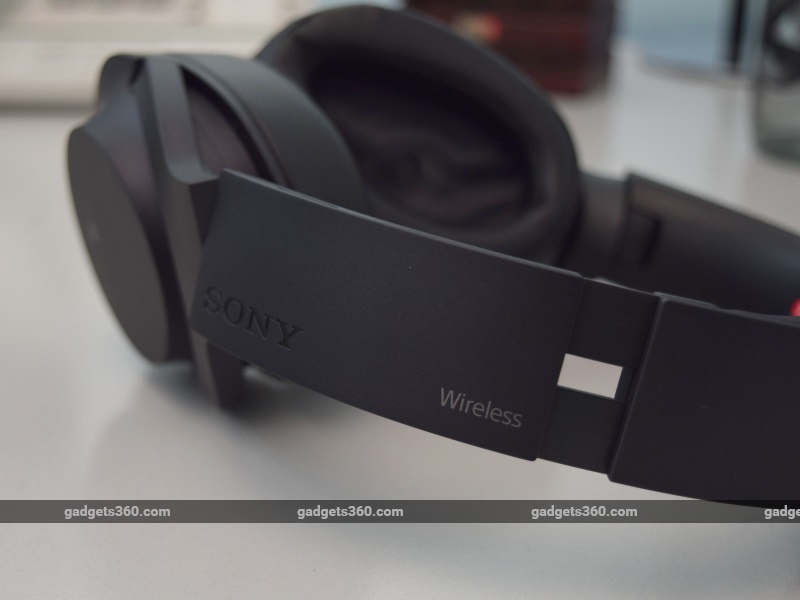 Design, specifications, and comfort
The Sony MDR-100ABN headphones feature 40mm dome-type drivers, and have a frequency response range of 5-40,000Hz. Impedance when using a stereo cable is 32Ohms with the set powered on and using its internal amplification, or 16Ohms when using the source device's amplification. There are two microphones on the headset for improved voice handling. Also included in the sales package are a hard carry case, a 1.2m stereo cable and a Micro-USB cable for charging the headset.
Connectivity is either wireless using Bluetooth, or by attaching the stereo cable and connecting it to the 3.5mm socket of a source device. If you're using Bluetooth, there's also NFC on the left ear cup for quick pairing, along with LDAC for better audio transmission. Also on the left ear cup are the power and noise-cancellation control buttons, the 3.5mm input socket, and the Micro-USB port. The right ear cup has the volume rocker and track control switch. Pressing down on the switch will pause or play music on supported devices when using Bluetooth, while sliding it in either direction will go to the next or previous track.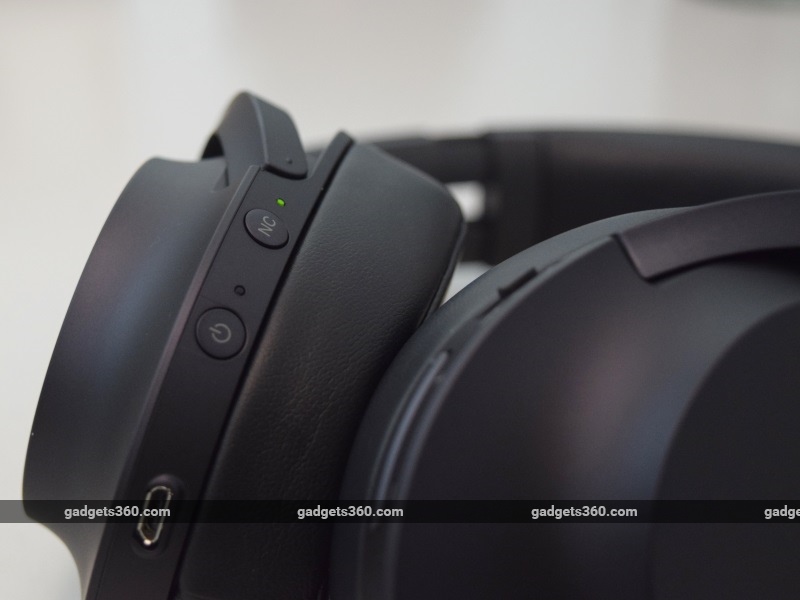 The headphones are practically identical to the Rs. 12,990 h.ear On (MDR-100AAP) model, not just in looks but also in terms of the drivers powering the headset. It's a decent looking headset and despite being built almost entirely out of plastic, exudes a sense of solidity and quality. The frame of the headband is metal, and there's thick padding on both the ear cups as well as at the bottom of the headband. Although it weighs a significant 290g, it's always comfortable enough for continuous wear. The around-ear fit completely envelops your ears, so you will need to take it off for at least few seconds every half an hour or so to give your ears some relief.
The headset has a simple mechanism allowing the cups to fold inwards for storage. We recommend care when opening out the headset, as the mechanism can pinch and injure you (this happened to us on multiple occasions). Additionally, the ear cups swivel a bit and the headband has a standard adjustment mechanism to ensure a comfortable fit. The battery is rated to power the headset for up to 20 hours of continuous playback, although charging is extremely slow. It took about six hours to fully charge the headset by plugging it into a PC, and was only a little bit quicker when we used a wall power adapter. At least you can use the headset even if it's out of power by simply plugging in the cable.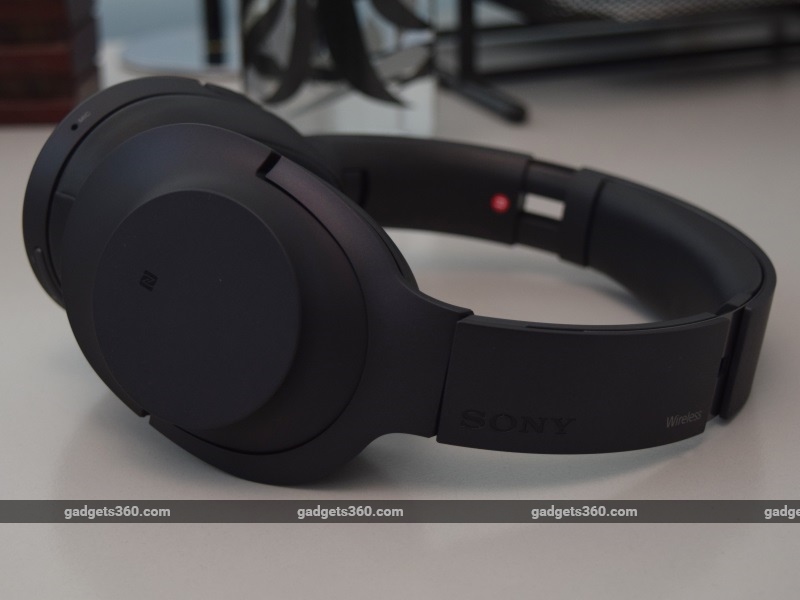 Performance
We used an Android smartphone to test the Sony h.ear On Wireless NC headset with, listening to music, videos, and more. During the review, we tested the noise-cancelling functionality as well as audio with both wired and wireless connectivity. Notably, even while using the headphones with the cable, powering them on activates the internal amplifier to slightly improve the sound. Focus tracks for the review were Dinka's Lotus and Bill Withers' Lovely Day.
Starting with the progressive track Lotus, we were treated to a clean sound that was suitably aggressive when it came to bass and attack. Even when listening with Bluetooth, the sound is incredibly defined and detailed. There is definitely a slight spike in the sub-bass levels, this makes for an interesting bass-oriented sonic signature that works well with fast, attacking music. It isn't too aggressive, so the sound retains its level of comfort even with gentler tracks.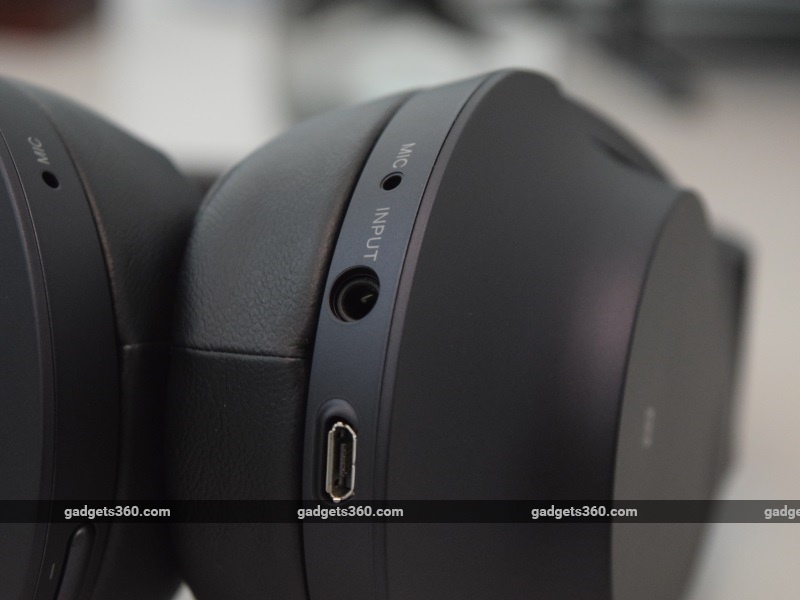 Moving on to Lovely Day, we noticed that the soundstage is extremely wide, and is made even more so when using the headphones with the cable and internal amplification. This makes for an immersive sonic experience, which is helped by the sheer loudness of the headphones and the sound isolating design. Imaging is excellent as well, with individual instruments feeling real and present. Although the lows are audibly dominant, the mids and highs do manage to come through clearly and the sound is entertaining as a result.
We tested the noise-cancellation both while playing music and through silence. Most of our testing was performed in an office environment, and the headphones did an admirable job of muting the typical drone and chatter. However, as is the case with all noise-cancelling headphones, all noise cannot simply be shut out. People speaking near us could be heard clearly, although a lot softer than they were. In an environment without such irregular noise, such as at home, the silence is almost eerie and unsettling at times, which is an indication of just how good the noise cancellation is.
When using the noise-cancelling function with music, the headphones easily manage to send both the noise reversing frequencies as well as the actual source audio together. This results in an even more isolated sound that is unfettered by any outside or ambient sound. In these cases, all we heard was the music and nothing else, which was refreshing.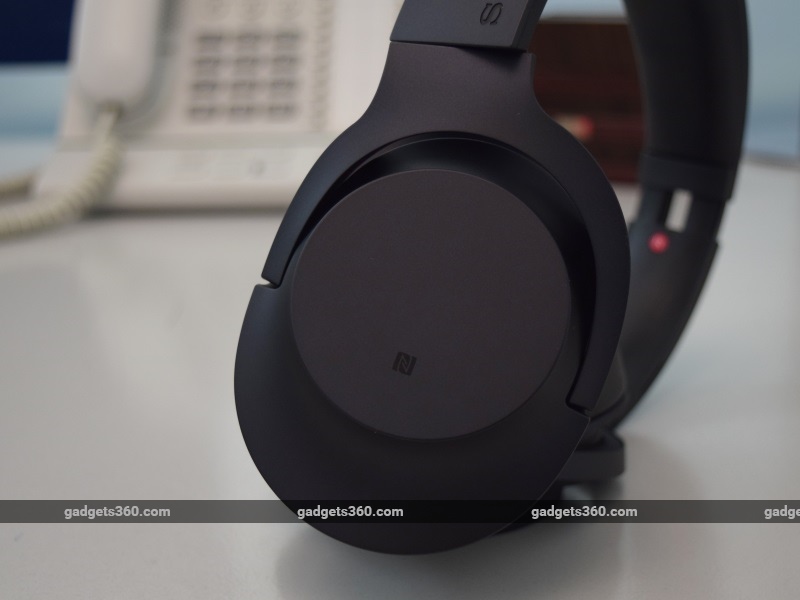 Verdict
Sony's product range has always been focused on the lower end, and buyers with a big budget are less likely to go for a brand that is perceived as 'mass market'. Products such as the h.ear On Wireless NC should go a long way in helping change that perception. With this headset, Sony has shown that it has the ability to produce great, feature-filled headphones.
The h.ear On Wireless NC is an excellent pair of headphones, thanks to its immersive sound, excellent noise cancellation and decent battery life. Additionally, it's well-built, comfortable and extremely easy to use. It's the kind of product you could get very used to very quickly.
However, at Rs. 21,990, it's also a bit expensive. Although it is a significant step up over the MDR-100AAP headphones thanks to the features it offers, the difference seems a bit much. The headset is, in our opinion, a bit overpriced. However, if you want a good pair of headphones that gives you wireless listening, noise-cancellation and great immersive sound in one solid package, the Sony h.ear On Wireless NC is definitely worth considering.

Price: Rs. 21,990
Pros
Immersive sound

Fantastic sonic isolation and noise cancellation

Strong sub-bass, competent mids and highs
Entertaining sonic signature
Comfortable design

Cons
A bit expensive

Takes a long time to charge

Ratings (Out of 5)
Design: 4

Performance: 4.5

Value for money: 3

Overall: 4