Sony's Bravia range has long been considered among the best TVs you can buy, and with good reason. The flagship TVs are feature-filled and boast of some of the best picture performance we've seen. Last year's top-of-the-line KD-55X9300C was absolutely fantastic, thanks to its use of the Android TV platform for enhanced smarts.
Today we're reviewing the Sony 55X9300D TV, which costs Rs. 2,64,900 and is the smallest member of this year's flagship X93D range, which also includes 65-inch and 75-inch options. Apart from Android TV and 4K-resolutions these new Bravia models pack in 2016's hottest innovation in TV technology: High Dynamic Range. The TV is compatible with HDR video, and can therefore show supported content in all its colourful glory. We go in-depth with the new technology as well as everything else the 55X9300D has to offer in our review.
Design
The biggest difference between the Bravia 55X9300D and last year's 55X9300C is the missing speaker array at the front. The two columns of speakers on the previous model had quite the visual impact, but the current range dispenses with them. As a result, this TV doesn't quite have the stand-out looks of its predecessor. Interestingly though, a slightly upgraded model, the X9350D does have the speaker array in place.
The advantage of skipping the speaker array is that the X9300D is a lot slimmer than before, and the front is practically all screen with barely any border surrounding it. The slimness doesn't apply to the entire TV of course, and the lower portion of the back gets thicker where all the hardware is. The front has an LED indicator just below the Sony logo, which can be customised through the Settings menu. The TV comes with a detachable camera that can be fixed on at the top for video conferencing or even to record videos at home (provided you plug in a USB drive for the clips to be saved onto).
The Sony 55X9300D has a stand that is rather complicated to set up, but looks interesting once in place. It's a single-spine design that fixes onto the bottom at the centre, has a wide-footprint and keeps the TV stable and secure. This makes the TV rather easy to place on a stand, in case you choose not to wall-mount it.
The ports at the back of the TV are fortunately easy to reach. Most of the useful ones, including the USB ports and headphones socket, are all near the left edge. The TV's speakers are located along the bottom, in two separate narrow rows that fire downwards and remain out of sight at normal viewing angles. As such, the TV isn't quite as striking as the previous model, but the sheer size of the screen and the interesting stand do add a bit of character to its look.
The remote included with the TV is an ordinary unit, with no gyroscopic wand-like capabilities. It's a large, bulky remote with lots of buttons, including quick launch keys for Google Play Movies and Netflix. There's also a full number pad, directional navigation buttons, and media control keys. Interestingly, the remote has a microphone and a trigger key for it, which lets you use voice commands and speak phrases instead of typing them out on the on-screen keyboard. It's an excellent remote that makes using the smart functions of the TV incredibly easy.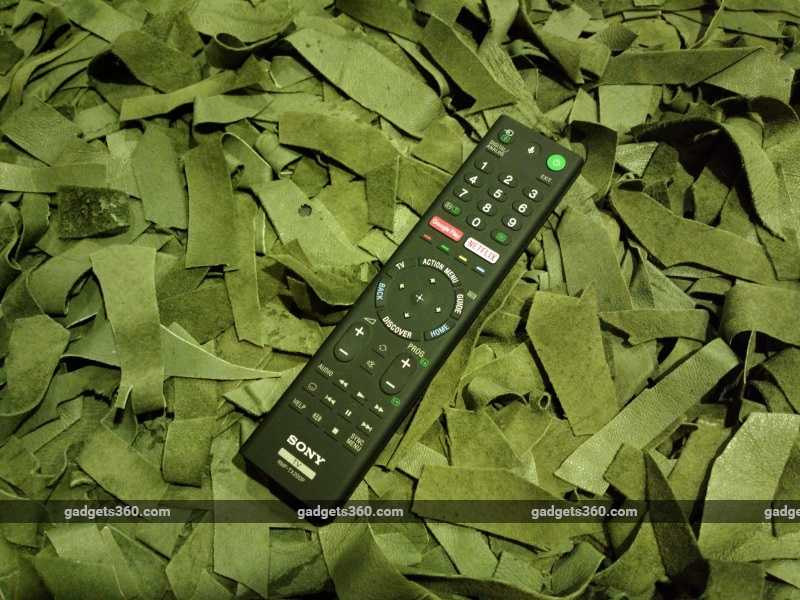 Specifications and features
The Sony 55X9300D features a 55-inch 3840x2160-pixel LED-LCD screen. The TV is 3D capable using active 3D technology, but the sales package does not include 3D glasses. There are four HDMI ports, three USB ports, and an Ethernet port for a wired Internet connection. The TV is Wi-Fi capable as well.
The biggest talking point of the new Bravia is its support for High Dynamic Range content. HDR is currently in its own standards war, with some manufacturers adopting the Dolby Vision standard, while others, including Sony, have thrown their weight behind HDR10. Although Dolby claims that its format is more sophisticated and therefore better than HDR10, there's very little to distinguish between the two as of now. Most producers are currently producing content that is compatible with both formats, so you shouldn't have to live with any unpleasant effects of your choice should you choose one over the other.
While many video cameras have had the ability to shoot in HDR for decades now, displays have only just caught up to be able to actually display the ranges of colour and contrast that define HDR. If you're watching an HDR video clip on an HDR-capable TV, you'll notice that the picture is much brighter, with lighting effects and differences between bright and dark areas of the frame appearing much more pronounced. You'll also be able to see detail in shadows, despite having bright objects (such as the sun) on screen. You'll also be able to see a wider range of colours, and images will appear much more natural and lifelike.
HDR content, while still relatively uncommon, isn't quite as rare as good 4K content and doesn't need as much bandwidth either. Netflix already offers the first season of Marco Polo streaming in HDR, and has announced plans to make a few more shows available in the format as well. Many movie studios have also committed to start mastering their films in HDR, so there's likely to be a lot more discs and streaming content in the format.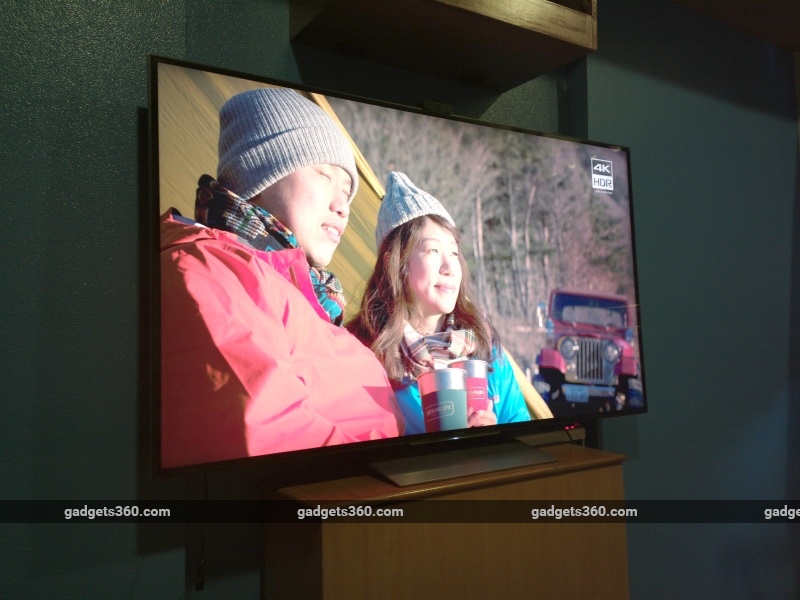 Software
The Sony 55X9300D is a smart TV, powered by Google's Android TV software. Based on Android Lollipop 5.1.1, the system borrows liberally from the popular smartphone OS to offer a smart TV experience that should be familiar to Android users. The Android TV Launcher is very different to regular Android though, with a side-scrolling style that is easier to navigate and control using the directional keypad on the remote. The use of Android also means that you can connect your Google account to the TV, gaining access to Google-based services and apps.
Other hardware can also be easily connected to the TV, including a keyboard and mouse, Bluetooth headphones and speakers, the Sony DualShock controller, and more. The Google Play Store for Android TV does not show the full selection of apps and games that are normally available on smartphones and tablets, but there is a decent and growing list that makes the platform quite extensive. The TV has 8.2GB of user-accessible storage space for downloading apps and games, and can read media off removable storage devices.
Most of the apps supported on Android TV at the moment are content-centric, geared at pushing audio and video to your screen. They include Netflix and Google Play Movies (both of which come pre-installed and with quick launch buttons on the remote), YouTube, BigFlix, Plex, and more. Some high-end games such as Asphalt 8, Crossy Road, Star Wars: Knights of the Old Republic, and GTA Chinatown Wars, to name a few, are also supported. This makes the TV a great large-screen gaming device, and the ability to use a Sony DualShock controller makes the gaming experience more natural.
Web browsing is also possible using the in-built Opera browser. We're fairly impressed with the improvements to Android TV, and many new apps have also been added to the list since we last tried an Android TV-equipped set. The platform isn't perfect though, and still has some annoying tendencies, including not always responding to commands from the remote and occasionally having connectivity issues. However, it's among the best smart TV platforms around nonetheless.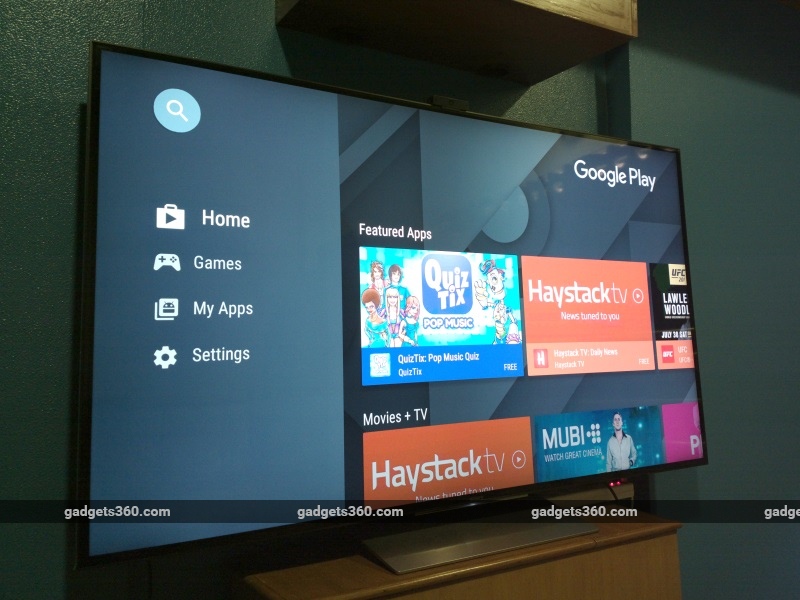 Performance
During our review of the Sony Bravia 55X9300D, we used a host of source equipment, primarily focused around Smart TV content providers such as Netflix and YouTube. We also used a handful of video clips in various resolutions and formats, including HDR clips at 4K resolution.
We started off with the big feature, testing the TV's performance with HDR video. We tested the same video clip in both HDR and non-HDR 4K format. While the non-HDR clip looks fantastic in its own right, watching the same clip in HDR served to highlight the shortcomings of the former. The HDR clip showcased colours that are more natural and easier on the eyes, while being considerably brighter and more vibrant. Sunshine is so bright that it almost makes you need to squint. At the same time, dark areas of the frame don't lose any colour or detail, and you can see every part of the frame clearly.
Certain colours, particularly shades of red and orange, look much more natural and realistic, as do skin tones and sunlight shining on water. Many of the differences in detail are subtle and likely won't even be noticed unless you're specifically looking for them, but there is a definite improvement in the overall quality of the colour tones and the realism of the picture.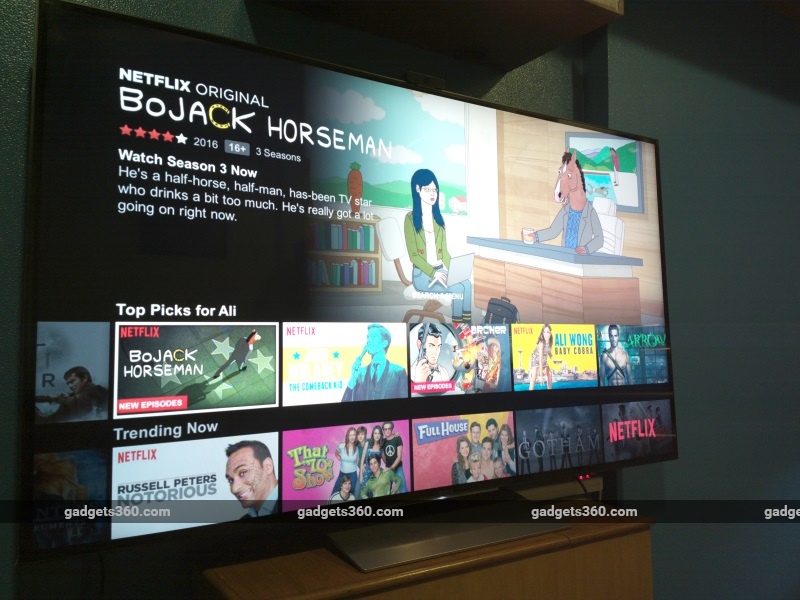 This also tended to highlight the flaws in the colour tones when viewing non-HDR content. The TV's performance, while excellent in any case, is a bit exaggerated when it comes to colours and realism. The picture clearly looks enhanced, with colours popping a bit more than they should. Skin tones also seem to appear just a bit too pink. It's important to note though that we'd likely not have noticed any of these traits if it weren't for the HDR clip to compare performance against. The HDR format has essentially changed the standards by which we should judge screens, and everything seems to appear less natural when compared to it.
With ordinary 4K content, the picture is sharp and looks great from all angles. The combination of 4K resolution and the HDR format produces a picture that is absolutely glorious in all ways, but we've actually seen a bit better from some competing products. Nonetheless, most people are unlikely to see anything amiss with this TV. The quality and quantity of 4K content continues to improve as well, and this TV should comfortably keep up with anything you throw at it.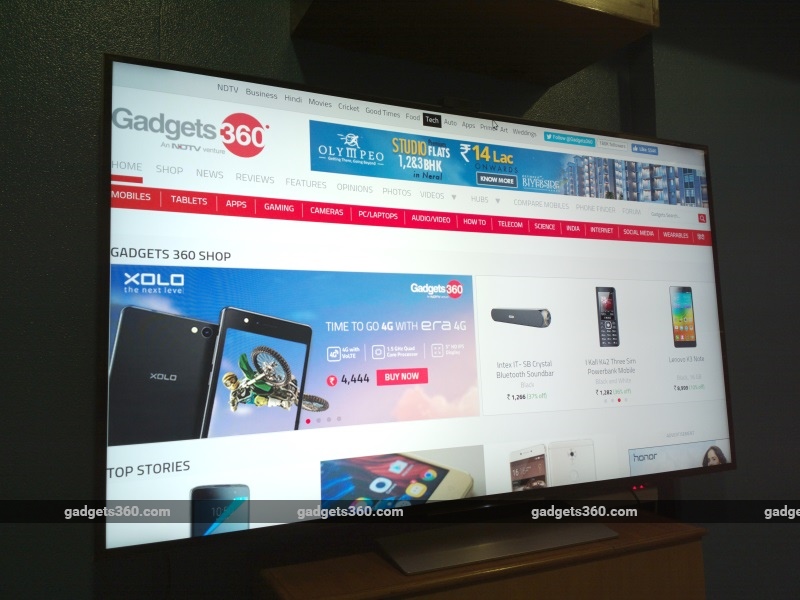 Moving on to full-HD and 720p content, the picture remains sharp and fun to watch, with excellent motion handling and a general approach to performance that is exciting, yet easy on the eyes. It's smooth, comfortable to watch and shows off textures well. Compressed clips tend to show less detail and more artefacts, but switching to proper high-definition streams fixed those issues.
As is the case with any large-screen 4K TV, standard definition content on the Bravia has its flaws particularly highlighted, due to the large amount of effort needed on the part of the TV to upscale it. There are far too many artefacts on screen, and you're better off with a smaller, lower-resolution TV if you tend to watch more standard definition content. Although the sheer size of the TV makes up for this in some ways, videophiles won't like how standard definition content looks.
Sound quality is average, and the specialised front-firing stereo speaker array is sorely missed here. Because of the smaller down-firing speakers on the 55X9300D, sound tends to be too soft even at the highest level, and is also often a bit uneven, with spikes at loud parts and voices that are barely audible at other times. Although there is some level of thump and some definition to speak of, the volume is usually inadequate, and you will likely need a soundbar to properly enjoy this TV.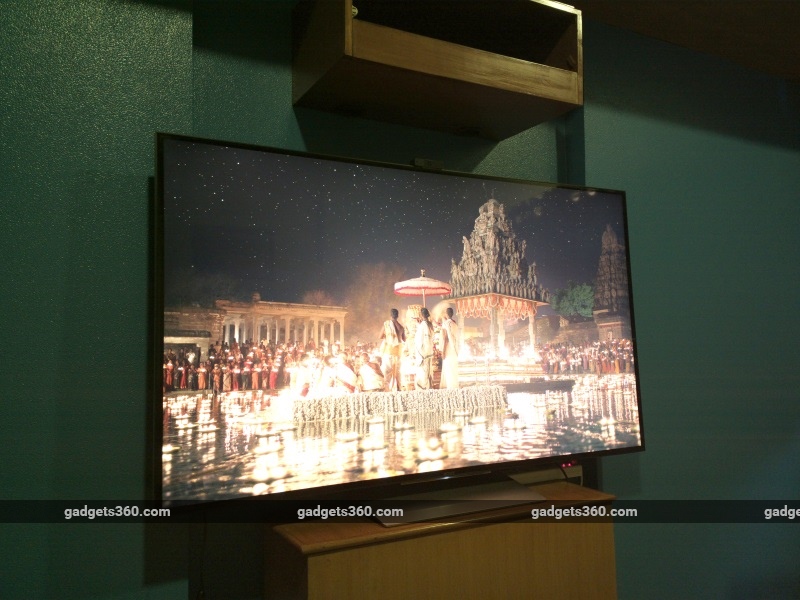 Verdict
The Sony Bravia 55X9300D shows us the future of home television. It's big, detailed, well-designed, and operates on the fantastic Android TV platform. It's one of the best smart TVs we've used thanks to plenty of connectivity, apps, games and an easy-to-use interface. The addition of HDR capability makes this TV futuristic and well worth the price for anyone looking to invest in the latest technology.
It isn't perfect though. Limited upscaling of standard-definition content means that this TV is best used with content that is upwards of 720p in resolution. Sound performance also leaves a lot to be desired, and while Android TV is usually a great smart TV platform, it can occasionally be a bit buggy and still needs to have some kinks ironed out. Finally, while HDR content looks fantastic, the downside is that it makes non-HDR content look exaggerated and somewhat unnatural, which is not really a fault of the TV itself.
In conclusion, this is a great TV to buy if you're looking for a premium viewing experience. We're optimistic about HDR content and the technology going forward, so it certainly makes sense to invest if you're in the market for a TV right now. Even if there isn't much HDR content right now, the quality of the 4K screen and the smart functionality more than validate the price.
Price (MRP): Rs. 2,64,900

Pros
HDR capability

Fantastic, natural and lifelike video in HDR mode

Incredibly sharp and detailed

Android TV for smart functionality
Looks good

Cons

Sound is sub-par

Poor upscaling of standard definition content

Non-HDR content sometimes looks a bit unnatural

Ratings (Out of 5)
Design: 4.5

Performance: 4.5

Value for money: 4

Overall: 4.5