You've probably heard of Sennheiser. Its headphones and earphones are everywhere from giant multi-brand electronics megastores to that chap selling budget in-ears by the side of the road. The popular choice of college kids looking to upgrade from the bundled in-ears of their smartphones, Sennheiser has come a long way in building up a reputation for producing solid, sonically capable headphones and earphones.
That brings us to the Momentum M2 IEi, popularly known as the Momentum In-Ear. They're part of the Momentum Series, which is one of Sennheiser's premium ranges, focusing on looks. The Momentum Over-Ear (Rs. 24,990) and Momentum On-Ear (Rs. 14,990) were both well received for both their styling and their sound. They also look exactly like each other with the only difference being their sizes. The in-ears, on the other hand, look nothing like the other two, but since the Momentum name has come to represent anything from Sennheiser that looks somewhat interesting, we'll accept the terminology.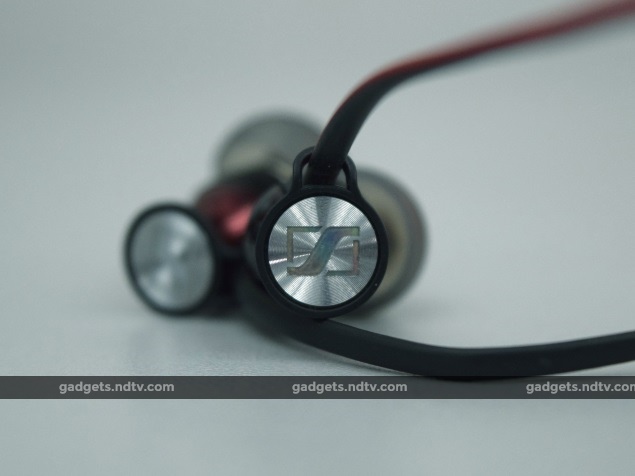 Design and Specifications
The Momentum range is set apart by design, and the M2 IEi lives up to that name. Its ear-tips are comfortable enough, although Sennheiser only bundles two replacement sets of tips, which may not be the right fit depending on the individual user's ear canals. The deep red metallic finish lends a touch of class to the casing, while the Sennheiser logos on each earpiece shine and glint in the light.
There are loops through which the cables pass before connecting with the earbuds, which helps keep them angled away from the earpieces. Simple touches like this show that some thought has gone into making these in-ears attractive.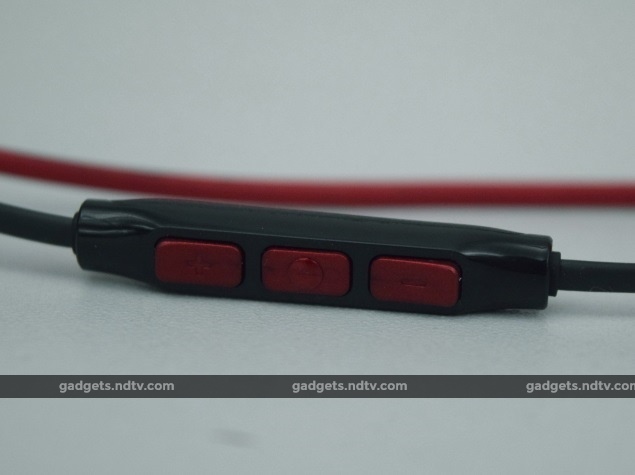 The cable follows the same colour scheme, with one side red and the other side black. The iOS-friendly in-line remote also keeps to the colour scheme, although it feels a bit plasticky. There's also a model called the M2 IEG, which has an Android-compatible in-line remote.
There's just one colour option, though cable length is the typical 1.3m you see in most in-ears. With a 3.5mm connector and a weight of 16g, the Momentum M2 IEi is everything you'd expect in terms of portability and ease of use on-the-go.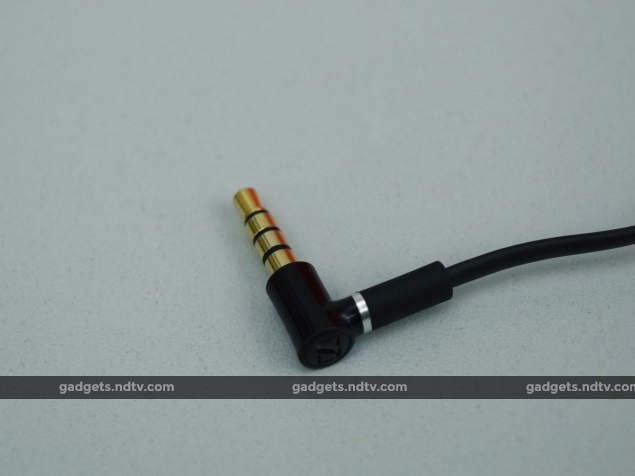 Fit and Comfort
Fit is usually a subjective matter, but Sennheiser's lack of ear-tip options (just three in the box) means getting the perfect fit is a little bit harder than it should be. The standard tips did fit comfortably enough in our ears, but the unique design ensures that the entire casing sticks out. This, in our opinion, looks a bit odd, but it doesn't affect comfort or in-ear grip in any way.
Speaking of which, the M2 IEi is comfortable enough to wear for hours at a time, thanks to their light build and suitable fit. However, audio performance is probably going to prevent you from using them for long stretches.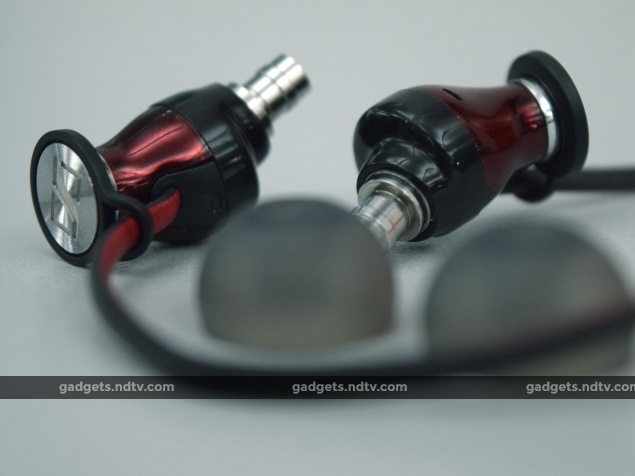 Performance
Despite looking and feeling like they're going to sound like a million bucks, the Momentum M2 IEi in-ears perform somewhat inconsistently. This depends on the audio source, with the M2 having the best brought out in it by an HTC One (M8) (Review | Photos), but disappointing when used with an HP Windows 8.1 laptop. We sent a high-quality 16/44.1 rip of The Verve's Bittersweet Symphony through both devices into the headphones.
It's immediately evident that they're bright. At times, they can even be too bright. There's a shrill ring to the sound that occasionally makes you cringe, which brings us to why we say there will be a limit to the length of your listening sessions with these in-ears. The instrumentals of Bittersweet Symphony, from the violin riff to the bells, all have a piercing effect that proves that the treble is a bit too strong. There's also a noticeable lack of openness, with the sound feeling a bit two-dimensional. Vocals sound a bit dull and unexciting as well. Surprisingly, this improved when we switched to MP3.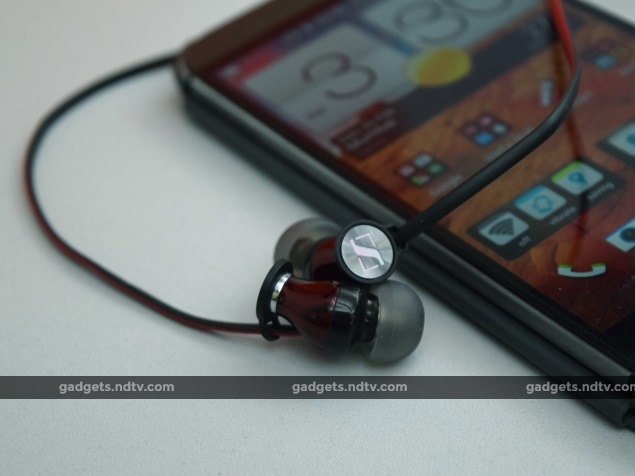 This is where the bass handling capabilities of the Momentums come into the open. Bass is tight, with a gentle thump to it. Even bass notes were solidly translated by these buds. Nucleya's Akkad Bakkad showed their prowess with loud, punchy tracks, where the bass had a tendency to override the shrillness of the highs. Mids were lost between the over-imposing lows and highs, though.
It isn't a sonic signature that will agree with everyone, but the Momentum In-Ears do produce impressive bass and strong highs. This goes well with most kinds of electronic music, because of a lack of vocals and a strong tendency to rely on bass. Heavy metal, rock, dubstep and drum-and-bass also sound adequate on the Momentums. Lighter genres such as jazz, soft pop and movie soundtracks are short-changed due to the lack of openness and the shrill treble.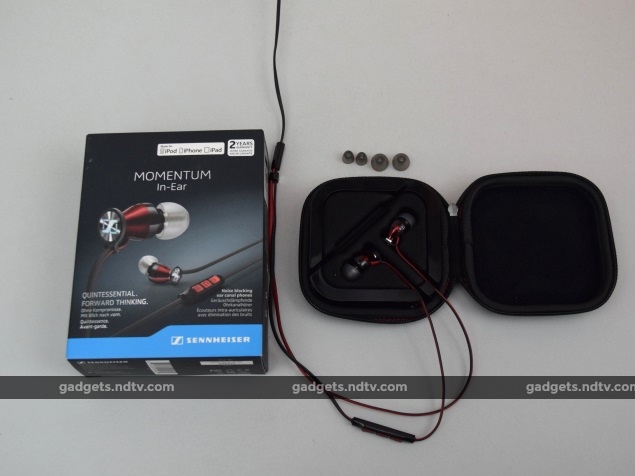 Verdict
We won't go sofar as to say you shouldn't consider these, since they are beautifully built and designed. Sound can be satisfying for the most part, and they definitely get loud enough, if that is a factor in your listening needs. But at this price, it's hard to say you can't do better, with more neutral sonic signatures and openness. The Soundmagic E10S is available at less than half the price and sound far better, and the Shure SE215 produces a more neutral sound at around the same price.

Price (MRP):
Rs. 6,990
Pros
Excellent build
Beautifully designed
Tight, controlled bass
Good portability
Cons

Lacking in openness
Highs are too shrill at times
Too expensive for what they offer
Mids are lost in action

Ratings (Out of 5)
Design: 4.5
Performance: 2.5

Value for money: 3
Overall: 3