Samsung has for years marketed its products fantastically and generated serious buzz around its launches. The company is the
top smartphone manufacturer in the world by sales figures
and is one of a long list of manufacturers that have successfully convinced the buying public that LED TVs are different from LCD TVs, although LEDs are essentially LCDs with different backlighting.
The latest attempt at marketing a product is the SUHD TV. UHD refers to Ultra High Definition, which is another way to say 4K, or a screen with 3840x2160 pixels. The 'S' in the name doesn't actually stand for anything. Samsung uses 'S' as an identification of flagship products such as the Galaxy S range of smartphones. SUHD refers to its flagship range of UHD TVs.
So today, we're going flagship with our TV reviews. We have Samsung's top-of-the-line 65-inch SUHD TV, the Rs. 4,40,900 UA65JS9000K, on our test bench. It's big, curved and comes with the promise of Samsung's superior performance. Let's find out if this 'S' product lives up to our high expectations.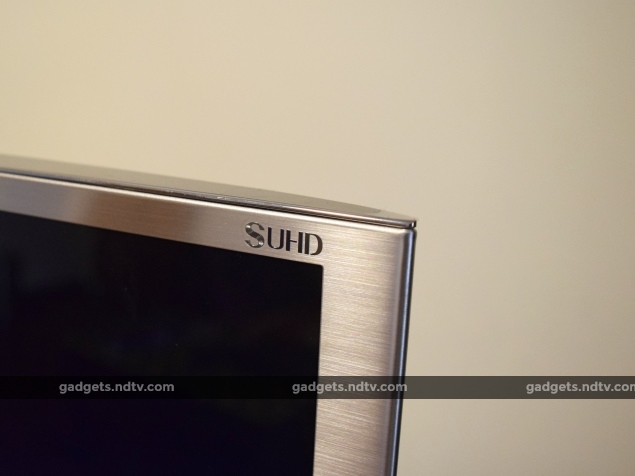 Design
As far as TVs go, the Samsung 65-inch SUHD TV is one of the best we've seen. Thanks to its strong curve, slim bezel and steel frame, the TV exudes an aura of elegance and luxury. The one-piece TV stand has the same quality metal finish as the TV itself.
The rear of the TV is bare, with just three input sockets. The sheer size of the SUHD is astounding; it fills a large part of your wall and has formidable presence in your room. It's the kind of television that is designed to stand out rather than simply blend in.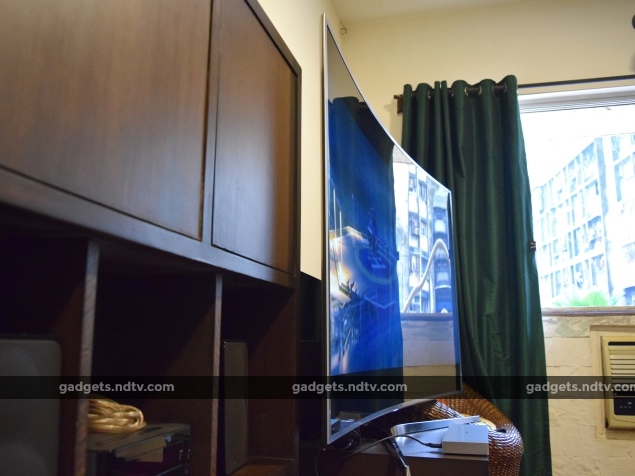 The curvature of the TV, while an impressive sight on its own, does not really contribute to the viewing experience in any significant way. Manufacturers claim that since every part of the screen is equidistant from your eyes when you're seated properly in front of the TV, this enhances the picture. This is true for the picture at the left and right edges, but it does not really do much to improve the picture in the centre where all of the action is.
Additionally, the panel itself is highly reflective, and you will need to keep the room as dark as possible for best results. The further away from centre you are, the more reflective the panel gets. The only advantage to the curve that we see is that it makes the TV look impressive.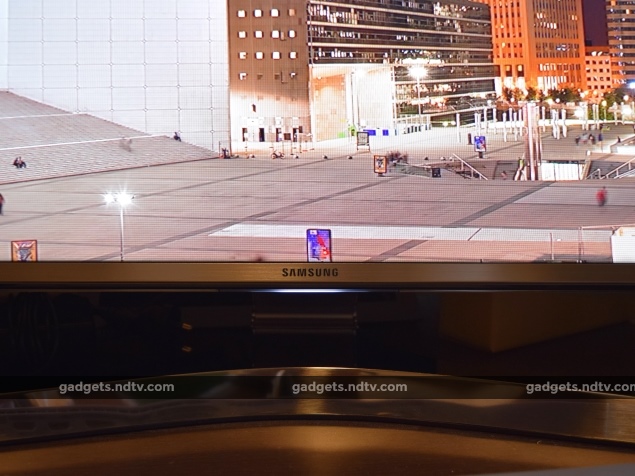 Specifications and Features
The Samsung UA65JS9000K has a 65-inch LED-backlit LCD display panel with a 3840x2160 pixel resolution. The curvature of the panel measures at 4200R, or a 4.2m radius. It's a lot more pronounced than the 4.6-5m radii we've seen on TVs from LG, Vu and the like. The TV also features 60W 4.2 channel front-bottom firing speakers. You can install it with a wall-mount or its stand.
Connectivity for the TV is done through Samsung's One Connect box. This is one of the best ways to implement television connectivity in our opinion. As previously stated, the TV itself has few ports and sockets on the back: one for the power cable, one where the One Connect Box plugs in to the TV, and a single USB for the optional camera accessory. All input sources are on the One Connect box, which can be placed conveniently anywhere.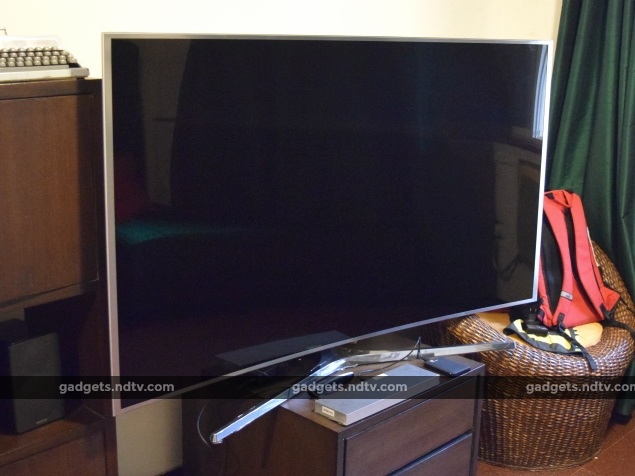 This has two key advantages; you don't have to stretch around the back of the TV every time you want to plug something in or out, and you can easily upgrade the One Connect box when the existing connectivity options become inadequate or obsolete. It's a simple way to avoid making an expensive purchase obsolete before it's necessary, and it made testing the TV easier for us as well.
The box that is shipped with the TV comes with all the needed connectivity options: Four HDMI ports, three USB ports, a common socket for composite and component video in, digital audio out, wired LAN, and RF antenna in. The TV is even dongle-ready for 3G or LTE connectivity.
The Samsung SUHD UA65JS9000K is a smart TV, and is powered by a proprietary user interface called Smart Hub. It's neat-looking and has a decent selection of apps, most of which are streaming-based and can access a wide variety of content over the Internet. The TV has 3.77GB of on-board storage for apps.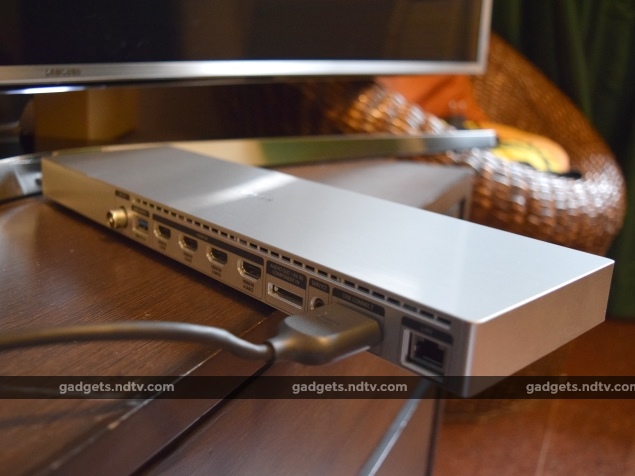 The UI is simple and intuitive in both navigation and use. There are a few games in the app store as well. The ones we played were uninteresting and poorly designed, but they should be engaging enough for small children. The entire system is powered by an unspecified octa-core processor, which keeps it running smooth and quick. A particularly useful function is that the TV resumes play of videos over USB from exactly where it was paused, even if the TV has been switched off in the middle. Settings and controls are also equally easy and straightforward.
The remote included with the Samsung UA65JS9000K is one of the best we've used. It's Bluetooth-powered, and therefore does not actually need to be pointed at the TV to be used. It will work from any angle, provided it remains within Bluetooth range. The button spread is minimal, but ideal. There are dedicated controls for all major functions, as well as a touch-sensitive pointer mode. You simply have to place your finger on the pointer button and then move the remote itself to move the mouse. Clicking down on the pointer button makes selections. It's extremely easy to use and works perfectly. Despite all of this, it's small and comfortable to use.
Performance
Samsung TVs are known to have among the best picture performance around, and we're keen to see what the Korean giant's flagship model is capable of. We tested the SUHD TV with a variety of content, including some LG-produced 4K video clips of Europe and the United States; Captain America: The Winter Soldier in full-HD; 720p YouTube clips streamed using a Windows laptop played through HDMI; 480p content in the form of YouTube clips using the Smart Hub YouTube app; and assorted video files played from a USB drive.
Naturally, we started with 4K, since we were keen to see the TV's full potential. Our 4K clips brought out the absolute best in the TV. The picture was sharp, with fantastic colour and motion that is devoid of any detectable flaws. There were moments when we felt the colour was a bit too vibrant, and Samsung does have a tendency to go down this path. However, we didn't mind a bit of exaggeration, since it made for an exciting, visually attractive picture that worked well on the large screen. Black levels were excellent as well, almost reaching the levels that OLED is able to achieve.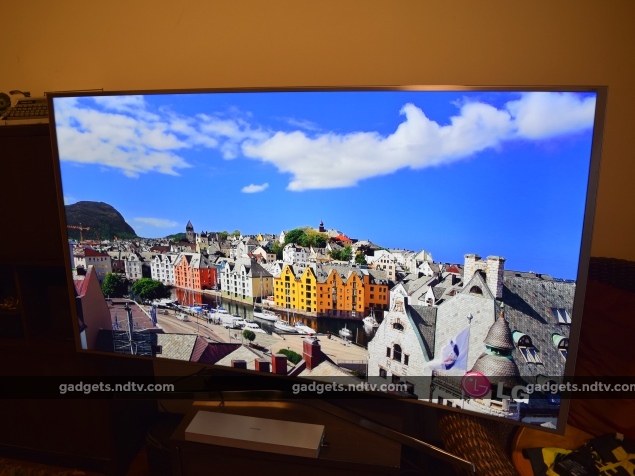 Full-HD and 720p content also performed well on the Samsung UA65JS9000K, thanks to fantastic upscaling and superb motion handling. The pictures flowed with a sense of fluidity that we haven't seen before, thanks to the ability of this TV to handle motion. Unlike on many other TVs in this range which tout similar specifications, there were no visible artefacts or colour flaws whatsoever. Colours, brightness and sharpness were excellent, and the result was a detailed and immersive picture.
Standard definition content was the only disappointment as far as the Samsung SUHD TV was concerned. Motion handling was stellar, but colour and detail suffered to some extent. Because of the sheer size of the TV, the flaws of all of our low-resolution content were particularly evident. The UA65JS9000K simply could not upscale it suitably enough to hide these flaws. Video appeared visibly pixelated, and although not unwatchable, was not ideal. You may want to stick to content that is 720p and above if you get yourself the Samsung SUHD TV.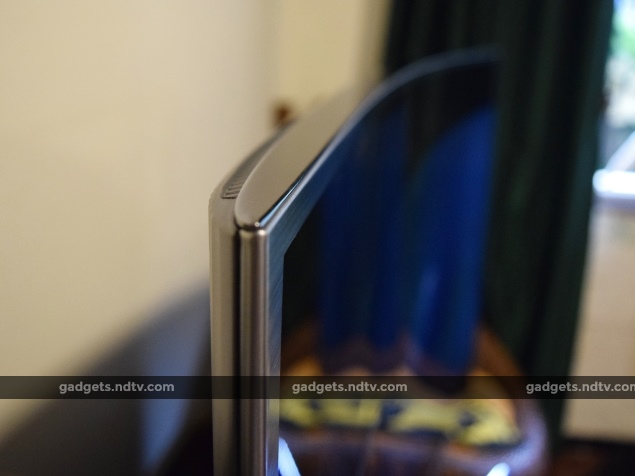 The TV also features a handful of picture modes, including Sports, Games and Indian Cinema. The last of these significantly brightens up the picture and increases colour vibrancy, which strangely enough suits Indian cinema really well. One major flaw is the fact that despite being 3D-capable, the Samsung UA65JS9000K does come with any 3D glasses. This is strange, especially for a TV at this price. Granted, not a lot of people care for 3D enough to use it at home, and most buyers won't particularly miss bundled glasses, but this seems like unnecessary cost-cutting by Samsung on what is otherwise one of the most expensive TVs in its portfolio.
Sound performance is among the best we've heard on a TV. The Samsung SUHD TV features 4.2 channel front-bottom firing speakers with dual woofers for improved bass. It's well tuned for a TV, and gets impressively loud with booming bass and plenty of thump. With an output of 60W, the sound is room-filling, and was for once loud enough for us. We're surprised to be saying this, but you might actually be able to use this TV without a soundbar, relying on its in-built speakers entirely.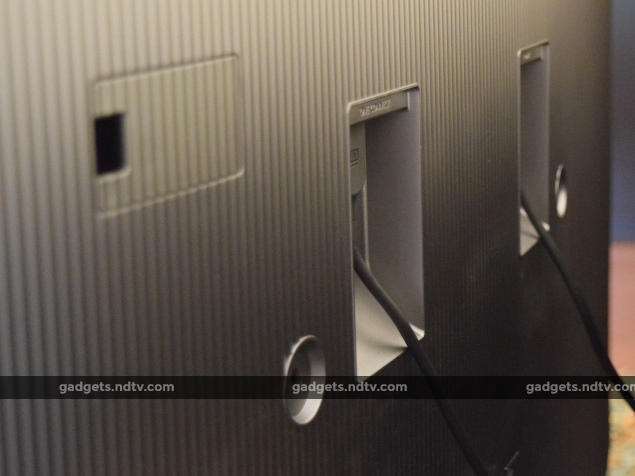 Verdict
The Samsung UA65JS9000K SUHD TV truly lives up to its name and stature, being completely deserving, in our opinion, of the flagship 'S' tag that Samsung reserves for its finest products. With fantastic picture boosted by some of the best motion handling and black levels we've seen on an LED-LCD TV, this TV serves up the most impressive high-resolution picture performance we've ever seen. It's also stunning to look at, and full of thoughtful design touches like the Bluetooth remote and One Connect box. It is one of the most complete TV experiences that money can buy today.
Unfortunately, it will take a lot of money to buy it. At Rs. 4,40,900, the TV costs more than a typical hatchback, and in the face of significantly cheaper competition may seem like a pointless waste of money. Not only that, but it also has a few flaws - the most important of which is its average handling of standard definition content, which is still the most widely used kind of video content today.
However, if price is no bar, you simply cannot buy a better 65-inch TV than this. Samsung has outdone itself in a big way. It has set the bar for what TVs should be, and has spoiled us in the process. Going back to smaller, lesser TVs is going to be a hard task now.
Price (MRP): Rs. 4,40,900

Pros
Sharp, lively and vibrant image, especially with 4K and full-HD content

Flawless motion handling capabilities, superb black levels

Looks fantastic, well designed

The remote and One Connect box are thoughtful

Superb sound for a TV
Lightning quick settings and smart interface which are intuitive and easy to use

Cons

Poor upscaling of SD content

Too expensive for most buyers

Ratings (Out of 5)
Design: 5

Performance: 4.5

Value for money: 2.5

Overall: 4.5