The Samsung Gear VR launched in India in January and Gadgets 360 has spent a little over a week using one now, paired with a Samsung Galaxy Note 5 Dual SIM. This isn't the first time that we've used this particular headset - we've had short chances using it at different trade shows and other events, but this was the first time that we got to use the headset for an extended period of time, and we've been able to pick and choose as many different experiences as we wanted. Over the course of our time with the Gear VR we came away quite impressed with the headset, but were also left feeling that there is a lot of room for improvement.
Gear VR, Oculus Rift, and Google Cardboard
If you're not already familiar with the Gear VR, it's a virtual reality headset developed jointly by Samsung and Oculus VR, the Facebook-owned company behind the Rift headset. The Oculus Rift is now available for gamers, but the device is expensive (it costs $599, roughly Rs. 39,500) and also requires an expensive, high-performance PC to power the experience.
The Gear VR on the other hand is a much simpler device that works using your mobile phone to process all the information, and it's only one-tenth the price. The experiences are a little limited in comparison to the "full" VR experience you'd get from the Rift (or from a competing product like the HTC Vive) but considering the savings in money, and the ease of setup and use, there's a lot to be said in favour of devices like the Gear VR.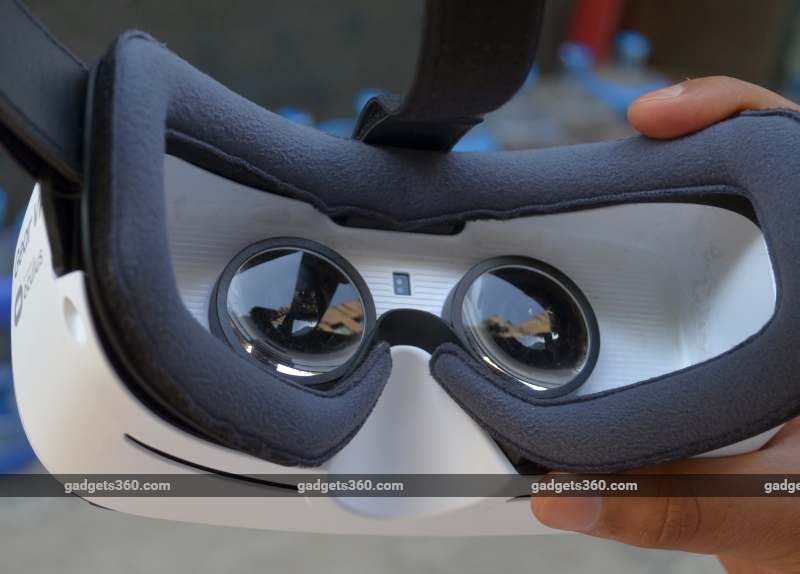 (Also see: Public Outcry Over the Oculus Rift Price Misses the Point)
This may make the Samsung Gear VR sound a lot like Google Cardboard but there are some key differences, and as a result, the overall is a lot better. Google's affordable VR headsets will work with a number of devices, but this means that the screen and processing power on hand aren't consistent for all users. On the other hand, the Gear VR is compatible with only a very small number of Samsung flagship phones, which means app developers have to support only a small set of hardware specifications. This is what enables high-end experiences such as EVE: Gunjack, which is powered by Unreal Engine 4. It's hard to imagine something like that making it to Cardboard apps.
In general, the build quality of the Gear VR is miles ahead of any Cardboard headset we've used, and it comes with some features that make it far superior to anything other VR experience on mobile phones. Another big difference between the Gear VR and Cardboard is that it does not rely on just your phone's sensors, but has its own; this makes for a much steadier experience than Cardboard, where the view might suddenly jump in the middle of a VR experience.
(Also see: HTC Vive First Impressions: Serious Oculus Rift Competition)
But perhaps the biggest selling point for the Gear VR is simply the level of polish you'll have in the experience. For example, the moment you connect the headset to your phone's Micro-USB port, the Android interface is replaced by Oculus' UI, and you can navigate between different experiences entirely in VR. With Cardboard, you're constantly jumping back to the home screen and out of VR as you move between experiences. Add to this the generally higher quality apps available via the Oculus Store, and the Gear VR starts to look very compelling when compared to Cardboard headsets, if it's compatibility wasn't limited to select Samsung handsets.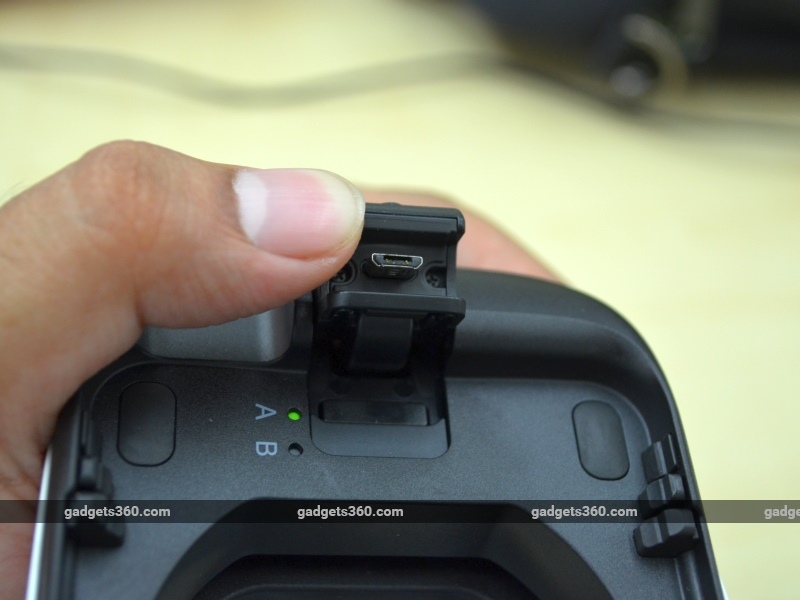 Design
The headset also comes with controls built into it, so you can do more than just look around, even without a Bluetooth controller, and the straps and other design elements make it easy to go fully hands-free with the Gear VR, helping your sense of immersion. There is also a dial you can use to adjust the focus, so you can easily use the headset without your glasses. It's just about roomy enough that you can jam in there with your glasses on, but if possible, going without them is certainly more comfortable.
Speaking of design, the Gear VR is a fairly typical looking VR headset. It looks a bit like ski goggles, as the visor covers up your entire face, with foam lining around the edge so it shouldn't feel uncomfortable to wear. The nose pad is also similarly lined and in our experience it is possible to wear it for a couple of hours without any issues, while things like battery life, and even disorientation, will make you exit VR sooner.
(Also see: Oculus Rift Preview - Bringing Reality to the Virtual World)
The white plastic body looks like it will pick up stains really quickly but for now at least, our unit still looks fine. Some people have talked about how the foam can start to smell over time as it absorbs sweat, so the one thing we'd probably suggest is to use the headset in a nicely air-conditioned room.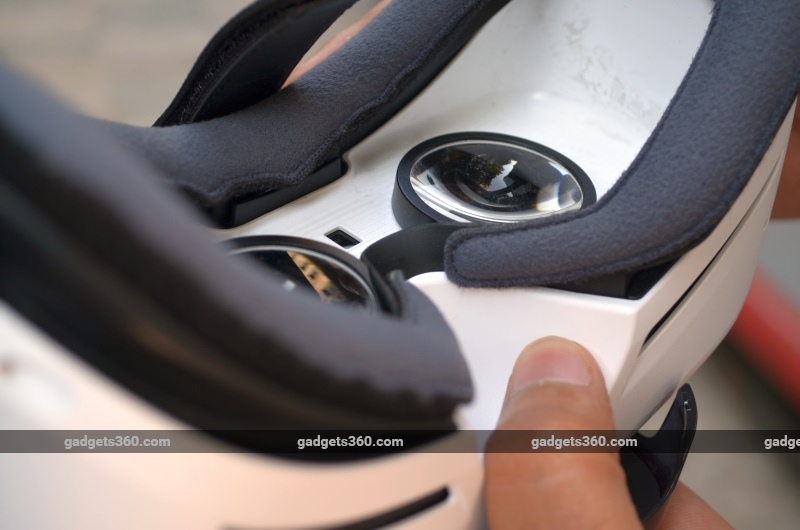 The headset weighs 380g and the phone used adds another 181g, and although that sounds like a lot, the weight's well balanced and you don't really feel it once the two sets of straps are in place around your head.
There's a Micro-USB port on the bottom of the headset, which you can use to charge your phone while wearing it, though it's a little uncomfortable to do so. Moving your head around when tethered this way often brings you up short, and you're really better off taking the phone out of the headset and not using it while it's being charged.
The opaque panel on the back snaps off easily, and you connect your phone to the Micro-USB port in the connecting hinge. Then, you can put the cover on top again if you want to, or if you plan to use the phone's rear camera, just leave the cover somewhere. The phone is pretty securely attached so you don't need to worry about fitting the cover for some additional safety.
Getting started
When you plug the phone into the headset for the first time, the Oculus software download will begin, and once this is done, you can use the headset. The Oculus software suite puts you inside a VR environment, and you can look around, navigate through the store, and through different VR experiences; it's like a launcher for VR and it serves as your home screen. When you start, there is a small calibration process that involves looking around, and Oculus teaches you how to use the trackpad on the side of the screen, and then you're free to do whatever you want.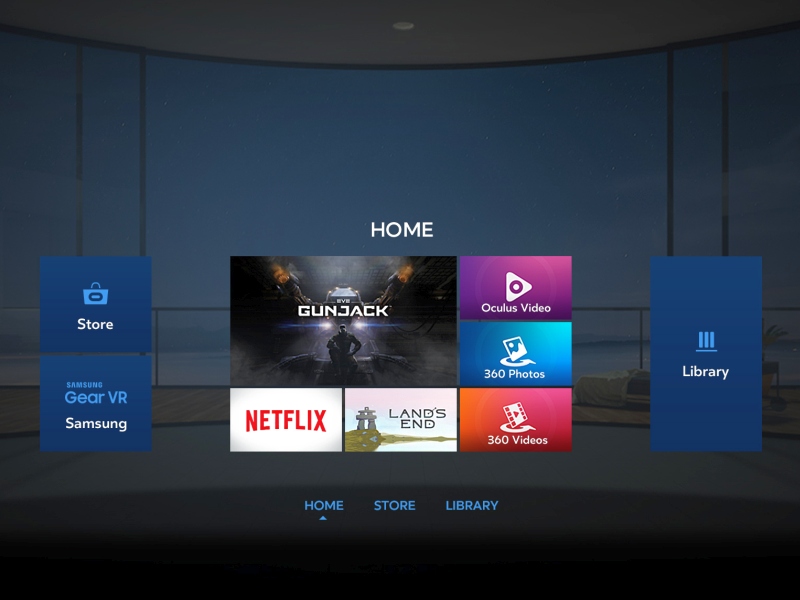 You can find and download apps directly through VR, though in practice this means that your phone starts to heat up and battery usage climbs too, when the download and install is taking place in the background while you're in VR. Most of the apps available right now are reasonably small, so it's really a better idea to just download the apps outside of VR - it won't take much time, and won't affect your VR experience much.
The Gear VR, like Google Cardboard, doesn't have any depth tracking - you can freely look around a scene, but you can't lean in, or walk around in VR. This means that the apps developed for the Gear VR can be played while sitting in a chair, though we'd recommend sitting in a swivel chair in that case.
This can be a little disorienting for some experiences, for example, one app has you moving steadily forward for the most part, but then suddenly the world starts to corkscrew; this feels really uncomfortable when you're just sitting in a chair.
Using the Gear VR is otherwise a pretty straightforward experience - you can pair a Bluetooth controller and use the buttons there, or just look around and tap the buttons on the side of the headset. You launch apps that way, and most games and other experiences work the same way.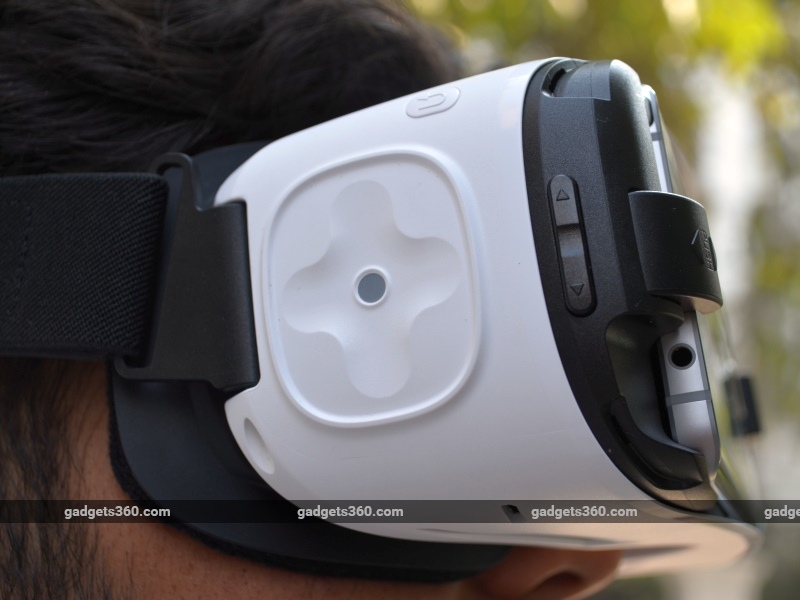 What all can you do with the Gear VR?
The first thing that most people should check out is Oculus video. This simulates a movie theatre that you can sit in, and it feels amazing and comfortable. The screen is a little fuzzy (the experience is apparently better with the Samsung Galaxy S6, because it has the same resolution on a smaller screen) but despite that, it feels comfortable and impressive, and you can change the setting with the flick of the touchpad, so you could be watching in a cinema hall, or your living room, or using a projector setup on the surface of the moon.
Oculus video also connects you to 360-degree videos from a number of sources including Facebook, so there is a good amount of content already available. Also, there is Netflix, which works well in VR. The app puts you inside a realistic room, where you can then watch movies on your simulated large screen television. It sounds weird but the experience is pretty compelling and we wasted a fair amount of time watching Netflix shows on the Gear VR.
Speaking of which, signing in to Netflix meant that we had to type in virtual reality, which was a pretty interesting experience. You just look at the letter on the keyboard you want to type, and tap the button next to your head. It was actually as comfortable as typing on a touchscreen keyboard.
Apart from these two apps, the most important video player you want is YouTube, but there is no official app for that yet. The solution is to use the Samsung Internet Browser, and open a YouTube tab there.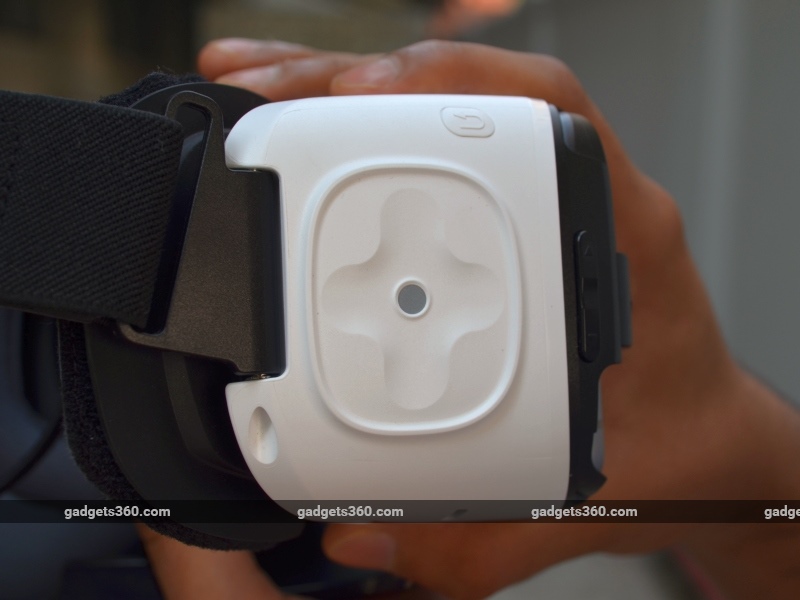 Aside from that, there are a number of games (both free and paid) that you need to check out. The best looking game on the Gear VR is definitely EVE: Gunjack, which is priced at $9.99 (roughly Rs. 672). The game places you in control of a turret on a space-ship, shooting down enemy ships while your pilot guides you through space.
It's one of the best realised experiences visually; when the turret is launching, you can look around and see your hands and legs, and it feels completely real. Unfortunately, once the game starts, your view is locked to the target and you can't look around inside your turret anymore, which takes you a little out of the experience. Also, the game itself is pretty shallow; it's basically just Galaga, just a lot better looking.
On the other hand, the free game Anshar Wars 2 is a much more involved space shooter - here, you're guiding your ship through your view - look and your ship turns as well, so you can fly between asteroids, dodge enemy fire, and then swing back to unload your missiles blasting people to bits.
Other games like Temple Run VR and Archer E VR are also a lot of fun - the first is obviously Temple Run in VR, which is actually quite terrifying at times, and the latter is a simple defence game where you must shoot down hordes of goblins. Dreadhalls for the Gear VR is another utterly terrifying game, and we've never been able to spend too much time in it. And then there's Keep Talking and Nobody Explodes, where you're facing a bomb in VR, and a partner in the real world has a guide to help you defuse it. There's a lot of interesting content right now, and we're only at the very beginning of VR. Both of these were available for $4.99 (roughly Rs. 335).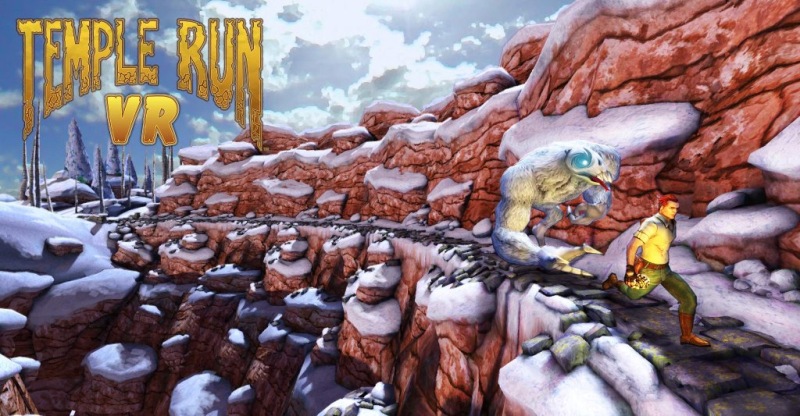 Our favourite game though was another rail shooter called Smash. It's a simple game - you're racing forward and can throw marbles to break pieces of glass, and every time you smash some crystals you get extra marbles. You keep progressing until you run out of marbles and the game gets harder the further you get. That's about all there is to it, but it's ridiculously addictive.
Perhaps the most interesting app though is a free app called AltspaceVR; it allows you to explore a virtual space with other people, and you can chat with them as well, through your phone. Think of it like Second Life for mobile, although it's very early days for Altspace and it's really simple as of now.
The Altspace app is also an open platform that anyone can develop experiences for, built on top of the basic idea of a shared space. It's a unique concept, and one that can only get more compelling over time, and we'd certainly suggest that you try it out.
Verdict
The catch, of course, is that you need a Gear VR to experience all these different apps. And that in turn means that you also need a top-end Samsung phone. That's a major limiting experience with the Gear VR and other high-end mobile headsets such as the LG 360 VR, which is only compatible with the LG G5. Should you buy a Note 5 or S6 just to experience a Gear VR? Probably not; those phones are too expensive to consider solely for one purpose.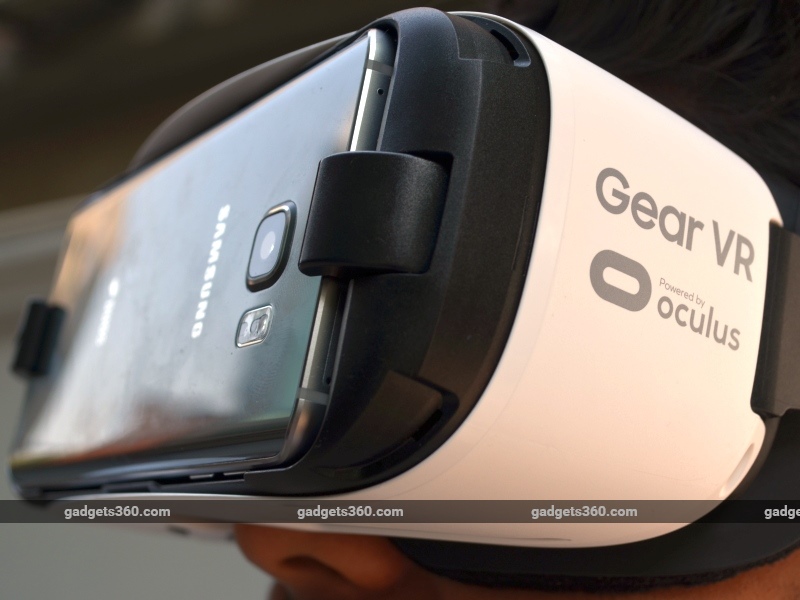 (Also see: Absentia Tesseract VR First Impressions: A Promising Start, but Lots of Room to Improve)
On the other hand, if you already own a top-end Samsung phone, buying a Gear VR makes a lot of sense; the price isn't particularly high (if you can afford the phone anyway) and the experience is fairly unique and frankly, a little mind-blowing.
However, although the Gear VR is a big step up from Google Cardboard, it's a long way behind the PC-level VR systems. The fact that you can't move around despite wearing a fully wireless system can feel disorienting; Google is reportedly working on a next generation VR headset with better sensors, lenses, and a more solid plastic casing, that sounds like it will reduce the gap with the Gear VR, and it is also apparently working on a standalone VR headset that will include its own screen and high-powered processors.
This means that although the Gear VR is probably the best mobile headset right now, that could well change in 2016; and although the entry-level headsets are offering a far less compelling experience for now, this too could change in the coming months.